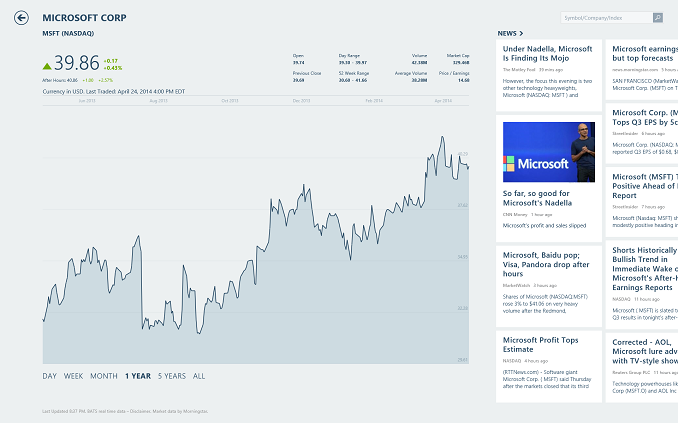 This afternoon Microsoft held an earnings call to announce the results of their third quarter for fiscal year 2014.
Overall GAAP revenue was down less than 1% over Q3 2013 at $20.403B, with Non-GAAP revenue up 8% due to Windows Upgrades, Office Deferral, and Video Game Deferral last year bringing down the Non-GAAP revenue last year.
GAAP Gross Margin also fell 8% at $14.462B as compared to $15.702B last year, but Non-GAAP was up 3% due to the same deferrals.
Operating income was down 8% as well year over year, and Earnings Per Share were down 6% at $0.68 per share.
Microsoft Q3 2014 Financial Results (GAAP)
Q3'2014
Q2'2014
Q3'2013
Revenue
$20.403B
$24.519B
$20.489B
Operating Income
$6.974B
$7.969B
$7.612B
Margins
70.8%
66.2%
76.6%
In the Devices and Consumer lines, Windows OEM revenue was up 4%, mostly driven by a 19% increase in Windows OEM Pro which was attributed to Business PC growth likely due to the retirement of Windows XP. Non-Pro revenue was down 15% for the quarter, with China accounting for 6% of that total.
Office Consumer revenue was up 15% for the quarter. This refers to the full license of Office, and not the subscription based Office 365 Home.
Even with the increases in revenue, Gross Margin was down about 1% year over year for this group.
On the consumer hardware side, there was a large revenue gain of 41%, with Xbox platform revenue up 45%. 1.2 million Xbox One consoles, and 800,000 Xbox 360s were sold in the quarter. Surface revenue was also up more than 50% with Surface revenue now at almost $500 million for the quarter however no actual device sales numbers were announced.
Once again, even though revenue was up, Gross Margin was down 34% which was attributed to the increase in Xbox One console sales and their high BoM.
The final piece of the Devices and Consumer group is the aptly named "Other" category, which includes Office 365 Home, Bing, and Xbox Live revenues. This group was up 18% in revenue over Q3 2013 driven by strong subscriptions for Office 365 Home – now at 4.4 million subscribers and up 1 million for the quarter. Bing search advertising revenue was also up 38%, and Xbox Live revenue was up 17% contributing to the strong increase for this business segment, and unlike the other Consumer lines, Gross Margin was also up 26%.
On the Commercial side, Microsoft announced a 7% increase in revenue and 6% increase in Gross Margin which came from a slight increase in Commercial Licensing at 3%, and a 31% increase in the cloud services of Office 365 and Azure which had 100% and 150% revenue gains for the quarter. Microsoft's commercial cloud services fall into the Commercial "other" category.
Microsoft Q3 2014 Segment Overview
Q3'2014
Q2'2014
Q3'2013
Revenue for quarter
D&C Licensing
$4.38B
$5.38B
$4.35B
21.3%
D&C Hardware
$1.97B
$4.73B
$1.40B
9.5%
D&C Other
$1.95B
$1.79B
$1.66B
9.4%
Commercial Licensing
$10.32B
$10.89B
N/A
50.5%
Commercial Other
$1.90B
$1.78B
N/A
9.3%
*note - Q3 2013 data not available due to company reorganization
Also in commercial, Microsoft announced that around 90% of enterprise desktops worldwide are now running Windows 7 or 8 which is impressive considering how many were running XP not very long ago.
Corporate Vice President and CFO Amy Hood also stated that the Nokia acquisition will close Friday April 25 which was four months later than they initially expected. Once completed, all of Nokia's assets will fall under the Devices and Consumer lines, with license and platform payments falling under the D&C Licensing, and Nokia Devices and Services falling under D&C Hardware.
Overall, strong results in the Commercial segment and great demand for Microsoft cloud services such as Office 365 and Azure were not enough to overcome the consumer segments with Xbox One and Surface margins pulling down the overall result. Xbox One sales are obviously razor thin on margins at the moment which is not unexpected in a new console, and Surface sales are still very low. Next quarter should be interesting to see how the Nokia acquisition fits in, and to see if any headway can be made in the Consumer Hardware segment.
Source: Microsoft