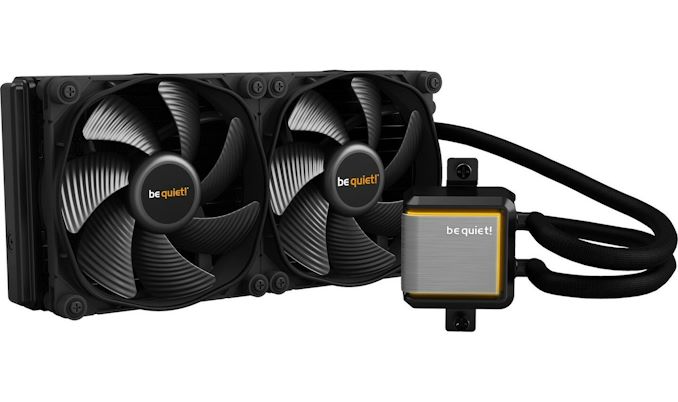 A familiar presence here at AnandTech, Be Quiet! has settled in to distinct niche for itself in the PC peripherals market over the years by simply living up to the company's name. Tuning their device designs for minimal acoustics, the company successfully expanded into all-in-one (AIO) liquid coolers back in 2016. It's a product segment where, even though the design of closed-loop systems is quite restrictive, the company's engineers have always been trying to innovate and differ from the competition. A prime example of this approach could be the Pure Loop series that hit the market back in 2020, which had a decoupled liquid pump.
Jumping forward to the present, today we are taking a look at the latest AIO cooler series from Be Quiet!, the Silent Loop 2. This is an advanced cooler series that is designed to fully maximize the performance-to-noise ratio for demanding users. The Silent Loop 2 series consists of four coolers that are, as is usually the case, practically identical with the exception of the radiator size, which ranges from 120 mm to 360 mm.
For our review we received the most popular version of the series, the 280 mm Silent Loop 2 cooler.
Be Quiet! Silent Loop 2 AIO CPU Cooler Specifications
Type
All-in-One Liquid Cooler
Dimensions
314 x 140 x 52 (radiator with fan)

94.5 x 80 x 54 (cooling block)
Fans
2 x 140 mm "Silent Wings 3" Fan
1600 RPM (max)
RGB
Yes (ARGB)
Supported Sockets
Intel: LGA1700 / LGA1200 / LGA115x / LGA2066/ LGA2011(-3) Square ILM

AMD: AM5 / AM4 / sTRX4 / TR4(optional, mounting-kit BZ008)
Warranty
3 Years
Price
$207 / €139
Packaging & Bundle
Be Quiet! supplies the Silent Loop 2 cooler in an aesthetically simple but very sturdy cardboard box. Inside the box, we find the cooler and its accessories well protected by a custom internal paper insert. A wealth of information regarding the cooler can be found on the sides and rear of the box.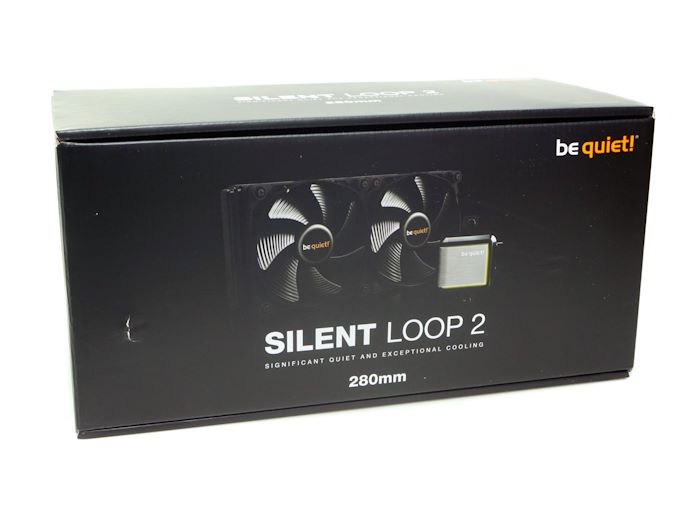 Inside the box, we found a small but well-written manual, the necessary socket mounting hardware, a small syringe with a little thermal grease, and adapters for powering the fans. Be Quiet! also supplies a bottle of coolant that can be used to replenish the cooler's liquid if deemed necessary.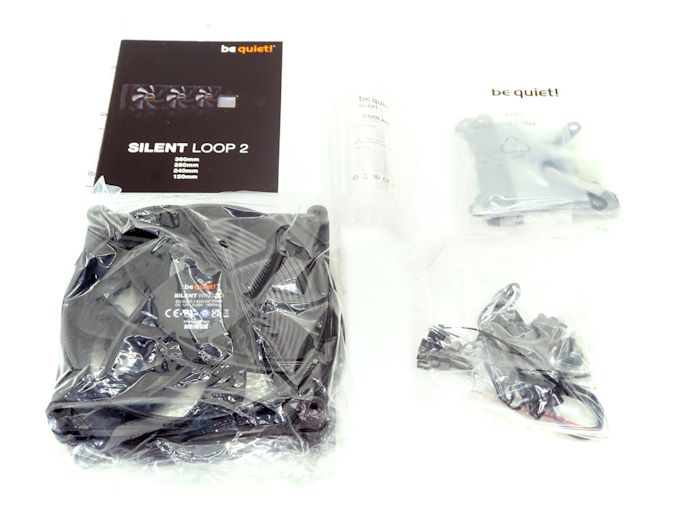 The fans provided alongside the Silent Loop 2 cooler are Be Quiet!'s own Silent Wings 3 premium fans. Naturally, two 140 mm fans are supplied with the 280 mm version that we are reviewing today. These fans have fluid-dynamic bearings and six-pole engines to minimize their noise output. Their maximum speed is 1600 RPM, a reasonable figure for use on a performance AIO cooler.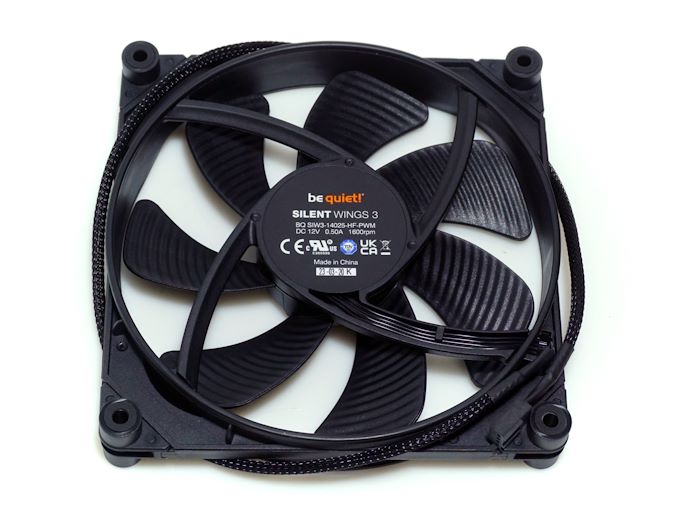 The Be Quiet! Silent Loop 2 280mm AIO Cooler
In terms of basic design, the Silent Loop 2 280 mm AIO cooler is a typical AIO cooler, with a single cooling block/pump assembly and two hoses leading to the radiator. Although the company claims that the Silent Loop 2 cooler incorporates a "powerful pump", the size of the main block is smaller than most.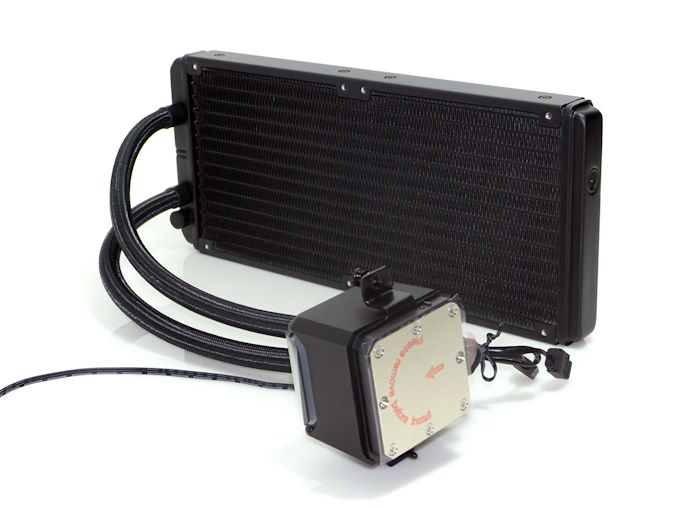 The radiator is a typical dual pass cross-flow design, with tiny fins soldered on thin oblong tubes and space for two 140 mm fans. From a baseline point of view, it is the same typical design that every AIO cooler is using nowadays, as no other heat exchanger design manages to outperform it in PC cooling applications. The only atypical feature is the filling port plug that can be used to replenish the system's coolant. Archetypally, such systems are considered sealed and evaporation of the coolant to a point that would affect its performance should take several years to occur, but it is not an impossible thing to happen. Be Quiet!'s filling port provides peace of mind to users that hold on to their purchased equipment for more than a couple of years.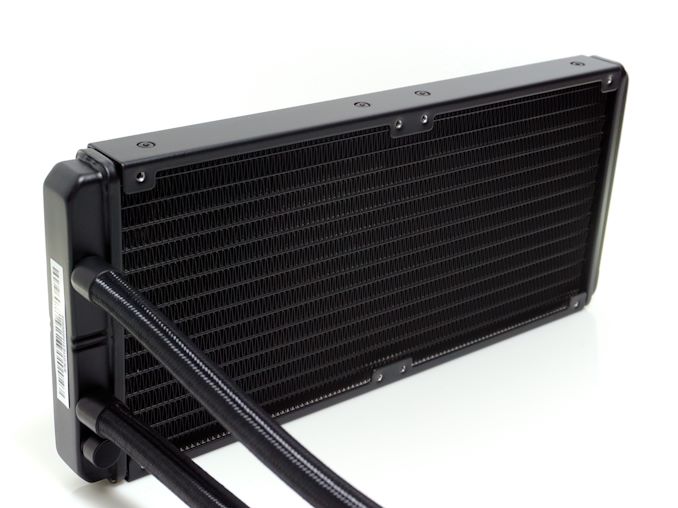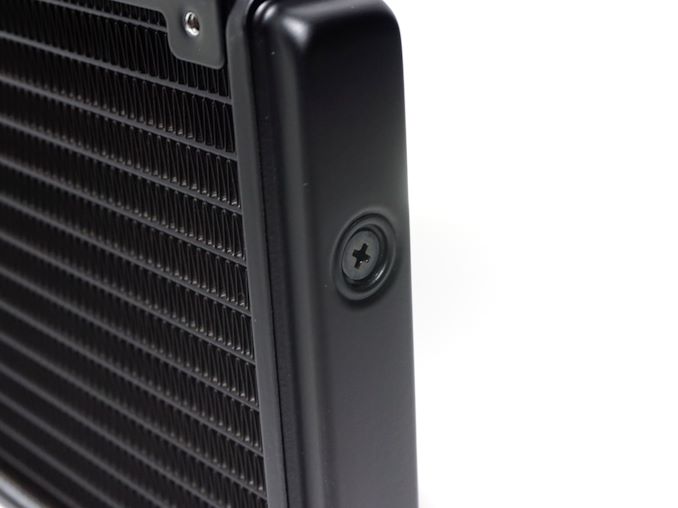 A close look at the radiator's fins reveals that they are not solid, but rather they're notched. We have seen other manufacturers experimenting with the formation of the radiator's fins before in an effort to improve the overall performance of their products, so that did not surprise us. Be Quiet's approach reduces the surface area of the fins in exchange for better airflow and lower noise.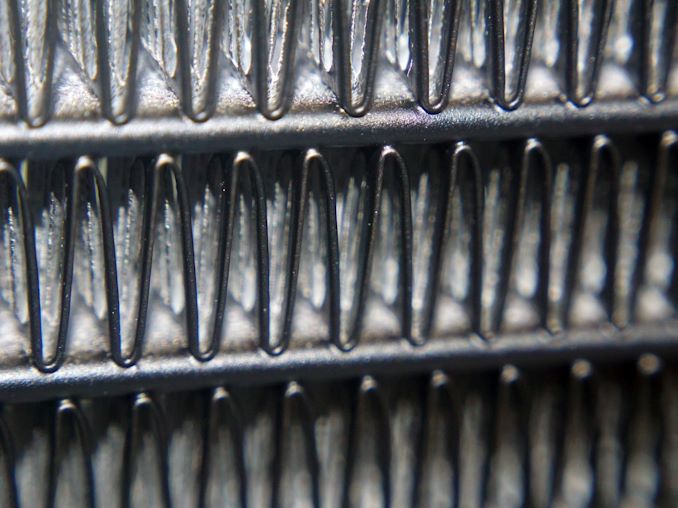 The cubic pump block is of simple design, not too small but not large either. Most of the block's body is made out of plastic, with steel mounting brackets and a solid copper contact plate. A thin cover that appears like brushed aluminum decorates the top side of the block. Both connectors are L-shaped and offer a good range of adjustments.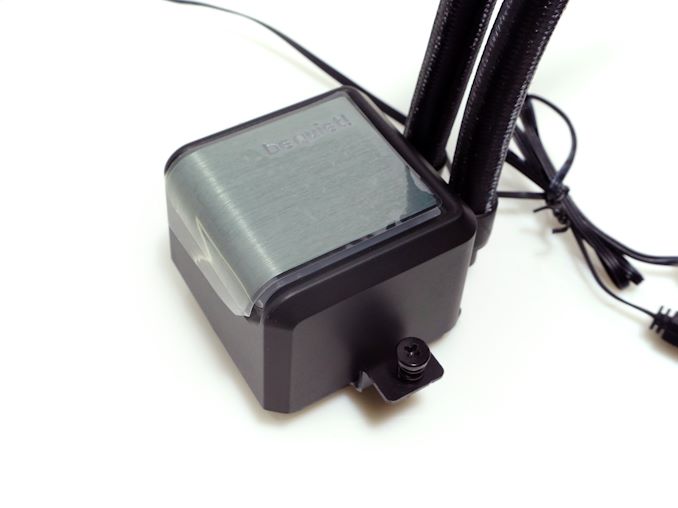 The contact plate is machined down to an immaculate mirror finish. It is square, with a surface area that can easily cover every CPU shim plate this cooler supports right out of the box. The company does offer an optional TR4/sTRX4 mounting kit.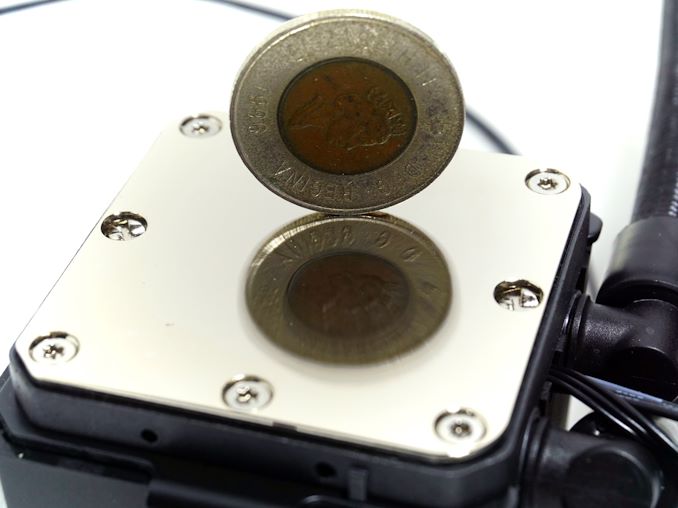 Be Quiet! implemented subtle ARGB lighting on the pump block of the Silent Loop 2 in the form of a lighting frame surrounding the brushed metal cover. For users whose motherboard does not support ARGB control, Be Quiet includes a stand-alone controller that can be used to perform basic visual effects. For such a small, subtle implementation, the quality of the lighting is extraordinary, with no intensity fluctuations or inconsistent spots across the frame. There is no ARGB lighting on the fans or radiator, which can be a good or bad thing, depending on how extravagant one likes their system to look.