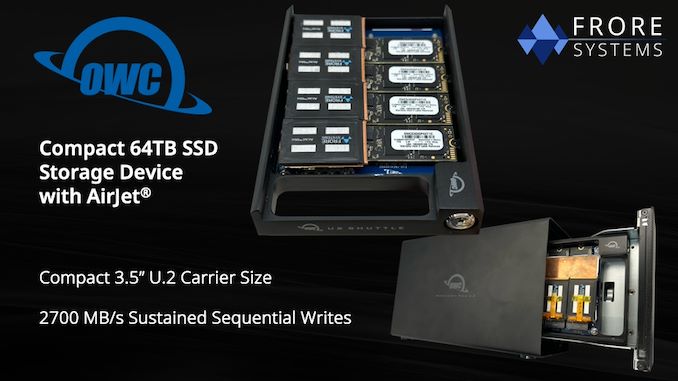 OWC and Frore Systems demonstrated silent 32 TB and 64 TB solid-state storage devices that use Frore's AirJet Mini coolers at the Flash Memory Summit 2023. Both devices promise consistently high performance while remaining completely quiet. Furthermore, using Frore's AirJet cooling systems opens doors to high-capacity SSD storage solutions that do not use fans.
OWC demonstrated its 64 TB Mercury Pro U.2 Dual with eight 8 TB M.2-2280 SSDs inside and its 32 TB U2 Shuttle with four 8 TB M.2 drives inside at the show. The peripherals maker said that with the AirJet Mini technology, its 64 TB OWC Mercury Pro U.2 Dual achieves consistent sequential write speeds of 2200 MB/s to 2600 MB/s. However, it does not disclose how fast such a configuration is when only an internal fan is used. OWC says on its website that the enclosure can saturate a Thunderbolt 3 interconnection with up to 2800 MB/s read/write speed when equipped with multiple drives.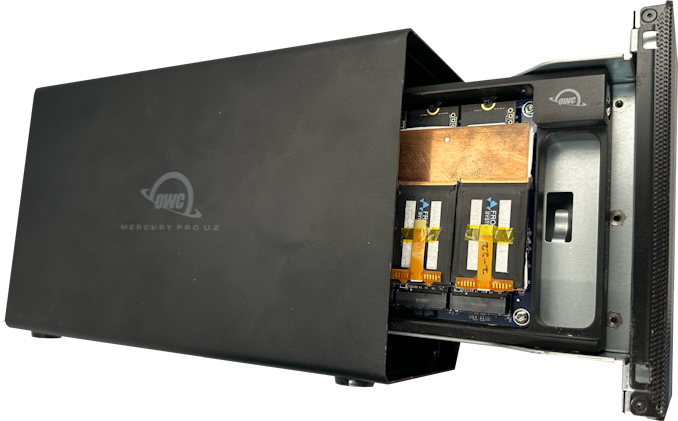 OWC's Mercury Pro U.2 Dual and U2 Shuttle are essentially PCIe 3.0 SSD carriers, and such drives do not tend to get very hot, so applying Frore's premium AirJet cooling technology to them sounds overkill. But there are two things to note here. First, OWC's Mercury Pro U.2 Dual comes with a 3,000-rpm fan, and the device is not completely quiet out-of-box, so using AirJets removes the fan and makes it utterly quiet. Secondly, by using Frore's AirJets with existing carriers, OWC sets the stage for subsequent generations of Mercury Pro U.2 Dual and U2 Shuttle that will house faster and hotter SSDs requiring decent cooling to ensure consistent performance.
Frore's thin membrane-based AirJet Mini measures 41.5 mm × 27.5 mm × 2.8mm and weighs 11 grams; it is designed to dissipate 5W of heat, and integrating multiple chips amplifies the heat removal capacity proportionally. Modern PCIe Gen5 drives can dissipate considerably more than 5W under high load so they will need more than one AirJet Mini.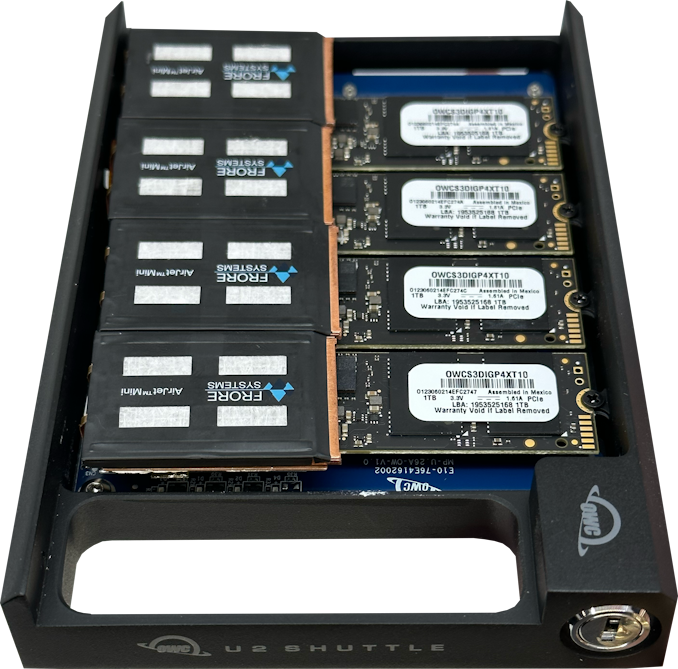 "It is very exciting to see the application and benefits for our solutions that the Frore Airjet system presents," said Larry O'Conner, CEO of OWC. "I look forward to taking our solutions further and farther in partnership with Frore. The many ways this technology allows us to increase capacity, long term level up design, improve customer experience and application suitability has opportunities that are endless."
Source: Frore Systems