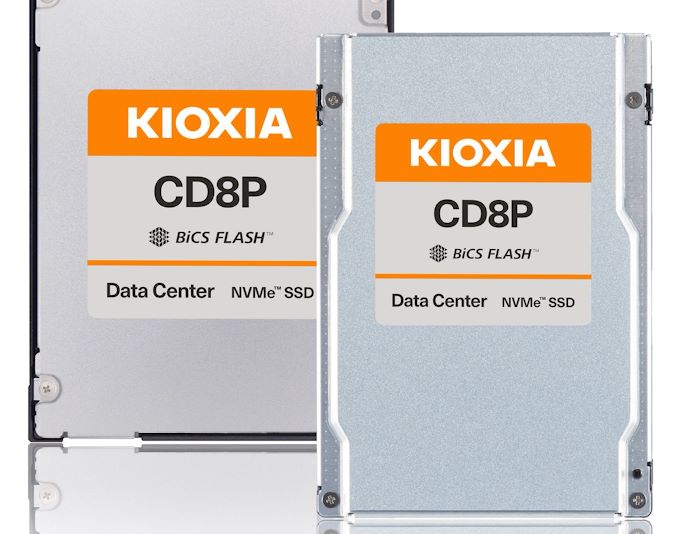 Hyperscale data centers have very specific requirements for different tiers of storage devices: some tiers need maximum performance, and others demand maximum storage density. Kioxia's new CD8P drives for data centers seem to combine both high storage capacity of up to 30.72 TB and high sequential read performance of up to 12,000 MB/s and up to 2 million random read IOPS, which somewhat blurs the lines between storage tiers and provides new opportunities.
Kioxia's CD8P single-port drives are based on the company's proprietary controller, firmware, and time-proven 112-layer BICS 5 3D TLC NAND memory. The NVMe 2.0-compliant controller and firmware fully support enterprise-grade features like the company's exclusive flash die failure protection, power loss protection, end-to-end data protection, sanitize instant erase (SIE), and self-encrypting drive (SED). Since the new SSDs are designed for hyperscale data centers, they come in E3.S and U.2 form factors.
Regarding performance, Kioxia's new CD8P SSDs offer up to 12,000/5,500 MB/s sequential/write speed and up to 2,000,000/400,000 random read/write 4K IOPS. Meanwhile, there will be two versions of CD8P: CD8P-V for mixed-use applications with up to three drive writes per day with capacities up to 12.8 TB and CD8P-R for read-intensive workloads with up to one drive writes per day capacities of 30.72 TB.

An avid reader will undoubtedly notice that the CD8P family of SSDs is not Kioxia's first lineup of high-capacity drives with a PCIe Gen5 x4 interface, as the company has been shipping its CM7-series SSDs for about a year now. This is, of course, correct, but Kioxia's CM7 is designed for enterprise environments, which is why they support dual-port for extended availability, FIPS SED capability, and maximized performance (up to 14 GB/s and 2.7 million 4K IOPS). Hyperscalers barely need such functionality, and the lack of it will probably make CD8Ps slightly cheaper than CM7 drives.
Kioxia positions its CD-series SSDs for s broad range of scale-out and cloud workloads, and indeed, these applications will benefit from their extended performance and capacity. In addition, these new drives could be used for various AI-oriented workloads (particularly on the edge) that can take advantage of high storage density, high performance, and prices that promise to be below those of enterprise-oriented CM7.
Kioxia has not decided when it plans to start shipping its CD8P SSD lineup of SSDs. Still, since hyper scalers need some time to validate and qualify the new storage devices, these new drives will take some time to leave assembly factories. Meanwhile, companies that will use CD8P drives for things like edge AI deployments may deploy these new SSDs somewhat faster if they find them suitable for their workloads.
Source: Kioxia