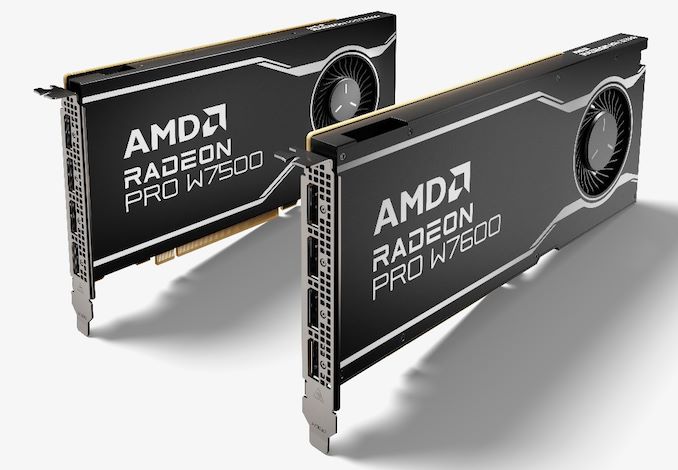 As AMD continues to launch their full graphics product stacks based on their latest RDNA 3 architecture GPUs, the company is now preparing their next wave of professional cards under the Radeon Pro lineup. Following the launch of their high-end Radeon Pro W7900 and W7800 graphics cards back in the second quarter of this year, today the company is announcing the low-to-mid-range members of the Radeon Pro W7000 series: the Radeon Pro W7500 and Radeon Pro W7600. Both based on AMD's monolithic Navi 33 silicon, the latest Radeon Pro parts will hit the shelves a bit later this quarter.
The two cards, as a whole, will make up what AMD defines as the mid-range segment of their professional video card market. And like their flagship counterparts, AMD is counting on a combination of RDNA 3's advanced features, including AV1 encoding support, improved compute and ray tracing throughput, and DisplayPort 2.1 outputs to help drive sales of the new video cards. That, and as is tradition, significantly undercutting NVIDIA's competing professional cards.
AMD Radeon Pro W Series Specification Comparison
AMD Radeon Pro W7600
AMD Radeon Pro W7500
AMD Radeon Pro W6600
AMD Radeon Pro W5500
ALUs
4096
(32 CUs)
3584
(28 CUs)
1792
(28 CUs)
1408
(22 CUs)
ROPs
64
64
64
32
Boost Clock
2.43GHz
1.7GHz
2.9GHz
1.9GHz
Peak Throughput (FP32)
19.9 TFLOPS
12.2 TFLOPS
10.4 TFLOPS
5.35 TFLOPS
Memory Clock
18 Gbps GDDR6
10.8 Gbps GDDR6
14 Gbps GDDR6
14 Gbps GDDR6
Memory Bus Width
128-bit
128-bit
128-bit
128-bit
VRAM
8GB
8GB
8GB
8GB
ECC
No
No
No
No
Infinity Cache
32MB
32MB
32MB
N/A
Total Board Power
130W
70W
130W
125W
Manufacturing Process
TSMC 6nm
TSMC 6nm
TSMC 7nm
TSMC 7nm
Architecture
RDNA3
RDNA3
RDNA2
RDNA (1)
GPU
Navi 33
Navi 33
Navi 22
Navi 14
Launch Date
Q3'2023
Q3'2023
06/2021
02/2020
Launch Price (MSRP)
$599
$429
$649
$399
Not unlike their high-end counterparts, for this generation AMD has decided to expand the size of their mid-range pro graphics lineup. Whereas the previous generation had the sole W6600 (and W6400 at entry-level), the W7000 series gets both a W7600 card and a W7500 card. Besides the obvious performance difference, the other big feature separating the two cards is power consumption. The Radeon Pro W7600 is a full-height video card running at 130W, while the W7500 is explicitly designed as a sub-75W card that can be powered entirely by a PCIe slot, coming in at a cool 70 Watts.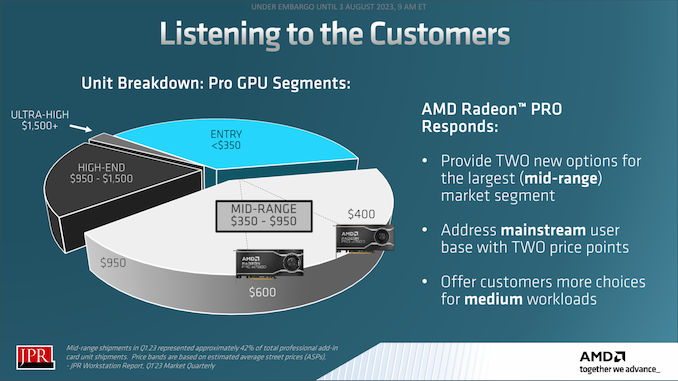 Both cards are based on AMD's new Navi 33 GPU, and share a lot of similarities in features and physical card design as a result. Navi 33 recently launched in the consumer space as the heart of the Radeon RX 76000, and it brings with it all of the functionality and idiosyncrasies that we saw in those cards. While not intended to be a true budget GPU, Navi 33 is the lowest-end chip AMD is making for this generation of processors. Built on TSMC's 6nm process (unlike 5nm used for Navi 31), it's not exactly cutting-edge in terms of performance of power efficiency. But it's cheap for AMD to make, which helps to keep costs down – a very important facet when a big part of AMD's pro graphics strategy is undercutting NVIDIA.
Radeon Pro W7600 gets a full-fat Navi 33 chip, with all 32 CUs enabled. Typical for Pro parts, this is clocked a bit more conservatively at 2.43GHz, rendering a total FP32 compute throughput of 19.9TFLOPS. The card is paired with 8GB of GDDR6 running at 18Gbps, netting a total memory bandwidth of 288GB/sec. And, of course, AMD's on-die Infinity Cache is available as well, adding 32MB of high-speed cache to the memory hierarchy.
Like-for-like comparisons to its predecessor, the Radeon Pro W6600, are a bit tricky due to the significant architectural changes in RDNA 3. But at a high level, it functions a lot like a W6600 with some new tricks, right on down to the identical TDPs. The RDNA 3 CU overhaul means that W7600 has, on paper, far more compute throughput than its predecessor, so long as those additional FLOPS can be tapped. But on paper, rendered pixel throughput is actually down gen-on-gen due to the lower boost clockspeed. On the other hand, there's even more bandwidth than before to feed the total GPU, thanks to the switch up from 14Gbps GDDR6 to 18Gbps GDDR6.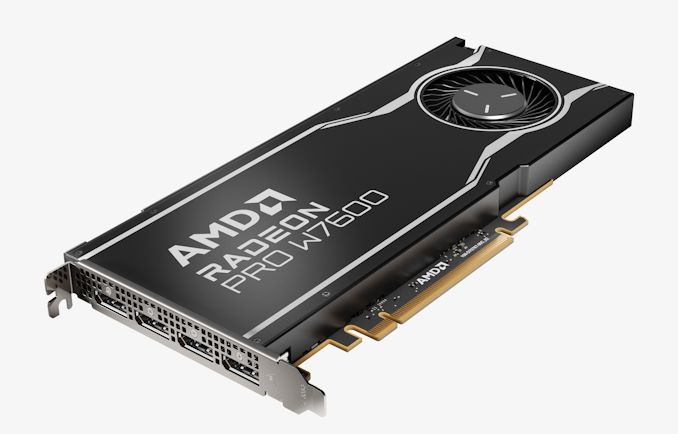 Meanwhile, the W7500 trades in a fair bit of GPU performance in order to get its TDP down under 75W – allowing AMD to release a new sub-75W card for this generation of products. A 28CU configuration of Navi 33 is clocked at just 1.7GHz, netting 12.2 TFLOPS of compute performance. And the card's memory is equally low power, taking advantage of low voltage GDDR6 running at 10.8Gbps, for a total of 173GB/sec of bandwidth. W7500 has no direct predecessor, but for system builders who absolutely need a sub-75W card, by every metric it's a good deal more powerful than the Radeon Pro W6400 that was previously AMD's best card in this segment.
Both cards are single-slot designs – and, I suspect, are using the same PCB under the hood – squeezing in four full-sized DisplayPort outputs into the limited space offered by their form factor. This has been AMD's go-to design for 600/500 series pro cards for several generations now, and clearly one that has worked well for AMD over the years.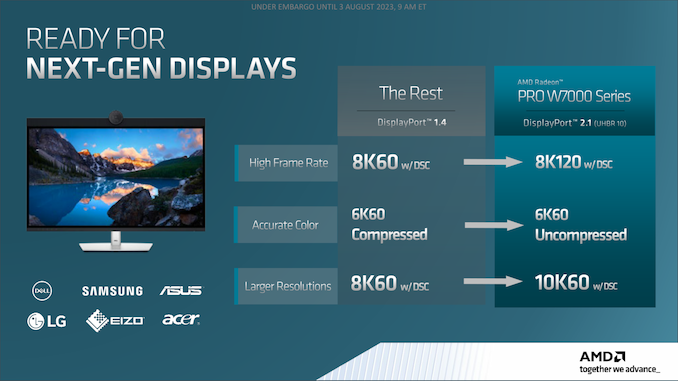 As noted earlier, AMD is pushing these cards largely on the basis of RDNA 3's new functionality, DisplayPort 2.1 arguably being the most immediately relevant for AMD's professional crowd. All four DisplayPorts can drive monitors at up to UHBR10 data rates – 10Gbps raw per lane, or 38.7Gbps in total per port – about 50% more bandwidth than was offered by the previous-generation W6600 with DisplayPort 1.4. Which, among other things, allowed for 6K video at 60Hz without compression, or extending 8K video to 120Hz with compression.
Professional users will want to make note, however, that AMD's DisplayPort functionality is inconsistent across the W7000 family. The higher-end W7900/W7800 parts also supported even higher DisplayPort transfer rates (UHBR 13.5 and UHBR 20), which the W7600/W7500 do not. This kind of display discontinuity with AMD products is rare, so pro users will need to be mindful of it, least they get caught off-guard by the reduced capabilities of the mid-range cards. That said, given how few displays there are on the market that support UHBR data rates over 10Gbps, it's unlikely too many people will be trying to hook them up to anything less than a high-end video card to begin with.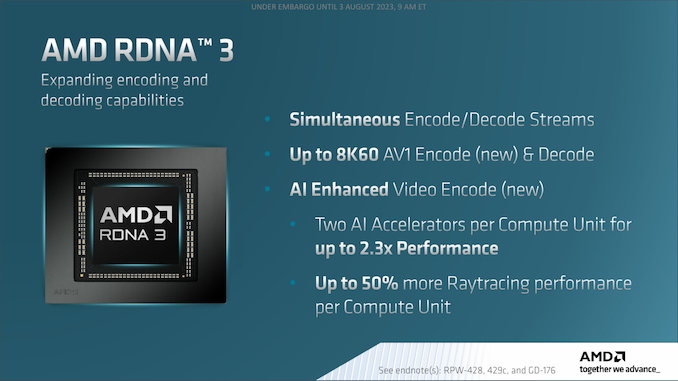 Both cards also get the new AV1 encoding capabilities that come with RDNA 3. AMD's video processing block can encode with the cutting-edge codec at up to 8K resolutions at 60 frames per second. These blocks have enough performance to handle simultaneous video encode and decode, but unlike the even more powerful high-end Pro cards, encoding is limited to a single AV1 steam (or two HEVC streams).
Finally, on the compute architecture front, RDNA 3 brings with it new features that allow for greater AI compute performance as well as greater ray tracing performance. I'm not sure how much the former will be tapped for Pro cards, but the ray tracing improvements should be notable for the CAD/CAM/graphics crowd, where the use of hardware ray tracing is slowly seeping in.
What you won't see AMD using to push these cards too much on, however, is performance. Navi 33 is in many respects a cost-optimized version of the Navi 22 GPU used in the W6600, and as a result the performance of the W7600 is often not significantly higher than the W6600. In fact, in some cases it's actually lower.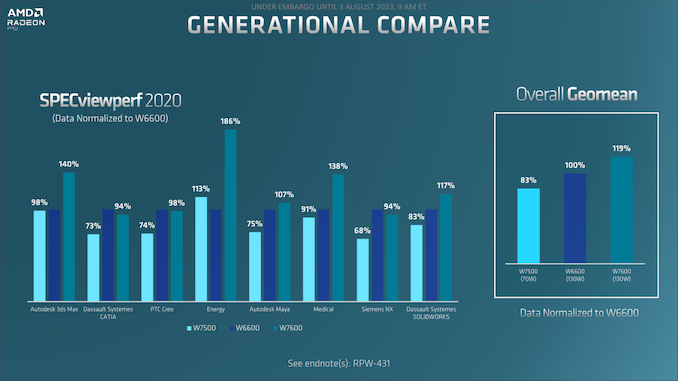 First off, kudos to AMD here for being honest with their generational performance comparison; rather than cherry-picking results or ignoring the subject entirely, they're publishing a complete data set. But their SPECviewperf 2020 results underscore the inconstant performance gains going from one generation to the next. The W7600 flies in compute-bound workloads thanks to the card's greater memory bandwidth and compute throughput, but elsewhere regresses on three of the sub-tests. While I haven't tested either card personally, based on what I know about these tests an AMD's specifications, this is likely a result of the lower boost clockspeed of the W7600, leading to slower performance in both the front and back-ends of the pixel rasterization pipeline. According to AMD, the W7600 still comes out ahead overall by 19%, though it's certainly a smaller generational uplift than we've seen in other pro parts.
More surprising here is probably the W7500. Though it obviously doesn't win, it doesn't fall well behind the W6600, either, despite an almost 50% lower TDP. With regards to power efficiency, it's clearly operating at something closer to Navi 33's sweet spot.
Of course, AMD doesn't need to outcompete itself so much as it needs to outcompete NVIDIA. And while I'll refrain from posting AMD's comparative performance slides, AMD believes they're in a good place. This is helped in no small part by the fact that NVIDIA hasn't launched any Ada Lovelace architecture pro cards for the mid-range market, so at the moment AMD needs only to compete with older Ampere (and Turing) hardware.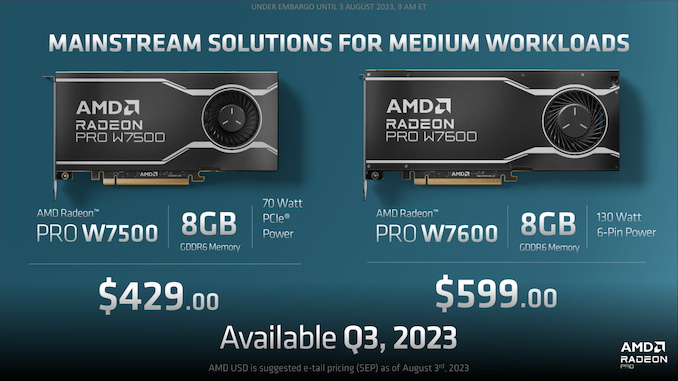 Wrapping things up, AMD's newest Radeon Pro cards will begin appearing on the market later on in the current quarter, and in OEM systems later on in the year. The Radeon Pro W7600 will hit the streets at $599 – $50 cheaper than its predecessor – while the W7500 will bring up the rear of the W7000 product stack at $429.