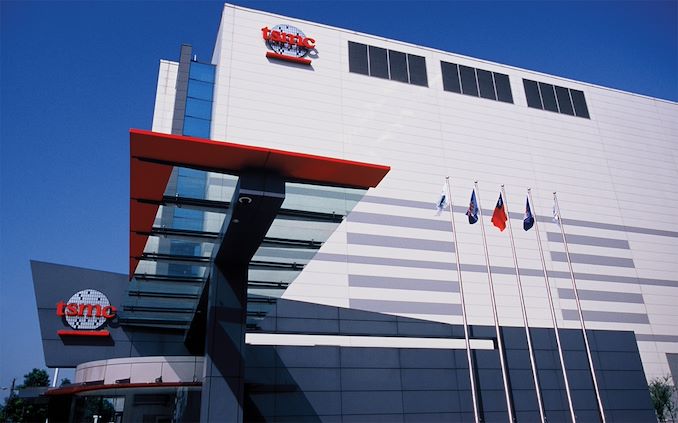 TSMC on Thursday disclosed that it will have to delay mass production at its Fab 21 in Arizona to 2025, as a lack of suitably skilled workers is slowing down the installation of cleanroom tools. The company also confirmed that it is sending in hundreds of people familiar with its fabs from Taiwan to Arizona to assist the installation.
"We are encountering certain challenges, as there is an insufficient amount of skilled workers with the specialized expertise required for equipment installation in a semiconductor-grade facility," said Mark Liu, chairman of TSMC, during the company's earnings call with financial analysts and investors. "While we are working on to improve the situation, including sending experienced technicians from Taiwan to train local skill workers for a short period of time, we expect the production schedule of N4 process technology to be pushed out to 2025."
Construction of TSMC's Fab 21 phase 1 kicked off in April 2021, and reached completion a little behind schedule by the middle of 2022. In December of 2022, TSMC started moving equipment in. Normally, equipping a fab's cleanroom requires around a year, which is why TSMC anticipated that the chip manufacturing plant would be operational by early 2024. Apparently, installation of production tools into Fab 21 encountered several setbacks as local workers were unfamiliar with TSMC's requirements.
As it turns out, these setbacks were so severe that TSMC now expects to need an extra year to start mass production at the fab, moving the start date from early 2024 to 2025. Which, at what's now 18+ months out, TSMC isn't even bothering to provide guidance about when in 2025 it expects its Fab 21 phase 1 to start mass production – only that it will happen at some point in the year.
The impact of TSMC's Fab 21 launch delay on its U.S. customers is yet to be determined. The megafab-class facility is not nearly as large as TSMC's flagship gigafabs in Taiwan, so the impact in terms of wafer starts is not as significant as if one of the larger fabs was delayed. The most recent estimate for Fab 21 was that it would hit 20K wafer starts per month, around one-fifth the capacity of a gigafab. So the capacity loss, while important, is not critical to TSMC's overall production quotas. Though with TSMC expecting to be at full capacity in 2024, there may not be much capacity left to pick up the slack.
Likely to be the bigger concern is that Fab 21 was being built (and subsidized) in large part to allow TSMC to produce sensitive, US-based chip designs within the US. While non-sensitive chips can be allocated to other fabs in Taiwan (capacity permitting), that's not going to be a suitable alternative for chips that need to be built within the US. A one-year delay on Fab 21 is likely to throw a wrench into those plans, but it will be up to TSMC's buyers (and their government clients) on whether to accept the delay or look at alternatives.
Finally, getting back to the subject of skilled workers, late last month TSMC confirmed to Nikkei that it was in talks with the U.S. government to provide non-immigrant visas to its Taiwanese specialists to the U.S., to help at "a critical phase, handling all of the most advanced and dedicated equipment in a sophisticated facility." According to the Nikkei report, a 500-man team of technicians was dispatched from Taiwan, arriving with hands-on expertise in a diverse range of fields. This expertise includes the installation of wafer fab tools and their synchronized operation, and, among other things, construction of fab mechanical and electrical systems.