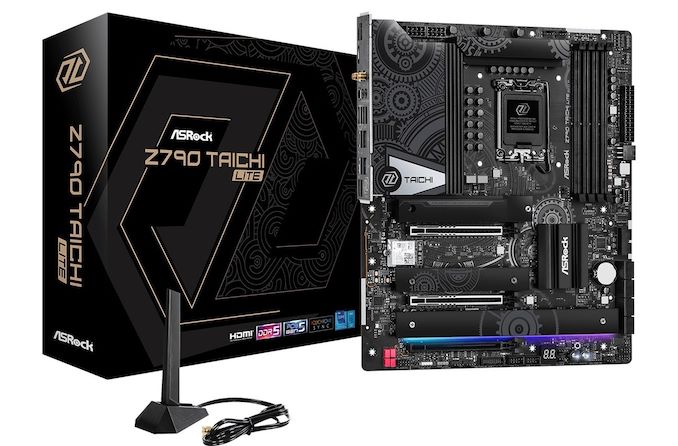 Last month at Computex, ASRock unveiled two new Taichi-inspired motherboards based on a 'lite' approach to aesthetics and design, which they called Taichi Lite. Today, ASRock has officially announced the new Taichi Lite series motherboards to the market with two new models, the ASRock Z790 Taichi Lite (Intel) and the B650E Taichi Lite (AMD). Both models feature the same controller sets as the 'non-lite' variations, with two primary differences; less RGB LED lighting onboard and a more straightforward overall design.
With the large swathes of RGB-clad components, peripherals, and accessories currently on the market allowing users to create a rainbow-themed discotheque in anyone's home, there's another side to the spectrum. Not everyone likes lots of RGB, and when it comes to bright clusters of RGB LED lighting emanating from just about everything these days. Some vendors, such as MSI, with its Unify series of motherboards, have created RGB-less designs that are sleek, stylish, and equally adept at providing the expected performance levels.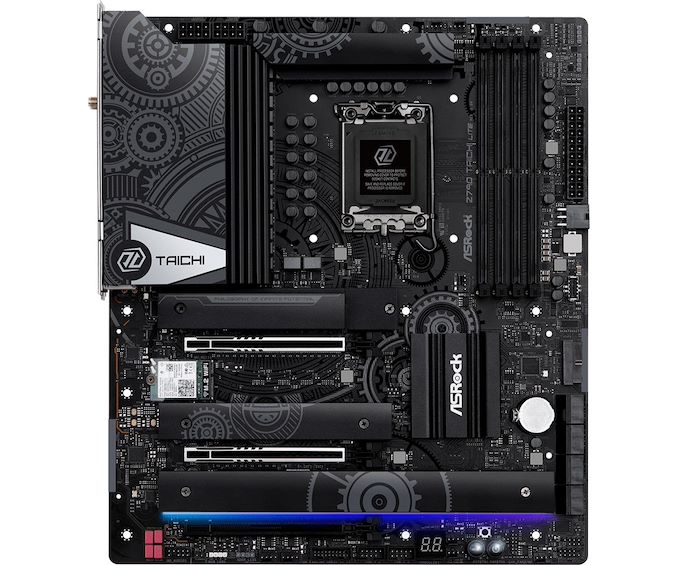 The ASRock Z790 Taichi Lite motherboard
While ASRock hasn't taken it as far as MSI's Unify series by completely removing all of the RGB LEDs off of the PCB, the ASRock Taichi Lite series certainly removes many zones. Interestingly, ASRock's adopted a simpler design with less color on the heatsinks and a broader focus on blacks, silvers, and greys for an overall cleaner look. One critical fundamental change is removing a lot of the 'armor' that covers the bottom half of the board, which on the original Z790 Taichi also looks good. Users that don't want any RGB LED lighting can turn them off in the firmware or through the software included by each vendor, which is the same for most motherboards, at least ones we've tested over the years.
As the ASRock Z790 Taichi and the newer and lighter Z790 Taichi Lite share the exact core specifications, users can be confident that both boards should perform similarly. Some of the main specifications include an advertised 24+1+2 power delivery, with 105 A smart power stages, and support for up to DDR5-7200 memory. The ASRock Z790 Taichi Lite also has an uprated audio configuration with a Realtek ALC4082 HD audio codec doing the grunt work of the audio processing, with an ESS Sabre 9218 DAC and WIMA audio caps adding an additional layer of quality to the onboard audio capabilities. There are also two Thunderbolt 4 Type-C ports and a front panel USB 3.2x2 Type-C header, which supports 60 W fast charging.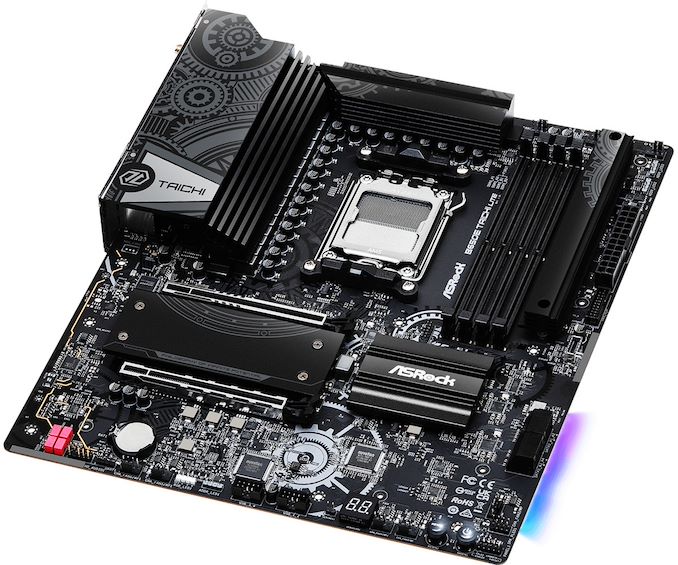 The ASRock B650E Taichi Lite motherboard
Moving onto the ASRock B650E Taichi Lite, it follows a similar path to the Z790 Taichi Lite in that it takes a lighter approach to aesthetics compared to the corresponding model, which for this board is the regular B650E Taichi. Based on the cheaper B650E for AMD's latest Ryzen 7000 series processors, ASRock is also advertising a large 24+2+1 power delivery, with support for DDR5-6600 memory, and has the same Realtek ALC4082/ESS Sabre 9218 DAC combination as the current generation Taichi models. There's also one USB4 spec Type-C port, with one front panel USB 3.2 G2x2 header, but this doesn't feature 60 W charging capabilities.
The ASRock Z790 Taichi Lite for Intel's 13th Gen Core series processors and the B650E Taichi Lite for AMD's Ryzen 7000 chips include a similar networking configuration. This consists of a single Killer E3100 2.5 GbE controller and an unspecified Killer-based Wi-Fi 6E CNVi, which also support BT 5.3 devices. The ASRock Z790 Taichi Lite has an additional Ethernet port powered by an Intel I219V Gigabit Ethernet controller.
Regarding pricing, ASRock highlights that the Taichi Lite series of motherboards will be cheaper than their regular Taichi counterparts, but at the time of writing, ASRock hasn't provided MSRPs. It is expected that both the ASRock Z790 Taichi Lite and the B650E Taichi Lite should start filtering out into retail channels immediately.
Source: ASRock