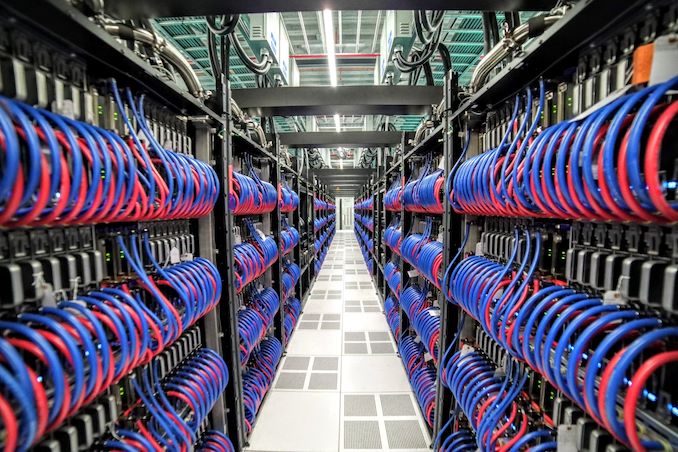 Lawrence Livermore National Laboratory (LLNL) started to install its El Capitan supercomputer that promises to achieve computational performance of over 2 FP64 ExaFLOPS for classified national security research. Parallel to this, the LLNL also plans to introduce a less potent but still extremely fast supercomputer named Tuolumne. This companion model will be dedicated to unclassified research and will offer 10% to 15% of El Capitan's computational prowess, which is still enough to beat most of the systems in the current Top500 supercomputer list.
While LLNL's El Capitan will not be the first exascale system and will not even be the first to break 2 FP64 ExaFLOPS performance record, it is still a very special system as it will be the first exascale supercomputer to use AMD's Instinct MI300A accelerated processing units comprising of Zen 4 x86 cores and CDNA 3-based compute GPUs. When El Capitan goes online, it will substantially outpace Frontier, the world's fastest PC, which is rated for an Rpeak performance of 1.679 FP64 ExaFLOPS.
Tuolumne is expected to use similar architecture to El Capitan, so it will also use Instinct MI300A APU. Even with just a tenth of El Capitan's performance, Tuolumne will join the upper echelons of the global supercomputers list, capable of delivering 200 PetaFLOPS. This potential performance could place it among the Top 10 supercomputers listed in the current Top 500 list. Still, if it manages to deliver 15% of El Capitan's performance, it could rival Leonardo, a supercomputer powered by Intel Xeon Platinum 8358 and Nvidia A100 with an Rpeak performance of 304.47 PetaFLOPS, which is currently ranked as the fourth fastest supercomputer.
"We are planning to get an unclassified system that will be called Tuolumne," said Bronis R. de Supinski in an interview with ExaScaleProject.org. De Supinski is the chief technology officer for Livermore Computing at LLNL. "It will be roughly between 10% to 15% the size of El Capitan."
Supercomputers with classified status, like the existing Sierra and the planned El Capitan at LLNL, primarily serve national security needs. According to Bronis R. de Supinski, El Capitan will be mainly used for the stockpile stewardship program, ensuring the reliability of nuclear weapons without resorting to real testing. Conversely, unclassified supercomputers, like the upcoming Tuolumne, serve diverse computational requirements spanning various scientific fields, from research and engineering simulations to data analysis and weather prediction.
"Tuolumne will be contributing more to the wider range of scientific areas," de Supinski added. "There's a lot of materials modeling. We have typically had a wide range of molecular dynamics. Some QCD get run on the system, seismic modeling. What will probably happen is that you know, those sorts of applications, climate, and that sort of thing will run on Tuolumne. And if there is a particular case to be made, we can occasionally provide for briefer runs on the big system."
Source: ExaScaleProject.org