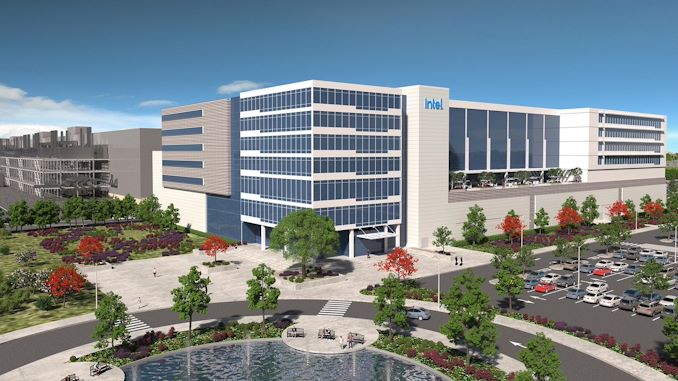 Intel is spending tens of billions of dollars on new fabs in Arizona and Oregon, but the company's ambitions certainly do not end in the U.S. This month the company revealed its finalized plans for new production capacities in Europe and Middle East with intentions to invest over $50 billion.
Intel's new 'Silicon Junction' site near Magdeburg, Germany, will accommodate at two fabs and will initially cost €30 billion. The manufacturing facilities will make chips on an 'Angstrom-era' node, though Intel does not disclose which one for now. The only thing that the company reveals for now is that the production node will be more advanced than the one Intel envisioned for the fab originally, which can point to nodes that are more advanced than Intel 20A and Intel 18A. The property needed for this upcoming project was purchased by Intel in November 2022. After the European Union greenlights the incentive package, the first fab will be up and running within four to five years, Intel claims.
Intel disclosed original plans for a chip plant near Magdeburg, Germany, in early 2022. Back then, the fab was estimated to cost $18.7 billion, and the German government agreed to provide $7.2 billion in state aid. However, Intel later chose to broaden the project's scope, intending to construct a bigger and more technologically advanced plant with total investments amounting to $31.675 billion (€30 billion). This expansion necessitated additional subsidies, leading to prolonged negotiations between Intel and the German authorities. Finally, a revised agreement was reached this week, granting Intel €10 billion ($10.91 billion) in government aid for the construction of the new fab.
Alongside developing a brand new fab complex in Germany, Intel has plans to extend its site in Kiryat Gat, Israel. The CPU giant is slated to invest some $25 billion into constructing and equipping this new Israeli fab, as reported by Benjamin Netanyahu, Israel's prime minister. This signifies the most substantial foreign investment ever received by Israel.
The new Kiryat Gat facility is set to start production in 2027 and is expected to operate until at least 2035, which, according to the Israeli Finance Ministry, should create thousands of well-paid jobs. Under the terms of this deal, Intel will see its tax rate increase from the present 5% to 7.5%.
Building new fabs in will significantly increase Intel's manufacturing capacities available for its own products and for chips designed by clients of its Intel Foundry Services unit. In addition to advanced chip production facilities in Germany and Ireland, the company will also construct a new advanced packaging facility near Wroclaw, Poland, which will allow Intel to build and package chips entirely in Europe instead of bringing them to Asia for packaging.
This new advanced packaging facility near Wroclaw, Poland, is projected to fulfill the critical need for assembly and testing capacity that Intel foresees by 2027. The company plans to invest up to $4.6 billion into the project, designed to allow for future expansion. Upon completion, it is expected to employ about 2,000 staff members.