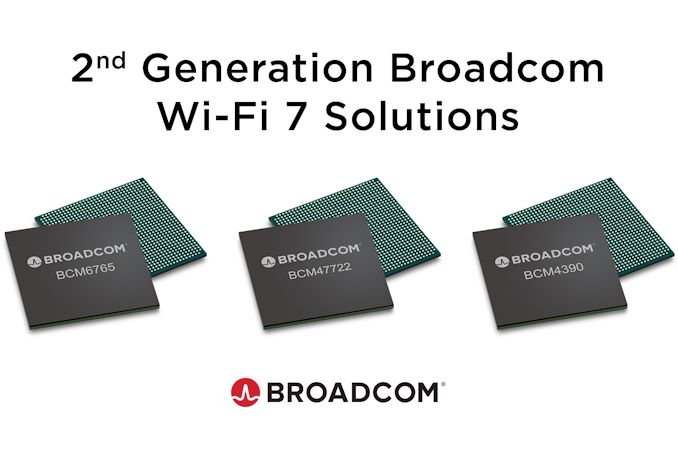 Wi-Fi 7 has been gaining slow traction in the market over the last few quarters. Despite a large number of product announcements towards the end of last year (including the usual suspects - ASUS, Netgear, and TP-LINK), only TP-LINK seems to have started actual shipment to end users. On the silicon side, Mediatek was the first to announce both access point and client platforms under the Filogic 880 / Filogic 380 solutions in early 2022. Broadcom followed suit with the BCM67263 / BCM6726 for residential APs, BCM43740 / BCM43720 for enterprise APs, and the BCM4398 for client devices. Qualcomm was not to be left behind, and launched their Wi-Fi 7 Networking Pro series in May 2022 (after introducing the client-focused FastConnect 7800 in February 2022). Over the last year, Qualcomm has been marketing their FastConnect 7800 and Networking Pro Series Wi-Fi 7 platform as the only solution in the market to support the high-band simultaneous multi-link operation mode.
Today, Broadcom is announcing their second-generation Wi-Fi 7 platform, with the aim of addressing cost-effectiveness and achieving competitive parity.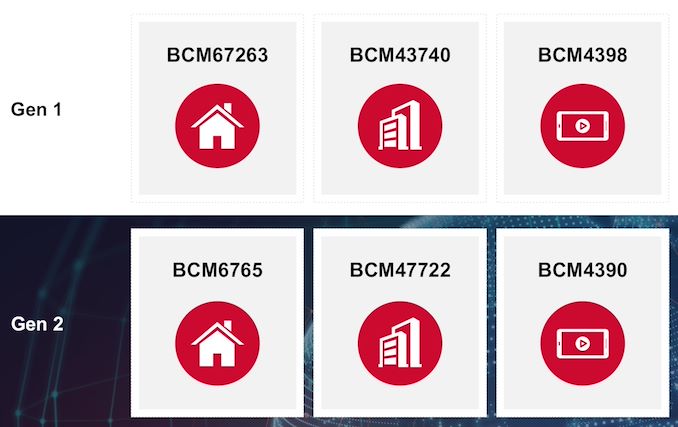 The first-generation products in the AP category in the above comparison were both quad-stream. In order to optimize cost and get deployed in a wider range of products, the two new AP platforms have a dual 2x2 configuration and can operate in all three bands simultaneously. PHY rate drops from 11.5 Gbps to 8.64 Gbps because of the reduction in stream count.
Broadcom 2nd Gen. 802.11be (Wi-Fi 7) Access Point Radios Specifications
BCM6765
BCM47722
Target Market
Residential Wi-Fi APs
Enterprise Wi-Fi APs
Operational Bands
2.4 GHz, 5 GHz, and 6 GHz
Stream Count
Dual 2x2
Max. Channel Width
320 MHz
PHY Rate
8.64 Gbps
Additional Radios / Protocol Support
BLE, Zigbee, and Thread
The enterprise Wi-Fi AP platform (BCM47722) now integrates Bluetooth and Zigbee / 802.15.4 support in order to cater to IoT requirements. Both AP platforms come with an integrated quad-core ARMv8 CPU and 10G PHY, which pulls in some of the features from the BCM4916 network processor used in the first-generation platforms. Some of the other key features include the ability of the platforms to support simultaneous operation in any of the three bands, integrated 2.4 GHz power amplifiers and miscellaneous updates to reduce power consumption. The new platforms enable tri-band MLO, which provides significant latency benefits, particularly in highly congested networks.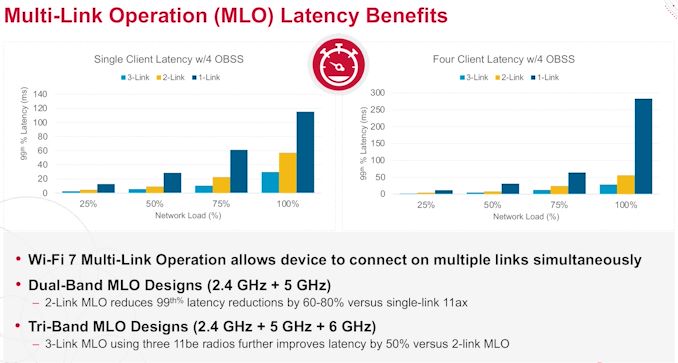 On the client side, the BCM4390 is being offered as a cost-effective Wi-Fi 7 / Bluetooth combo chip alternative to the BCM4398 introduced last year. While it continues to be a dual-stream 2.4 GHz and 5 GHz or 6 GHz radio configuration, channel width support is cut down to 160 MHz from 320 MHz. PHY rate is 3.2 Gbps (compared to 6.05 Gbps for the BCM4398). However, the key benefits over the BCM4398 include the integration of Bluetooth Denver, Thread, and Zigbee support. In addition to the client multi-link operation supported in BCM4398, the new BCM4390 also supports Broadcom's proprietary SpeedBooster technology to allow for better utilization of available bandwidth when multiple 160 MHz BCM4390-based client devices talk to a Broadcom-based Wi-Fi 7 AP with 320 MHz channel support.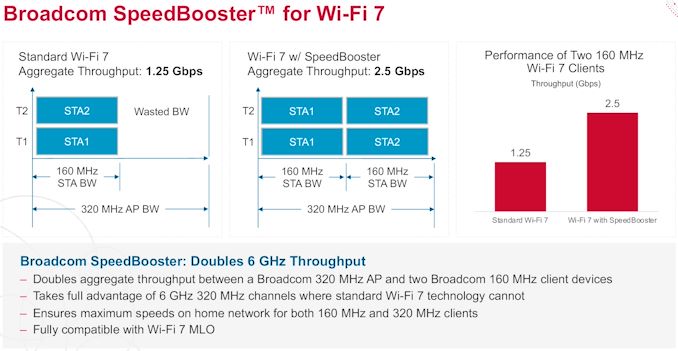 Almost all of the currently shipping Wi-Fi 7 residential routers are based on Broadcom's first-generation AP platforms. One of the downsides from a market adoption perspective has been the pricing, with most models being sold for upwards of $600. The new platform from Broadcom should help a bit in that aspect with the reduced stream counts and other cost optimizations. Broadcom's press release has quotes from the usual OEMs (Arcadyan and Sercomm) as well as vendors like ASUS. As sampling for the new silicon is already under way, we should be seeing more attractively-priced Wi-Fi 7 products in a couple of quarters.