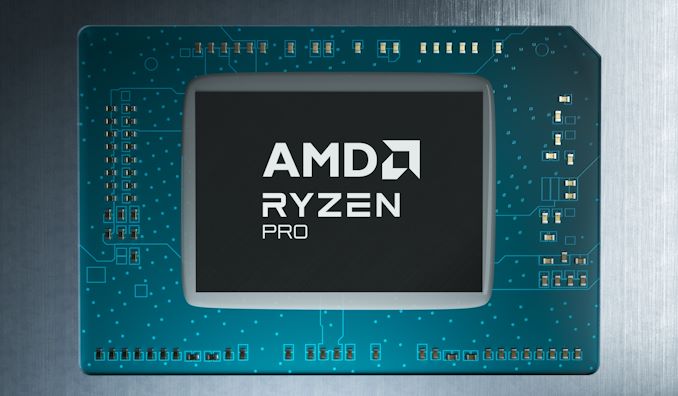 As is a constant whenever AMD launches their latest desktop and mobile processors, they typically deploy and release a professional and commercial line-up of these processors a few months later. For the desktop and mobile (server/workstation is Threadripper Pro), the latest Ryzen Pro 7000 for desktop and Ryzen Pro 7040 HS and 7040 U series for mobile builds upon the consumer range by adding several 'Pro' based features that add layers of additional security and remote manageability that sets them apart from their more consumer-focused silicon siblings.
On top of the advantages of adding Zen 4 cores to enhance performance and efficiency compared to their previous Ryzen Pro with Zen3+ portfolio, selected AMD's Ryzen Pro 7040 series SKUs will include their latest Ryzen AI block integrated within the silicon to bolster capabilities when using specific AI-focused workloads. AMD has three Ryzen Pro 7000 series processors for desktops, including one 6C/12T, 8C/16T, and 12C/24T trio of Pro-enabled SKUs, as well as three Ryzen Pro 7040HS models and three lower powered Ryzen Pro 7040U series SKUs to select from.
Ryzen PRO 7000: Three Desktop SKUs, Up to 12C/24T With Zen 4 Cores (5 nm)
Starting with the latest Ryzen Pro 7000 desktop variants, AMD has readied up three SKUs designed to provide professionals and commercial operators with the added levels of embedded security and manageability features required to ensure protection and stability.
The Ryzen Pro 7000 for desktop processors consists of three SKUs, ranging from a 6C/12T model to a 12C/24T model. Unlike their regular Ryzen 7000 desktop counterparts, it should be noted that AMD has again opted not to do a 16C/32T model as they decided not to do with their Ryzen Pro 5000 series chips.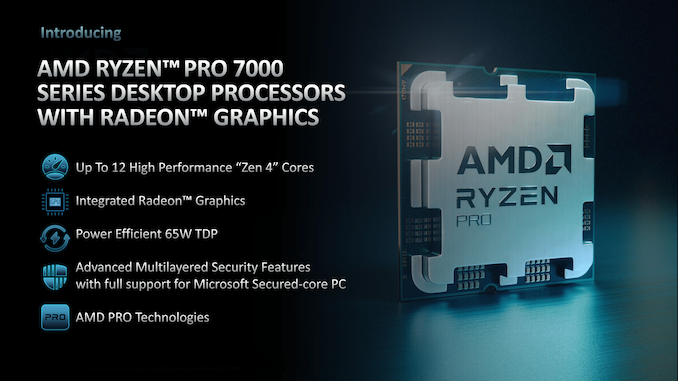 Despite using the same Zen 4 cores on TSMC's 5 nm node as the consumer Ryzen 7000 series, AMD's marketing the Ryzen Pro 7000 chips to cater to the demands of businesses, SMEs, as well as professionals looking to ensure their device has integrated hardware-level security for essential data. Another element surrounds keeping similar levels of performance and efficiency compared to the desktop SKUs, making them much more suitable for scenarios where data integrity and security are critical.
AMD Ryzen Pro 7000 Series (Zen 4)
AnandTech
Cores
Threads
Base
Freq
Boost
Freq
L3
Cache
iGPU

TDP
Ryzen 9 Pro 7945
12C / 24T
3700
5400
64 MB
2 x RDNA 2
65 W
Ryzen 7 Pro 7745
8C / 16T
3800
5300
32 MB
2 x RDNA 2
65 W
Ryzen 5 Pro 7645
6C / 12T
3800
5100
32 MB
2 x RDNA 2
65 W
Looking at the specifications of each of the Ryzen Pro 7000 series models, the Ryzen 9 Pro 7945 is the top SKU and shares much of the exact specifications as the Ryzen 9 7900, with 12 x Zen 4 cores, with a base frequency of 3.7 GHz and a boost frequency of up to 5.4 GHz, and 64 MB of L3 cache. The Ryzen 7 Pro 7745 also mirrors the Ryzen 7 7700 processor, with 3.8 GHz base and 5.3 GHz turbo frequencies, with 32 MB of L3 cache, with eight of those high-performance and highly efficient Zen 4 cores.
Moving onto the lowest spec model of the trio, the Ryzen 5 Pro 7645, which is a Ryzen 5 7600 with AMD Pro features and has 6 x Zen 4 cores, 3.8 GHz base, 5.1 GHz boost frequencies, and 32 MB of L3 cache. All three AMD's Ryzen Pro 7000 series processors feature a 65 W TDP, with 2 x RDNA 2 cores, providing a basic yet fully functional integrated graphics solution for users without a discrete graphics card.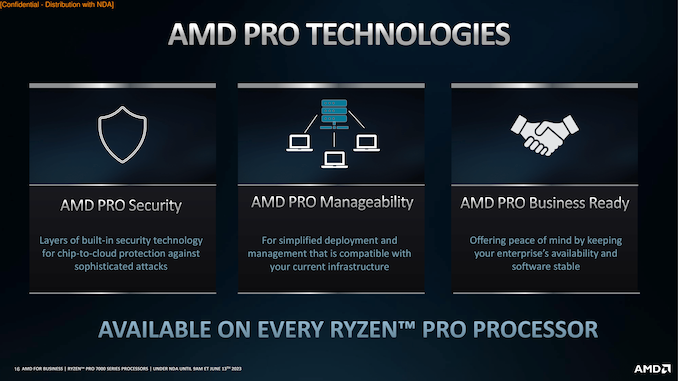 For its 2023 Ryzen Pro for desktop models, AMD hasn't seemingly added anything new to its Pro feature list, or nothing they've at least highlighted or shouted about. AMD's Pro technologies include AMD Shadow Stack within the silicon that protects against control-flow-based attacks and a Microsoft Pluton Security processor, which provides cloud-based security when used with the current Windows 11 operating system.
For memory, the AMD Memory Guard provides real-time encryption capabilities to protect the hardware from psychical attacks where devices are lost or stolen. AMD's Secure Processor is another layer that provides traditional on-chip data protection.
The AMD Ryzen Pro 7000 desktop and the Ryzen Pro 7040 (HS/U) series for mobile all feature these hardware-level-based Ryzen Pro security technologies. For the case of the desktop line-up, the Ryzen Pro 7000 series support DDR5 memory and are also supported by AMD's AM5 platform. However, AMD didn't confirm exactly which chipsets within the AM5 family will include support for the Pro features. Further highlighting the AM5 platform, AMD did guarantee that AM5 will support the next generation Ryzen 8000 series of processors based on the Zen 5 microarchitecture and that AM5 will be supported until 2026.
Ryzen Pro 7040 HS/U Series: Six SKUs, 8C/16T and 6C/12T Options For Commercial Notebooks
Moving onto the Ryzen Pro 7040 series, AMD has updated its commercial-focused line-up with the latest Zen 4 cores, built upon TSMC's 4 nm node and AMD's embedded Pro security technologies. Offering two different variants, including a higher performance Ryzen Pro 7040HS series, as well as a lower powered Ryzen Pro 7040U series, AMD has six new SKUs that essentially add their Ryzen Pro technologies to their preexisting SKUs from the Ryzen 7040HS/U series line-ups.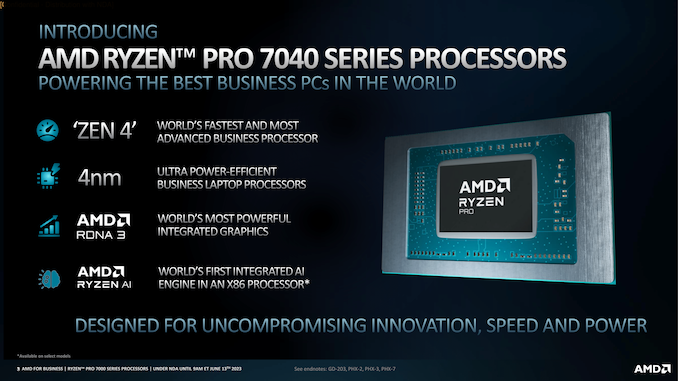 Built on TSMC's 4 nm node, which is a 'highly optimized' version of their 5 nm node used for the desktop Zen 4 cores, the Ryzen Pro 7040HS and Ryzen Pro 7040U series replicate their regular variants in terms of specifications, including core/thread count, clock speed, L3 cache, even down to the RDNA 3 integrated graphics cores/frequencies, and TDP.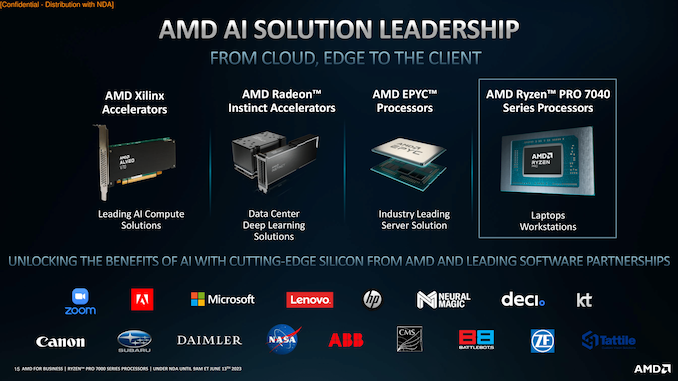 Moving onto Zen 4 (Ryzen 7000) from the previous Zen 3+ (Ryzen 6000) generation core provides multiple benefits, including IPC performance, adapting to the latest DDR5 memory, and allowing for a new graphics architecture (RDNA 3 from 2). AMD does claim a hefty performance gain of up to 29% just from switching from Zen 3+ to Zen 4, with improvements of up to 23% in multithreaded multitasked workloads.
Perhaps the most notable upgrade from the previous generations is AMD's Ryzen AI block within the silicon, designed and optimized for AI-based workloads and delivering a much more efficient AI workload throughput. While AI is a hot topic and a market that many companies are investing serious time and investment into developing as we advance into the latest AI age, AMD's solution came from their acquisition of Xilinx last year. AMD subsequently rebranded Xilinix as AMD Embedded, which has made this possible, as it uses that XDNA AI engine to provide the capabilities.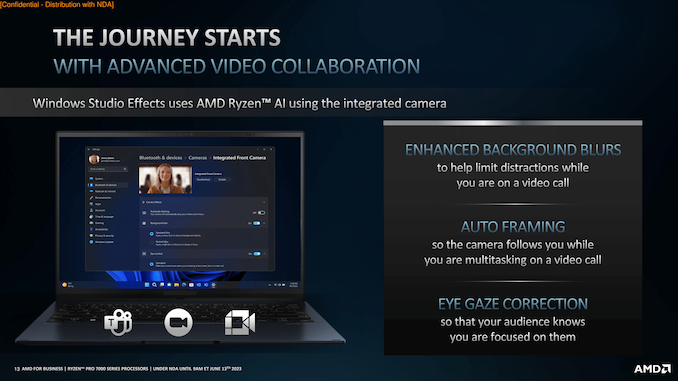 One of AMD's key selling points of their Ryzen AI engine block is the integration with Windows Studio Effects when used with Windows 11. This feature provides additional layers of AI-focused enhancements to conference calls on programs like Microsoft Teams, with auto framing, enhanced background blurring, and eye gaze correction. For conferencing, it's ideal, and implementing these features could even benefit streamers. However, the application of Ryzen AI would depend on developers providing AI-based assistance for their software. These features are only available with a dedicated AI engine on-chip, such as the Ryzen AI block and the Windows 11 operating system.
Focusing on the new processors themselves and starting with the Ryzen Pro 7040HS SKUs, the top SKU is the Ryzen 9 Pro 7940HS, which, as the model naming suggests, is a Pro enabled Ryzen 9 7940HS mobile chip. The only difference is that the Pro version includes all the aforementioned Ryzen Pro technologies within the silicon stack. The Ryzen 9 Pro 7940HS comes with 8 x Zen 4 cores, has a base frequency of 4.0 GHz, a boost frequency of up to 5.2 GHz, and 16 MB of L3 cache.
AMD Ryzen Pro 7040 Series /w RDNA 3 Graphics (Zen 4)
AnandTech
Cores
Threads
Base
Freq
Boost
Freq
L3
Cache
iGPU
CUs
iGPU
Freq
TDP
Ryzen 9 Pro 7940HS
8C / 16T
4000
5200
16 MB
12
3000
35-54 W
Ryzen 7 Pro 7840HS
8C / 16T
3800
5100
16 MB
12
2900
35-54 W
Ryzen 5 Pro 7640HS
6C / 12T
4300
5000
16 MB
8
2800
35-54 W
Ryzen 7 Pro 7840U
8C / 16T
3300
5100
16 MB
12
2700
15-28 W
Ryzen 5 Pro 7640U
6C / 12T
3500
4900
16 MB
8
2600
15-28 W
Ryzen 5 Pro 7540U
6C / 12T
3200
4900
16 MB
4
2500
15-28 W
Moving down the Ryzen Pro 7040HS stack is the Ryzen 7 Pro 7840HS, which has a slightly slower base frequency of 3.8 GHz and a 100 MHz drop in the boost frequency (5.1 GHz) over the 7940HS. It also has a marginally slower graphics frequency of 2.9 GHz, but it does share the same 16 MB of L3 cache within the 8C/16T core complex. The Ryzen 5 Pro 7640HS is a 6C/12T part with a base frequency of 4.3 GHz and a 5.0 GHz boost frequency, and it also has the same 16 MB of L3 cache available to the core complex. It has a slightly lower spec graphics chip (8 CUs vs. 12 CUs) and operates at a graphics frequency of 2.8 GHz.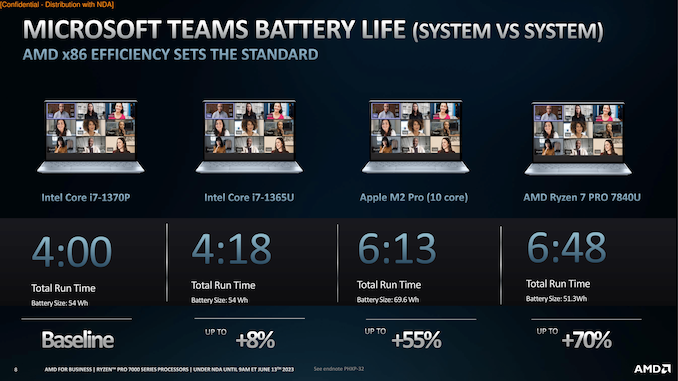 AMD claims up to 70% improved battery life over the competition using Microsoft Teams
Offering lower-powered alternatives with a focus on extending device battery life without sacrificing too much of the performance of the HS series, the Ryzen Pro 7040U series is built upon AMD's superb Zen 4 efficiency. The top SKU, the Ryzen 7 Pro 7840U, is an 8C/16T part with a modest base frequency of 3.8 GHz, although 1T boost frequencies can hit up to 5.1 GHz. As everything is within one CCD, the Ryzen 7 Pro 7840U has 16 MB of L3 cache, 12 x RDNA 3 CU's, and a peak graphics frequency of up to 2.7 GHz.
The Ryzen 5 Pro 7640U and 7540U are a pair of 6C/12T SKUs, with the only differences coming through integrated graphics capabilities (8 vs. 4 CUs, respectively) and core frequencies. The Ryzen 5 Pro 7640U has a 300 MHz faster base frequency of 3.5 GHz, while the Pro 7540U has a 3.2 GHz base frequency, but both chips come with a 1T boost frequency of up to 4.9 GHz.
The three Ryzen Pro 7040HS series SKUs all come with a 35 to 54 W TDP, and like the Ryzen Pro 7040U series that use a lower 15-28 W TDP, they all come included with 16 MB of L3 cache, as all the cores sit within the same CCD.
AMD hasn't confirmed when their Ryzen Pro 7000 desktop chips will surface on the market, nor how much they will cost.
The same goes for the Ryzen Pro 7040HS/U series for notebooks; although AMD claims they have seen a growth in its notebook portfolio 5x, AMD has two new mobile lines of workstations coming to market. Both are from HP and based on their ZBook line of notebooks, the HP ZBook Power G10A and the HP ZBook Firefly 14 G10A will feature Ryzen Pro 7040HS processors.
No details on further models expected, availability, or pricing has been provided at this time. We have also contacted AMD to confirm which Ryzen Pro 7040 SKUs will include their Ryzen AI block, but we haven't received a reply yet. When we do, we will update the article accordingly.