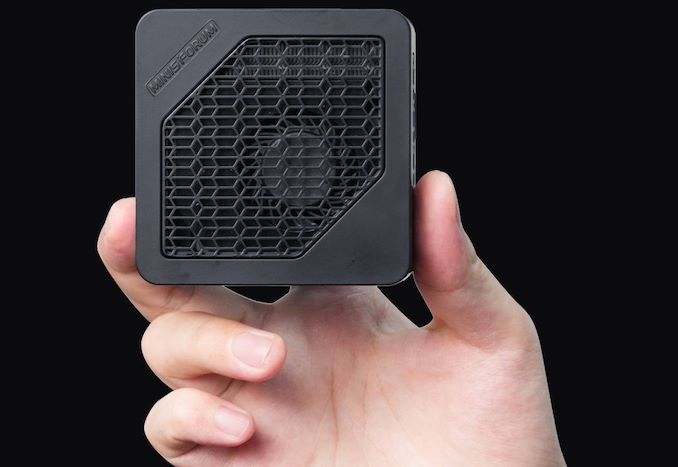 We've seen AMD's Ryzen Mobile 6000 series chips show up in several mini-PC devices thus far, and now a recently-released mini-desktop from Minisforum is the smallest yet. The Mini-PC specialty firm has launched its Mercury EM680, an ultra-compact PC based on AMD's Ryzen 7 6800U that is pushing the envelope on compute density, using a far more powerful SoC than we tend to see in these daintiest of devices.
In terms of size, the Minisforum Mercury EM680 can literally fit in the palm of a hand and is smaller than a can of Coke. Underneath it all, Minisforum is taking full advantage of the mobile nature of AMD's recent laptop chips, packing AMD's Ryzen 7 6800U processor (8C/16T@4.70 GHz, Radeon RX 680M) and related hardware into the tiny desktop PC. To help achieve the PC's small size, Minisforum is also relying on soldered-down LPDDR5 memory, pairing the AMD SoC with either 16 GB or 32 GB of LPDDR5-6400. And finally, storage is provided by an M.2 2230-sized SSD hooked up to the SoC's PCIe 4.0 interface.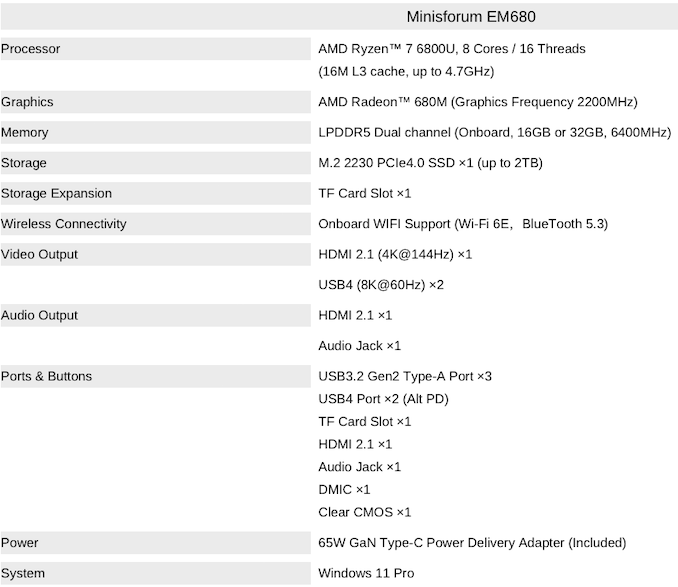 While the soldered-down memory means there's no option for further memory expandability, it is relatively easy to replace the M.2 drive with a higher-capacity one. Minisforum is selling SKUs with 512GB and 1TB drives, though 2TB drives are also available these days from third parties, albeit at a premium. External graphics expandability is technically also an option via the USB4 Type-C port – though you won't find any eGFX boxes nearly as small as the Mercury.
To ensure consistent performance of the APU, memory, and SSD at high loads, the system is equipped with Minisforum's Cold Wave 2.0 cooling system, which uses heatsinks that remove heat from both sides of the motherboard, heat pipes, and a blower fan. Minisforum notes that the PC supports a silent mode, though the relatively high 28W+ TDP of the 6800U at full throttle means that active cooling is absolutely needed if you want to sustain that kind of performance for any appreciable length of time.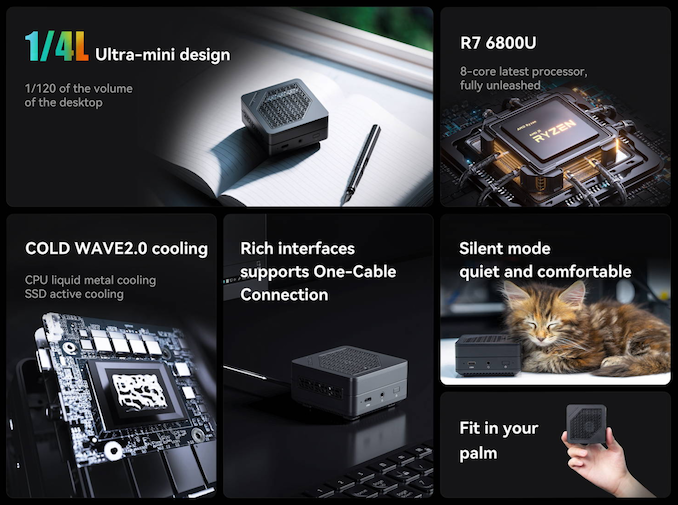 When it comes to connectivity, it looks quite rich, at least as far as miniature systems are concerned, as the system features an onboard Wi-Fi 6E + Bluetooth 5.3 module, two USB4 connectors with DP Alt Mode, three USB 3.2 Gen2 Type-A ports, a TF Card slot, and an HDMI 2.1 output, and a TRRS connector for headsets. Given display output capabilities and AMD's Radeon RX 680M integrated GPU, the machine can handle three monitors; the USB-C-driven displays will support an 8Kp60 resolution, whereas the HDMI 2.1 can support an up to 4Kp144 output.
As far as actual dimensions are concerned, the Minisforum Mercury EM680 measures 80×80×43 mm — which is around 40% smaller that the company's typical small form-factor PCs. The system does not have an integrated PSU, but it comes with a small 65W USB Type-C power adapter.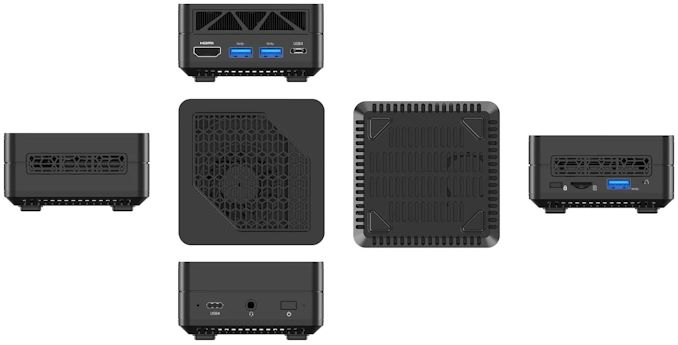 Traditionally, Minisforum's systems are not that expensive. The cheapest configuration with 16 GB of memory and a 512 GB SSD is priced at $399 (down from $499), whereas the range-topping model with 32 GB of LPDDR5 and a 1 TB drive is priced at $489 (down from $609).
Source: Minisforum