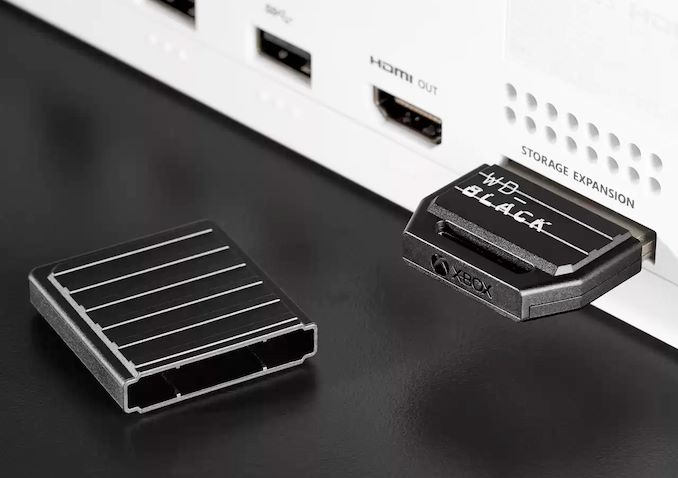 Ever since Microsoft introduced its Xbox Series X/S game consoles in late 2020, Seagate has been exclusively selling storage expansion cards for these systems. But to the chagrin of gamers everywhere, these single-supplier drives have maintained their high prices even as the price of NAND and industry-standard SSDs has plummeted in the last year. But this might finally be changing, as Western Digital on Tuesday introduced its first WD_Black-branded storage expansion cards for Microsoft's latest Xbox consoles.
Western Digital's WD_Black C50 lineup of expansion cards for Microsoft's Xbox Series X|S consoles includes 500 GB and 1 TB models. The WD_Black C50 expansion cards are designed to offer similar performance and features (e.g., Quick Resume) as built-in Xbox Series X|S internal storage so to provide seamless experience no matter where the games are installed physically: on the internal SSD or on an expansion card.
Western Digital's WD_Black C50 500 GB is priced at $80, whereas the 1 TB version costs $150. By contrast, Seagate currently has 512 GB ($110), 1 TB ($150), and 2 TB ($280) options. It is noteworthy that Seagate is now offering its expansion drives with a 30% discount in the U.S., presumably in reaction to Western Digital's offerings.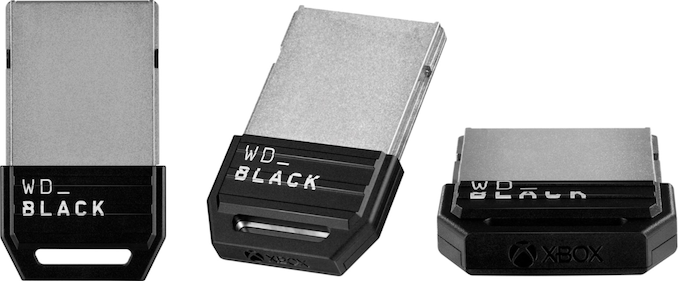 The storage expansion units for Microsoft's newest Xbox Series X|S gaming systems are proprietary and only designed to be used with these consoles. Technically, these storage units resemble the CFexpress 1.0 Type-B design, yet they operate with a PCIe 4.0 x2 interface, whereas the CFexpress 1.0 Type-B specification mandates usage of a PCIe 3.0 x2 interface.
Microsoft is thought to charge a licensing fee from makers of Xbox Series X|S storage expansion cards, and apparently Seagate was the only company to agreed to the software giant's terms, which is why it was the exclusive supplier of such storage units for over two years.
It is noteworthy that it is possible to DIY a storage expansion card for the latest Xbox consoles by using a CFexpress-to-M.2-2230 adapter, originally developed to increase storage capacity in cameras using an M.2-2230 SSD. Currently, these adapters can be purchased from Amazon for $30. However, only a couple of hard-to-find 2230 drives are actually compatible with this method, leaving the official expansion cards as the only sure-fire and reliable way to add storage to Microsoft's consoles.
Source: Western Digital