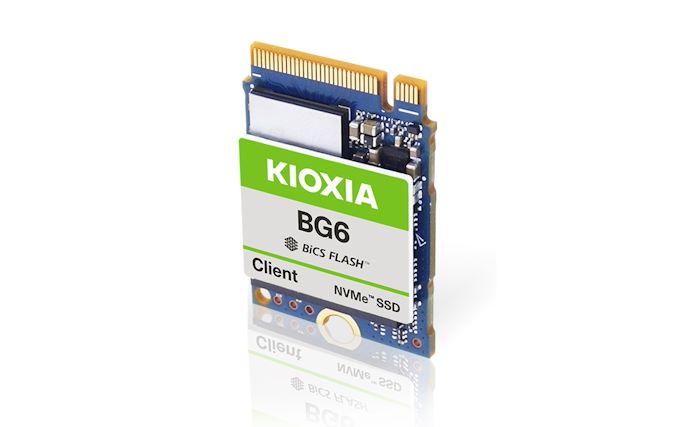 Kioxia's BG series of M.2 2230 client NVMe SSDs has proved popular among OEMs and commercial system builders due to their low cost and small physical footprint. Today, the company is introducing a new generation of products in this postage stamp-sized lineup. The BG6 series builds up on the Gen 4 support added in the BG5 by updating the NAND generation from BiCS5 (112L) to BiCS6 (162L) for select capacities. The increase in per-die capacity now allows Kioxia to bring 2TB M.2 2230 SSDs into the market. While the BG5 series came in capacities of up to 1TB, the BG6 series adds a 2TB SKU. However, the NAND generation update is only reserved for the 1TB and 2TB models.
The BG series of SSDs from Kioxia originally started out as a single-chip solution for OEMs either in a BGA package or a M.2 2230 module. The appearance of PCIe 4.0 and its demands for increased thermal headroom resulted in Kioxia getting rid of the single-chip BGA solution starting with the BG5 introduced in late 2021. The BG6 series continues the DRAMless strategy and dual-chip design (separate controller and flash packages) of the BG5.
While the performance numbers for the BG5 strictly placed it in the entry-level category for PCIe 4.0 SSDs, the update to the NAND has now amplified the performance to accepted mainstream levels for this segment. The DRAMless nature and use of the system DRAM (host memory buffer - HMB) for storing the flash translation layer (FTL) handicaps the performance slightly, preventing it from reaching high-end specifications. However, this translates to lower upfront cost and better thermal performance / lowered cooling costs - which are key constraints for OEMs and pre-built system integrators.
Kioxia BG6 SSD Specifications
Capacity
256 GB
512 GB
1 TB
2 TB
Form Factor
M.2 2230 or M.2 2280
Interface
PCIe Gen4 x4, NVMe 1.4c
NAND Flash
112L BiCS5 3D TLC
162L BiCS6 3D TLC
Sequential Read
? MB/s
? MB/s
6000 MB/s
6000 MB/s
Sequential Write
? MB/s
? MB/s
5000 MB/s
5300 MB/s
Random Read
? IOPS
? IOPS
650K IOPS
850K IOPS
Random Write
? IOPS
? IOPS
900K IOPS
900K IOPS
Power
Active
? W
? W
? W
? W
Idle
? mW
? mW
? mW
? mW
The company is focusing on the 1TB and 2TB SKUs with BG6 due to higher demand for those capacities in the end market. The 256GB and 512GB variants are under development. While the M.2 2230 form-factor is expected to be the mainstay, Kioxia is also planning to sell single-sided M.2 2280 versions for systems that do not support M.2 2230 SSDs.
In addition to client systems, Kioxia also expects the BG6 SSDs to be used as boot drives in servers and storage arrays. Towards this, a few features that are not considered essential for consumer SSDs (such as support for NVMe 1.4c specifications including interfacing over SMBus for tigher thermal management, encryption using TCG Pyrite / Opal, power loss notification for protection against forced shutdowns, and platform firmware recovery) are included.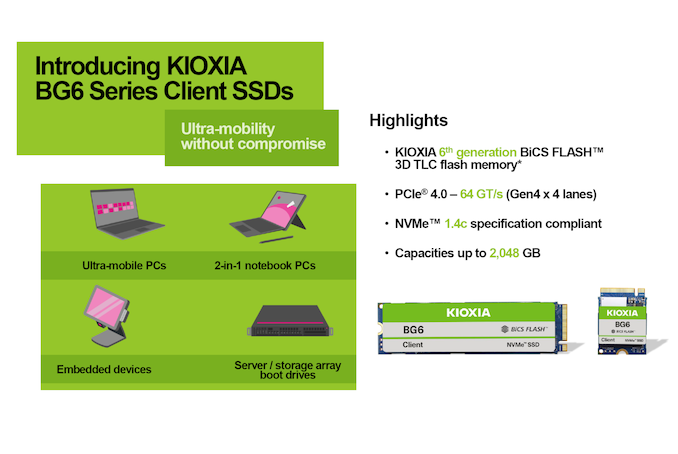 The availability of performance numbers for the 1TB SKU allows us to note that the BG6 has more than 1.7x the sequential performance numbers of the BG5, and random reads are 1.3x better, while random write performance has doubled. These are obviously fresh out-of-the-box numbers (as typical of specifications for consumer / client SSDs). Power consumption numbers were not made available at the time of announcement [Update: Kioxia indicated that the finalized specifications (inclusive of power numbers) should become available in July].
Kioxia will be sampling the drives to OEMs and system integrators in the second half of the year. Systems equipped with these drives can be expected in the hands of consumers for the holiday season or early next year. Pricing information was not provided as part of the announcement, but Kioxia is demonstrating these at the Dell Technologies World 2023 being held in Las Vegas from May 22 - 25.