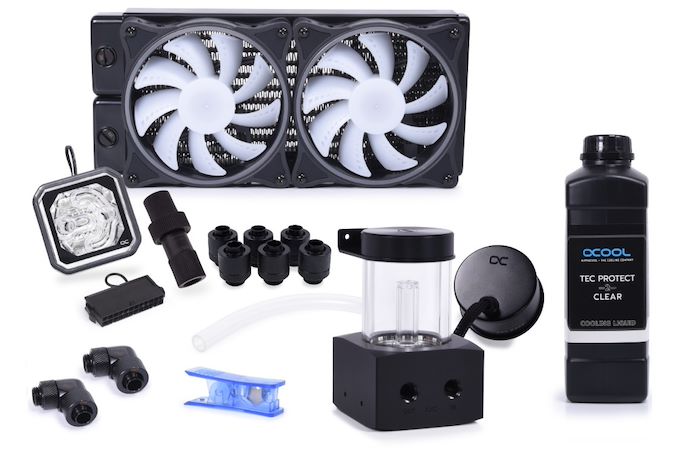 One of the greatest aspects of PC building is the vast range of hardware and configurations available for building systems. And we're not just talking about CPUs and video cards; even within more mundane parts like cases and cooling, there are a wide variety of parts to be had, from breadbox computer cases and simple heatsinks up to massive chassis capable of holding equally massive radiators. It's a level of flexibility that ensures there's a PC build for everyone, and it's also a level of flexibility that affords some truly fun and extreme options.
While liquid cooling is decidedly old school in the PC space at this point, there remains a large split between the mainstream and the exotic. Closed loop all-in-one liquid coolers have become a mainstream option, and rightfully so thanks to their simplicity and ease of installation. But when you want to play at the true high end of liquid cooling – both in terms of performance and price – then that is decidedly in the domain of open loop liquid coolers. As capable as closed loop coolers are, open loop systems with their more complex hardware can provide an edge in performance, and a bit of additional flexibility of their own.
To that end, as summer kicks off in the Northern Hemisphere, today we're bringing the water to our PC cooling testbed with a look at a pair of kits from AlphaCool's range of ready-to-install liquid cooling sets. Specializing in liquid cooling, the German firm offers a complete range of liquid cooling parts – from radiators and reservoirs to tubes and connectors – both on an individual basis and as part of complete cooling kits. These kits essentially are collections of individual parts that are conveniently packed together, saving the trouble of picking items one by one and getting everything needed for a CPU liquid cooler at a small discount.
For today's review, we're looking at two of the three series of kits that AlphaCool currently offers, the Core Storm XT45 240 mm and the Core Hurrican XT45 360 mm. Paired with 240 mm and 360 mm radiators respectively, the two kits are largely similar in scope as high-end open loop water cooling sets. However the Hurrican kit, besides offering more cooling headroom overall via its larger radiator, diverges from its Storm counterpart by using hard, molded tubing. The end result is a very different building experience, even if the underlying physics at play are much the same.
Packaging & Bundle
Both the Core Storm XT45 and the Core Hurrican XT45 kits are supplied in simple but tough cardboard boxes with minimal artwork on them.
Each box contains all the parts of the purchased set and each part has its own packaging. The parts supplied with each set are listed below:
AlphaCool Core Liquid Cooling Sets
Core Storm XT45
Core Hurrican XT45
CPU Block
Eisblock XPX Aurora CPU Cooler
Eisblock XPX Aurora Edge CPU Cooler
Reservoir
Core 100 Aurora Reservoir & VPP Apex Pump
Eisbecher Aurora D5 250mm & VPP Apex Pump
Radiator
NexXxoS XT45 Full Copper 240mm Radiator V.2
NexXxoS XT45 Full Copper 360mm Radiator V.2
Fans
2 × Rise Aurora 120mm fans
3 × Rise Aurora 120mm fans
Tubing
AlphaTube HF 13/10mm tubing
& HF G1/4" quick connect coupling

Eisrohr 16/13mm PETG HardTube

Connectors
Eiszapfen 13/10mm G1/4" Connections
Eiszapfen 16/13mm G1/4" Connections
Consumables
Thermal Paste & Coolant
RGB
aRGB Controller & Cables
Misc
Tools & Accessories (hose cutter, filling bottle, and an ATX 24-pin jumper)
Tools & Accessories (filling bottle, deburrer, pit saw, filling bottle, and an ATX 24-pin jumper)
Price
~$365
~$465
Compared to AlphaCool's Eisbaer Aurora 360 that we reviewed last year, which was a hybrid between a sealed liquid cooler and a customizable kit, the Core kits are a far more high-end experience. While the Eisbaer Aurora offered a hint of customizability, with their Storm kits, AlphaCool is going all-out in terms of performance and customizability.
From the packing lists alone, we can see that the kits include almost everything that a system builder needs for the installation of the particular set; AlphaCool has even included any hand tools that may be needed. Both sets come with comprehensive illustrated installation manuals. From a quick glance at the packing lists, one can realize that the Core Storm XT45 is much simpler and forgiving to install and use, while the Core Hurrican XT45 is geared towards highly experienced system builders that are comfortable with tools and customized creations.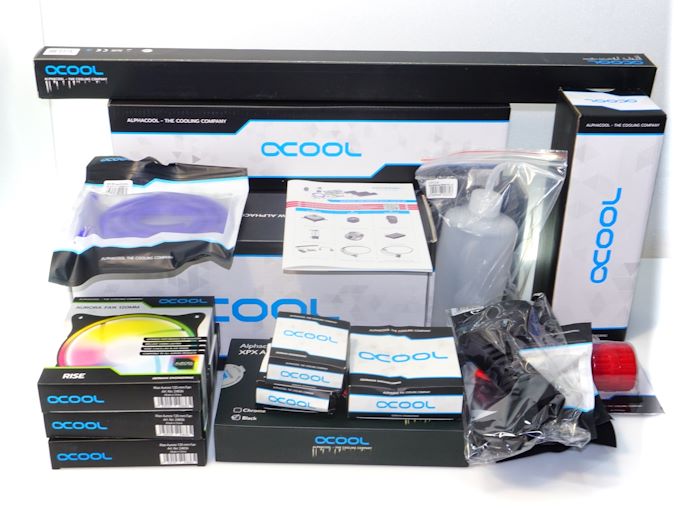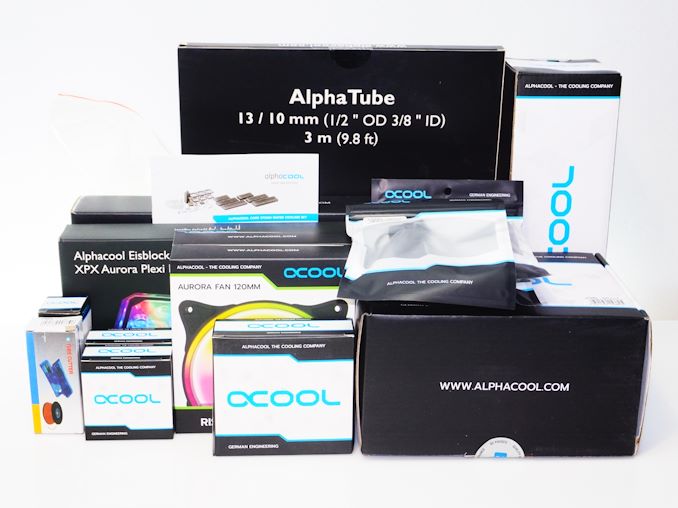 Left: Core Hurrican XT45 360 mm kit contents / Right: Core Storm XT45 240 mm kit contents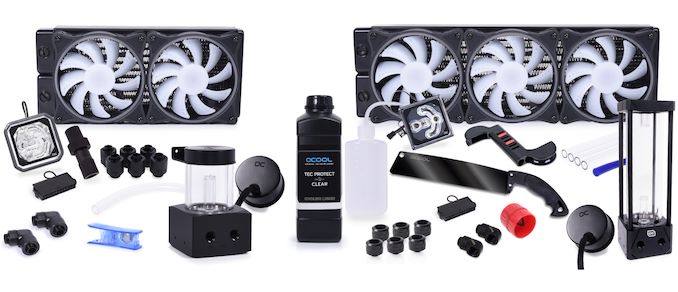 Core Storm XT45 240 mm & Core Hurrican XT45 360mm Unpacked
The Alphacool Core Storm 240mm XT45 and the Core Hurrican 360mm XT45 CPU Liquid Cooler Sets
The first difference between the two sets, although subtle, lies with the CPU block. The Core Storm XT45 set includes an Eisblock XPX Aurora CPU Cooler, while the Core Hurrican XT45 includes an Eisblock XPX Aurora Edge CPU Cooler.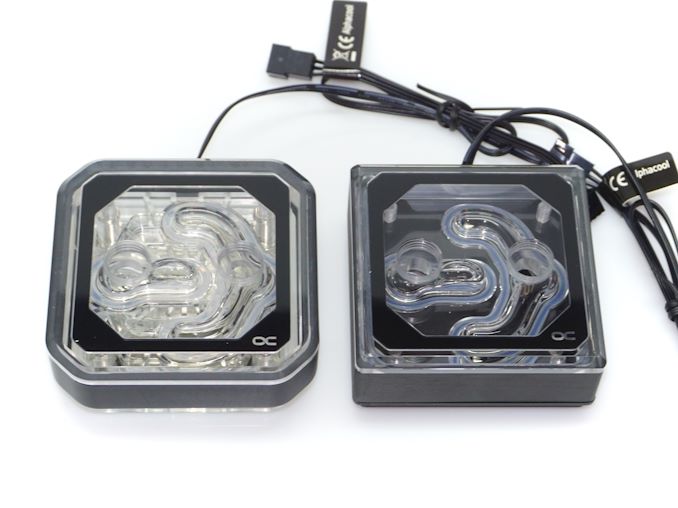 On paper, both of these two CPU blocks look roughly the same. They both are the same size and they are compatible with the same types of CPU processors. Their bases are identical and are made out of pure copper that the company nickel plated for protection, with extremely smooth, mirror-like finishes. The blocks feature AlphaCool's patented "ramp" design with micro fins between the intake and the discharge of the block. There are 81 micro fins that are only 0.2 mm apart, creating a substantial heat transfer surface inside a very small space. Both blocks also have 15 addressable RGB LEDs of the same type.
The main difference between the two cooling blocks is their body, with the Eisblock XPX Aurora featuring a lightweight acrylic body. Acrylic bodies are very frequently used on liquid cooling solutions nowadays due to their low weight, low cost, and transparency. The Edge version of the Eisblock XPX Aurora that comes with the Core Hurrican XT45 set, on the other hand, has a body made out of solid brass, with an acrylic top plate for aesthetic purposes. It weighs twice as much as the acryl version and feels much more solid. The brass also is much more stable than acryl and should last much longer, but the top cover is still made out of acryl, so the longevity of either block should be about the same.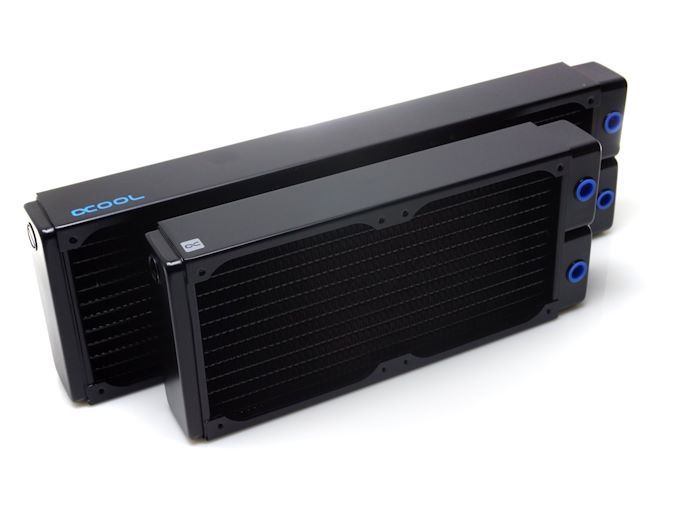 The highlight of AlphaCool's liquid cooling kits are the NexXxoS V.2 radiators, which are used for both the Core Storm and Core Hurrican sets. These radiators are available in three thicknesses (30, 45, and 60 mm) and in multiple lengths that range from 50 mm to 560 mm. AlphaCool also produces special versions that are up to 400 mm × 400 mm large for customized applications. AlphaCool offers each kit with several different choices for a radiator. We received the Core Storm set with the 240 mm XT45 radiator and the Core Hurrican set with the 360 mm XT45 radiator.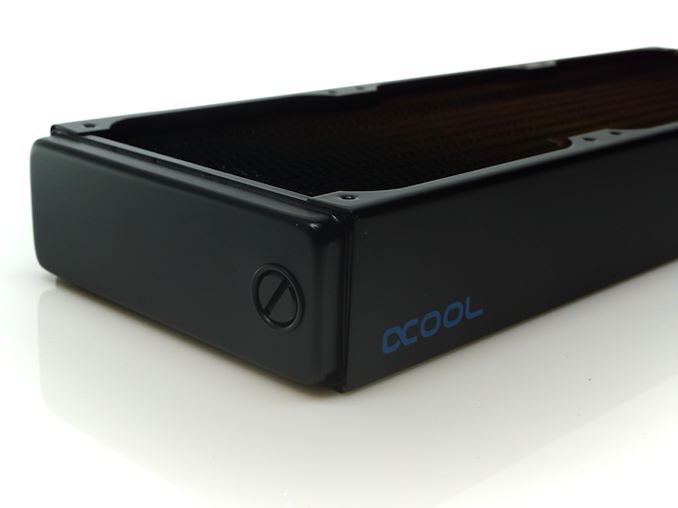 What makes the NexXxoS radiators unique is that all of their main components (channels, fins, and chambers) are made out of pure copper. Copper, of course, is one of the best thermal conductors out there, but the downside is that copper is both heavy and very expensive, making each NexXxoS radiator cost as much as an entire mainstream AIO kit. The radiators look like a typical heat exchanger design, with the main exception from the crowd being the independent inlet and outlet chambers. AlphaCool also installed a filling/deaeration port on the XT45 radiators that we received, but note that not all NexXxoS radiators have one.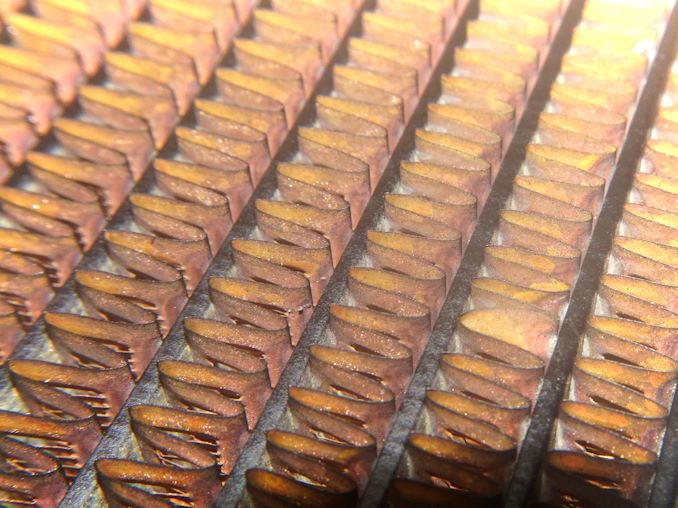 A very close inspection of the NexXxoS radiators reveals that they are more than just a typical design that AlphaCool simply used copper to make it. AlphaCool claims that they optimized the fins spacing to reduce backpressure and turbulence, allowing the thick radiators to function well even with low static pressure fans. Furthermore, a very close look at the fins reveals that they are not straight but serrated. These serrations are tiny, at less than 1 mm high each, hinting at a very high precision manufacturing process. AlphaCool claims that these serrations minimize air turbulence and, to an extent, noise.
A significant difference between the Core Storm and Core Hurrican kits is the included reservoir, with the former including the Core 100 Aurora and the latter the Eisbecher Aurora D5. Aside from the obvious size difference, a close inspection reveals that the larger Eisbecher Aurora D5 also has a glass tube, whereas the Core 100 Aurora is made out of acetal.
Other than that, the two reservoirs are very much alike, featuring an aluminum base that hosts the hose connectors and the liquid pump, as well as 12 addressable RGB LEDs each. Both reservoirs come with adapters that allow them to be attached to 120/140 mm fan slots, permitting installation on free front case slots or even on the radiator itself if it is installed vertically. Finally, both implement riser tubes that create a fountain-like effect if the reservoir is not filled to the brim. This is far easier to achieve and also visually better with the much longer Eisbecher Aurora D5, which also includes a longer riser tube inside its packaging.
Regardless of their differences, the two reservoirs have the exact same pump attached – the VPP Apex. Unlike typical bearing pumps, the VPP Apex pump has a ceramic shaft and external motor coils. This design increases the longevity and torque of the motor, allowing it to perform with significantly reduced energy consumption and minimal vibrations. The maximum head of 4.25 m and a max flow of 340 l/h are rather impressive specs for such a small, 14W pump. It requires a SATA connector for power, and AlphaCool has installed an additional 4-pin fan header connector that can be attached to the motherboard, allowing for PWM speed control.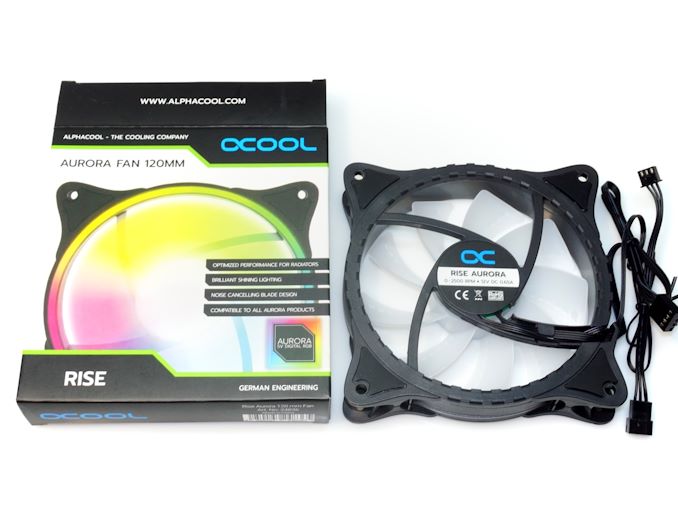 Another similarity between the two kits is the identical fans. AlphaCool supplies their Rise Aurora 120 mm fans with both kits, the number of which depends on the radiator's size. The technical highlight of these fans is the ability to reduce their speed down to a full stop when PWM controlled, which is not an unlikely scenario at all if a large radiator is being used on an energy-efficient processor.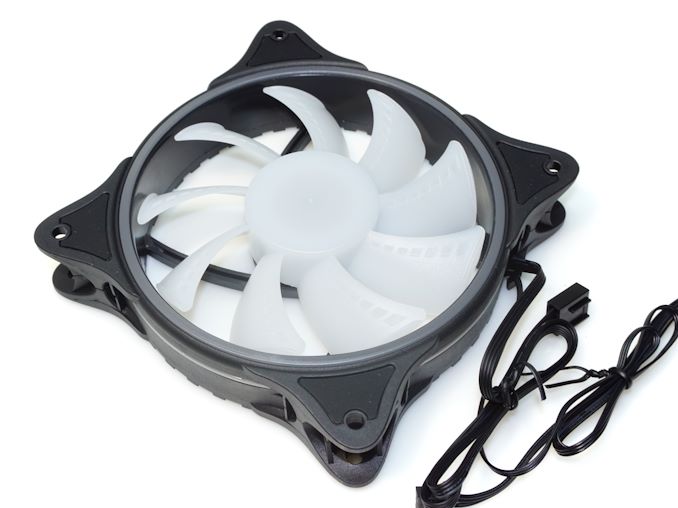 They can start at just 350 RPM and have a maximum speed of 2500 RPM, offering users the advantage of a very wide operating range. The nine-blade design suggests that these fans are geared more towards airflow than maximum static pressure, substantiating AlphaCool's claims that their NexXxoS radiators have low airflow resistance.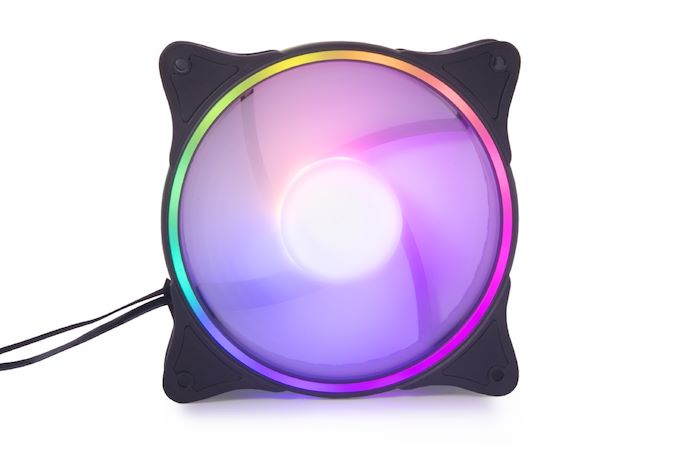 Each Rise Aurora fan has 20 addressable RGB LEDs attached, 12 on the frame and 8 on the hub. The sheer number of LEDs ensures even lighting and practically zero dark spots. Ring diffusers are installed on both sides of the fan's frame, creating a magnificent visual effect. AlphaCool also installed foam decouplers on all corners, reducing the transmission of vibrations and, to an extent, noise.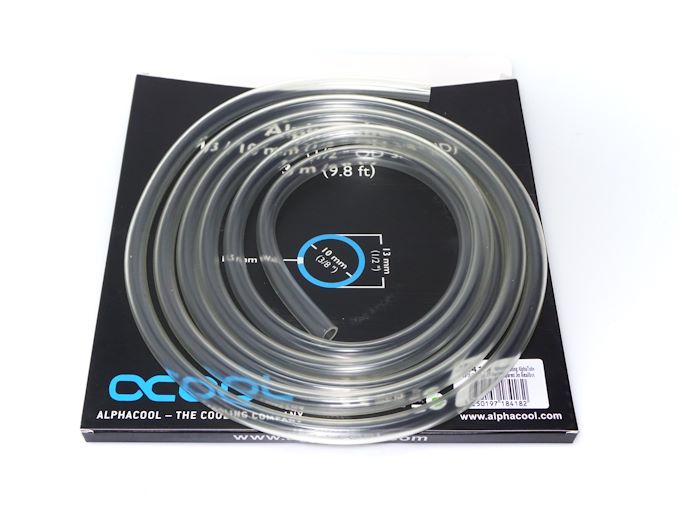 What may as well be the fundamental difference between the Core Storm and the Core Hurrican kits is the tubing. The Core Storm kits come with clear flexible PVC tubing (13/10 mm or 1/2-3/8 in) of good quality, with excellent kink resistance. AlphaCool also offers colored tubing for those that want to safely add color to their systems – the use of coloring additives in the liquid is not recommended as they can clog the minute parts of the system.
Inside the Core Storm kit, we also find a basic tube cutting tool and a quick connect coupling that we first encountered with AlphaCool's AIO kits. The quick-connect coupling allows for a hose to be easily disconnected without leaks and can be used to expand the loop in the future without having to as much as drain the cooling system. Although just one coupling is included in the kit, using more can also allow for the quick disassembly and removal of parts, making the cooling system entirely modular for maximum flexibility.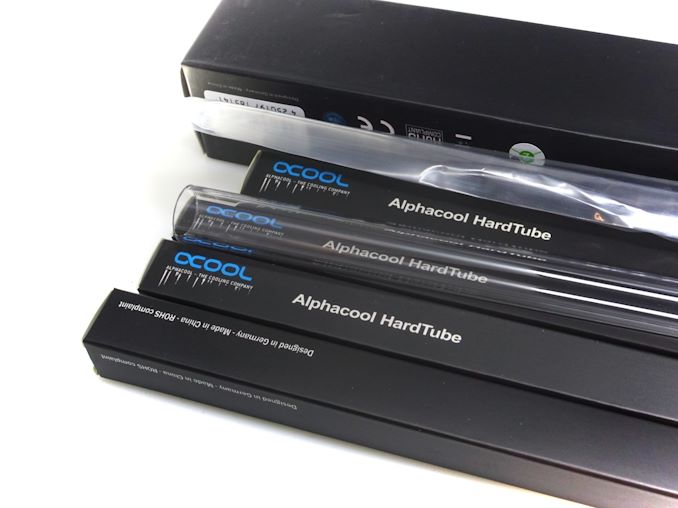 Conversely, forfeiting the simplicity of PVC tubing, the Core Hurrican kits come with solid PETG hard tubes (16/13 mm or 5/8-1/2 in). The kit includes four hard tube pieces (80 cm or 32 in each), as well as most of the tooling required for the installation. The tooling includes a solid rubber tube that should be inserted inside the tube before bending it to ensure it will maintain its roundness, a bending tool, a hand saw, and a deburring tool. Installers will also need a heat gun to warm the tubing for bending, which is the only tool not included in this kit. AlphaCool does sell low-cost heat guns but any heat gun will do the trick. Hard tubes certainly are more impressive than simple PVC tubing but require the user to have at least basic skills with hand tools and very careful assembly.
Both sets come with proper G1/4" connectors for the corresponding tubing they ship with. Each kit has two L-shaped connectors and six straight connectors inside. The connectors are made out of pure brass, and AlphaCool claims that the coating has been specially applied, making it very difficult to chip or flake off. It does feel very high quality and the coating is indeed strong but it is not impervious and sharp tooling can easily scratch it. AlphaCool also provides UV-colored O-rings with fittings that will only be useful if a UV lighting option is implemented.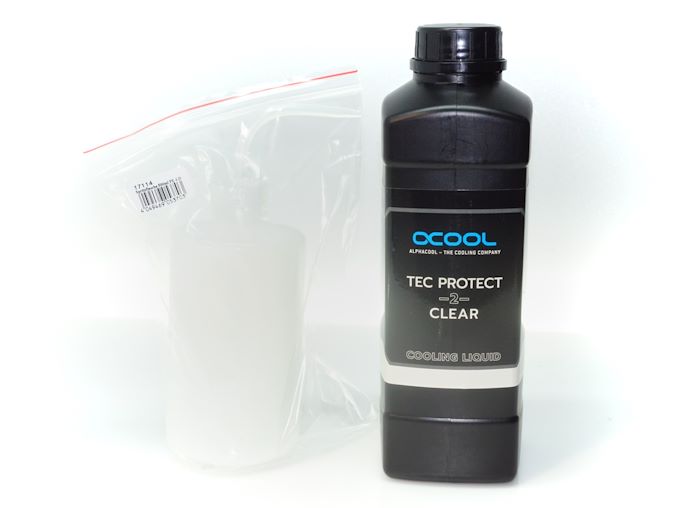 Last but not least, both kits include a bottle of cooling liquid and a filling bottle. AlphaCool's TEC Protect 2 is a ready-to-use cooling liquid that, according to the company, is based on high purification (osmosis) water with just the necessary antifoaming and anticorrosive additives included. This makes it perfectly safe for all liquid cooling systems, regardless of material. The kits come with a bottle of clear liquid, but AlphaCool offers it in several colors, as well as UV-reactive versions. Using quality deionized water with a little bit of anticorrosive additive in it would work just fine, even if it is meant for other applications (e.g. vehicles or solar systems), but the TEC Protect 2 is expensive and users can be sure that it will be fully compatible with their liquid cooling loop.