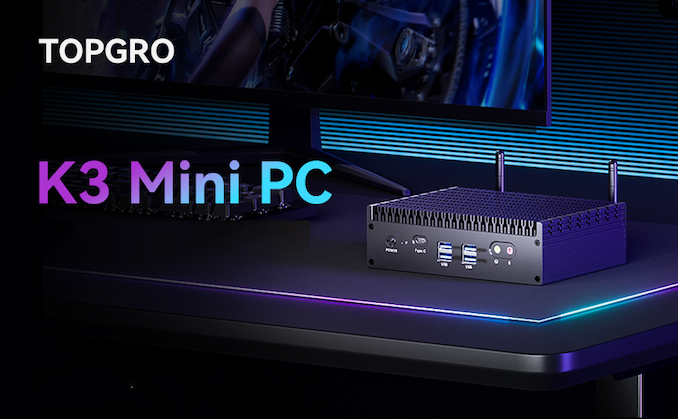 One of the perks of modern mobile CPUs is that, being designed for laptops and their very limited cooling capacity, they can be placed in a NUC-sized (or smaller) miniature desktop PC with little difficulty. Better still, with desktops providing room for proper heatsinks (i.e. fins), even passively cooled mini-PCs using laptop-grade silicon are more than viable. The only real drawback to these mini-PCs has largely been the niche nature of the market – leading to high prices and limited choices for higher-performing systems – which is why Topgro has been turning heads as of late with the release of their aggressively priced Intel 12th Gen Core-based K3 Mini PC.
Topgro is not a household name, but it sells a collection of compact desktop PCs at Amazon, including inexpensive machines for office and neat gaming systems. As discovered by FanlessTech, Topgro's K3 is the latest addition to the company's lineup, offering a passively cooled mini-PC system based around Intel's mobile 12thGeneration Core 'Alder Lake' processors with Iris Xe integrated GPU with 96 EUs.
Recently posted on Amazon, Topgro had initially listed a complete Core i7-1255U system that shipped with 512GB of solid state storage and 16GB of DDR4 memory for just $369 (after discount), a dirt-cheap price for a Core-based mini-PC that is complete and usable out of the box. Though in a sign that Topgro may have been a bit too aggressive with their new PC, the price already went up by $100 to $469 $569 just in the time it took to finish writing this article.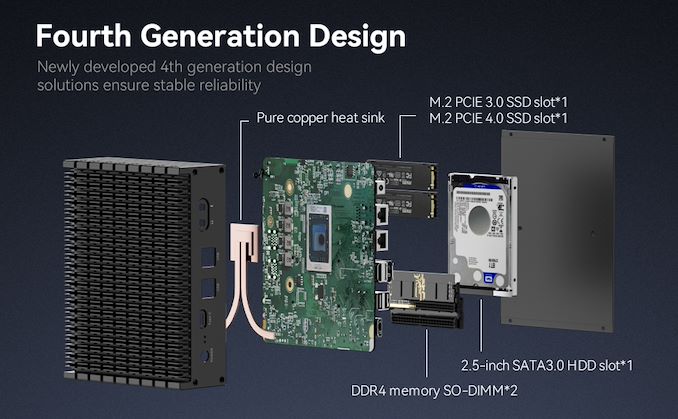 Measuring 174 mm × 128 mm × 45 mm (6.85 × 5 × 1.77 inches), Topgro's K3 Mini PC is a rather compact machine. And since Alder Lake CPUs for notebooks are heavily packed with features, these K3 machines are quite capable. The small form-factor PC not only comes with a 96 EU integrated Intel Xe-LP GPU, it supports up to 64 GB of DDR4 memory using two SO-DIMM modules, two M.2-2280 SSDs (with a PCIe 4.0 and a PCIe 3.0 interface), and can house one 2.5-inch SATA HDD or SSD for bulk storage. Even Thunderbolt 4 is supported, owing to the fact that it's natively baked into Intel's mobile CPUs.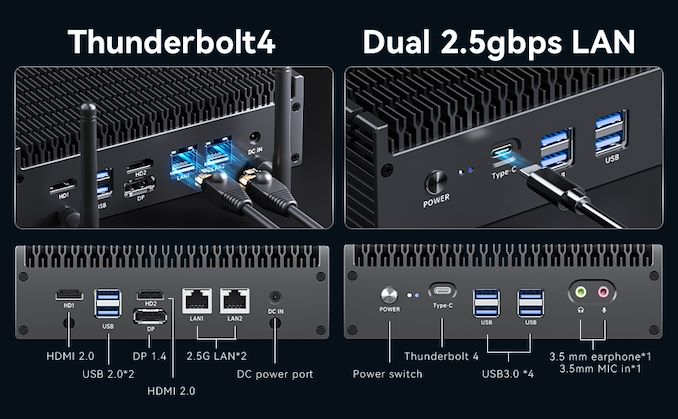 As for connectivity, Topgro's K3 provides everything that Intel's 12th Gen Core platform for laptops has to offer and then some. This includes Wi-Fi 6 (enabled by Intel's AX200 module), two 2.5GbE ports (making the systems plausible for corporate environments), the aforementioned Thunderbolt 4-capable USB Type-C connector, four display outputs (DP 1.4, two HDMI 2.0, USB-C), and six USB Type-A ports (three USB 3.0, two USB 2.0), and audio jacks.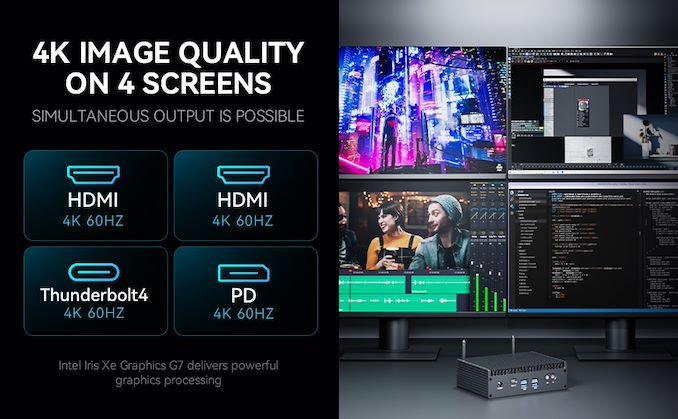 As noted earlier, arguably the most notable aspect of this PC is Topgro's aggressive pricing, especially given that it's a fanless machine. The sole K3 configuration Topgro is offering pairs Intel's Core i7-1255U (2P + 8E cores, 12 threads, 4.70 GHz, 12 MB L3, Iris Xe GPU with 96 EUs) with 16 GB of DDR4-3200 and a 512 GB NVMe SSD, with Windows 11 pre-loaded. The manufacturer is offering a $30 digital coupon on top of a (now) $499 base price, bringing the final price of the sytem down to $469 $569.
Update 5:00pm ET: It was apparently too good of a price to last. Despite starting at $369 less than a day ago, Topgro's K3 is now $569, a quick $200 hike that puts it on par with other Alder Lake-U systems.
Coincidentally or not, $469 is also Intel's list price for the Core i7-1255U. And while system vendors rarely pay the listed price – especially over a year after the CPU has launched – systems such as the K3 underscore how aggressive PC vendors are needing to be in order to move PCs amidst the current slump in the market. Coupled with DRAM and NAND prices that are bottoming out at record lows, it's increasingly becoming possible to find decent systems at a low price.
And while this is the only fanless model in Topgro's profile, the company is also offering actively cooled mini-PCs in a similar form factor, and with similarly aggressive pricing. A Core i9-12900H box with the same RAM and NAND runs for $679 after discounts; which although is a big step up from the K3 in terms of pricing, does net you Intel's top Alder Lake mobile CPU.
Source: FanlessTech