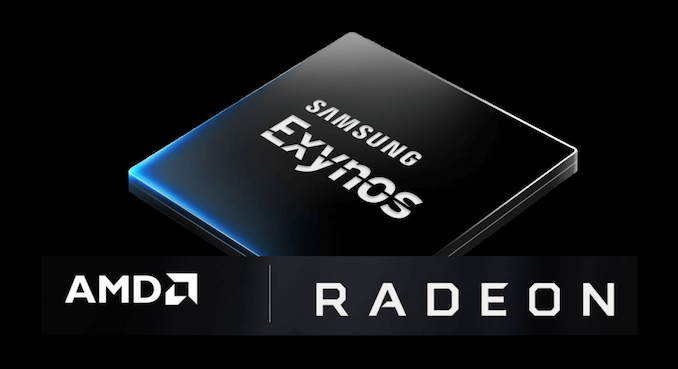 In a joint press release released this evening, AMD and Samsung have announced that the two companies are renewing their GPU architecture licensing agreement for Samsung's Exynos SoCs. The latest multi-year deal between AMD and Samsung will see Samsung continuing to license AMD's Radeon graphics architectures for use in the company's Arm-based Exynos SoCs, with the two companies committing to work together over "multiple generations" of GPU IP.
The extension of the licensing agreement comes just shy of 4 years after Samsung and AMD announced their initial licensing agreement in June of 2019. The then-groundbreaking agreement would see Samsung license Radeon GPU IP for use in their flagship Exynos SoCs in an effort to get a jump on the mobile SoC market, tapping AMD's superior Radeon graphics IP to get access to newer features and more efficient designs sooner than Samsung otherwise might have with their own internal efforts.
That initial licensing agreement came to fruition with what's (so far) a single product: the Exynos 2200, and its RDNA2-based Xclipse 920 integrated GPU. The switch to AMD's GPU designs allowed Samsung to ship cutting-edge, PC-level features such as hardware ray tracing and variable rate shading (VRS) in its Galaxy S22 phones, several months before its competition.
Unfortunately, the Exynos 2200 as a whole was a poorly received SoC. There are numerous reasons for this (more than we can get in to in a simple news piece), but above all else, Samsung's 5nm-class lithography processes have proven to be a mess, with Samsung experiencing yield issues, and working chips underperforming chips based on rival TSMC's 5nm-class nodes. The fab issues alone were bad enough to cause Qualcomm to jump ship from Samsung to TSMC mid-generation with the Snapdragon 8+ Gen 1, and for their latest generation Galaxy S23 phones, Samsung didn't even bother to ship an Exynos variant.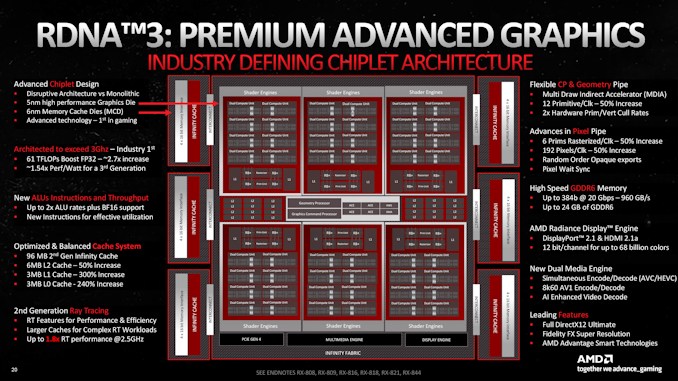 But while Samsung is essentially taking a gap year on the high-end SoC front right now, they've previously made it clear that they would continue producing Exynos SoCs, and thus, they are still in the market for licensing GPU IP. Which brings us back to today's extension of Samsung's licensing agreement with AMD. For whatever problems Samsung had with the Exynos 2200, this extension indicates that Samsung is remaining committed to using AMD's GPU architecture over the longer haul – so the Xclipse 920 will not be a one-off product.
The extension announcement from the two firms does not come with much in the way of public details; AMD will be licensing Samsung "multiple generations" of Radeon GPU IP, and Samsung in turn will be using that IP in an "expanded portfolio of Samsung Exynos SoCs". No specific architectures or timelines are mentioned, or even how many SoCs Samsung may be looking at. Even 1 new Exynos SoC using AMD's GPU IP would be an expanded portfolio, so the announcement on the whole is very generic in that regard.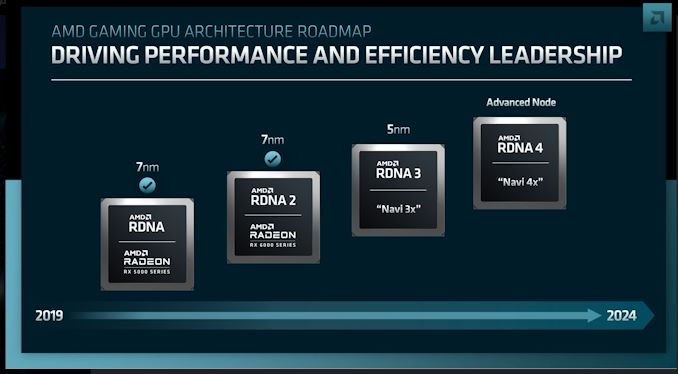 Looking at AMD's GPU architecture roadmap, the company has currently plotted out GPU architectures through the end of 2024, with the forthcoming RDNA 4 architecture. Given AMD's typical two-year cadence, that is an architecture we'd expect in desktop products in late 2024. So if Samsung is looking at releasing a new AMD-powered SoC in the next 18 months, it's far more likely we'd see something based on the current RDNA 3 architecture, used in AMD's latest mobile SoCs and Navi 3x GPUs. Otherwise, anything farther out than 18 months would be a good candidate for RDNA 4, which for the moment, we know very little about.
Meanwhile, as this latest deal is an extension of Samsung and AMD's initial agreement from 2019, this strongly implies that the product restrictions from the initial agreement remain in place. In that agreement, Samsung was prohibited from using AMD's GPU IP to compete with AMD, restricting Samsung's use of the IP to SoCs for smartphones and tablets. Larger and more powerful devices, such as laptops, were off the table. The Windows on Arm market is still nascent at best, but if this restriction is still in place, that means we won't be seeing Samsung participate using any of their AMD-derived designs.
An equally important question for the partnership going forward is whether Samsung and AMD are going to maintain their collaborative design approach, or if Samsung is reverting to a more traditional licensing model. One of the most noteworthy aspects of the original agreement was that Samsung and AMD were working together to design the Xclipse GPU used in Samsung's SoCs. 4 years and 1 product later, it's hard to tell from the outside how well this has truly worked out for both parties. But in theory, all of the benefits from collaboration still stand – so it would not be surprising to find out that both parties are continuing with that approach.
Finally, this announcement is the latest piece of evidence that AMD is happy to continue with their GPU IP licensing business. Between their semi-custom game console deals and the Samsung deal, AMD's GPU architectures have ended up far more widely used than their PC market share numbers alone would indicate. And while designing and refining GPU IP for other chipmakers does come with some opportunity cost trade-offs, it also comes with a guaranteed revenue stream for the company that they are happy to take.
Source: Samsung & AMD