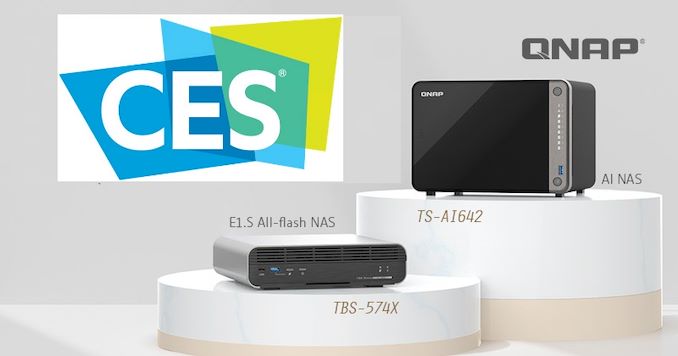 Over the last few years, the developments in the commercial off-the-shelf (COTS) network-attached storage (NAS) market have mostly been on the software front - bringing in more business-oriented value additions and better support for containers and virtual machines. We have had hardware updates in terms of processor choices and inclusion of M.2 SSD slots (primarily for SSD caching), but they have not been revolutionary changes.
At CES 2023, QNAP revealed plans for two different NAS units - the all-flash TBS-574X (based on the Intel Alder Lake-P platform), and the ML-focused TS-AI642 (based on the Rockchip RK3588 app processor). While QNAP only provided a teaser of the capabilities, there are a couple of points worth talking about to get an idea of where the COTS NAS market is headed towards in the near future.
Hybrid Processors
Network-Attached storage units have typically been based on either server platforms in the SMB / SME space or single-board computer (SBC) platforms in the home consumer / SOHO space. Traditionally, both platforms have eschewed big.LITTLE / hybrid processors for a variety of reasons. In the x86 space, we saw hybrid processors entering the mainstream market recently with Intel's Alder Lake family. In the ARM world, big.LITTLE has been around for a relatively longer time. However, server workloads are typically unsuitable for that type of architecture. Without a credible use-case for such processors, it is also unlikely that servers will go that route. However, SBCs are a different case, and we have seen a number of application processors adopting the big.LITTLE strategy getting used in that market segment.
Both the all-flash TBS-574X and the AI NAS TS-AI642 are based on hybrid processors. The TBS-574X uses the Intel Core i3-1220P (Alder Lake-P) in a 2P + 8E configuration. The TS-AI642 is based on the Rockchip RK3588 [ PDF ], with 4x Cortex-A76 and 4x Cortex-A55 fabricated in Samsung's 8LPP process.
QNAP is no stranger to marketing Atom-based NAS units with 2.5 GbE support - their recent Jasper Lake-based tower NAS line-up has proved extremely popular for SOHO / SMB use-cases. The Gracemont cores in the Core i3-1220P are going to be a step-up in performance, and the addition of two performance cores can easily help with user experience related to features more amenable for use in their Core-based units.
NAS units have become powerful enough to move above and beyond their basic file serving / backup target functionality. The QTS applications curated by QNAP help in providing well-integrated value additions. Some of the most popular ones enable container support as well as the ability to run virtual machines. As the range of workloads run on the NAS simultaneously start to vary, hybrid processors can pitch in to improve performance while maintaining power efficiency.
On the AI NAS front, the Rockchip RK3588 has processor cores powerful enough for a multi-bay NAS. However, QNAP is putting more focus on the neural network accelerator blocks (the SoC has 6 TOPS of NN inference performance), allowing the NAS to be marketed to heavy users of their surveillance and 'AI' apps such as QVR Face (for face recognition in surveillance videos), QVR Smart Search (for event searching in surveillance videos), and QuMagie (for easily indexed photo albums with 'AI' functionality).
E1.S Hot-Swappable SSDs
QNAP's first NASbook - an all-flash NAS using M.2 SSDs - was introduced into the market last year. The TBS-464 remains a unique product in the market, but goes against the NAS concept of hot-swappable drives.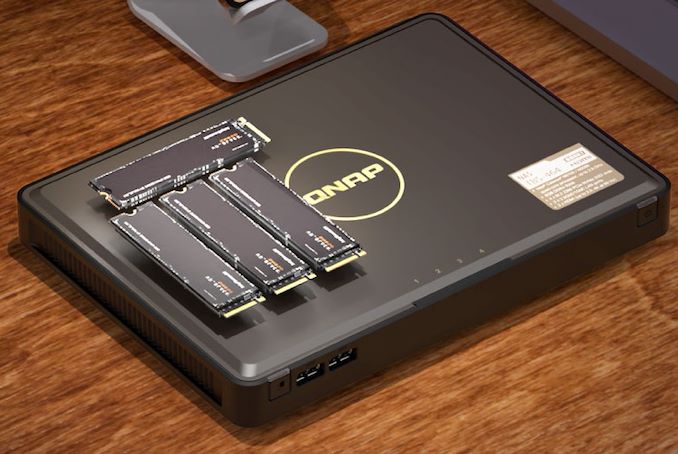 QNAP's First-Generation NASbook - the TBS-464
At the time of its introduction, there was no industry standard for hot-swappable NVMe flash drives suitable for the NASbook's form-factor. U.2 and U.3 drive slots with hot-swapping capabilities did exist in rackmount units meant for enterprises and datacenters. So, QNAP's NASbook was launched without hot-swapping support. Meanwhile, the industry was consolidating towards E1.S and E1.L as standard form-factors for hot-swappable NVMe storage.


(L to R) E1.S 5.9mm (courtesy of SMART Modular Systems); E1.S Symmetric Enclosure (courtesy of Intel); E1.S (courtesy of KIOXIA)
QNAP's 2023 NASbook - the TBS-574X - will be the first QNAP NAS to support E1.S hot-swappable SSDs (up to 15mm in thickness). In order to increase drive compatibility, QNAP will also be bundling M.2 adapters attached to each drive bay. This will allow end-users to use M.2 SSDs in the NASbook while market availability of E1.S SSDs expands.
Specifications Summary
The TBS-574X uses the Intel Core i3-1220P (2P + 8E - 10C/12T) and includes 16GB of DDR4 RAM. Memory expansion support is not clear as yet (It is likely that these are DDR4 SO-DIMMs). There are five drive bays, and the NAS seems to be running QTS based on QNAP's model naming). The NASbook also sports 2.5 GbE and 10 GbE ports, two USB4 ports (likely Thunderbolt 4 sans certification, as QNAP claims 40 Gbps support, and ADL-P supports it natively), and 4K HDMI output. The NASbook also supports video transcoding with the integrated GPU in the Core i3-1220P. QNAP is primarily targeting collaborative video editing use-cases with the TBS-574X.
The TS-AI642 uses the RockChip RK3588 (4x CA-76 + 4x CA-55) app processor. The RAM specifications were not provided - SoC specs indicate LPDDR4, but we have reached out to QNAP for the exact amount . There are six drive bays. This is again interesting, since the SoC natively offers only up to 3 SATA ports. So, QNAP is either using a port multiplier or a separate SATA controller connected to the PCIe lanes for this purpose. The SoC's native network support is restricted to dual GbE ports, but QNAP is including 2.5 GbE as well as a PCIe Gen 3 slot for 10 GbE expansion. These are also bound to take up the limited number of PCIe lanes in the processor (which is 4x PCIe 3.0, configurable as 1 x4, or 2 x2, or 4 x1). Overall, the hardware is quite interesting in terms of how QNAP will be able to manage performance expectations with the SoC's capabilities. With a focus on surveillance deployments and cloud storage integration, the performance may be good enough even with port multipliers.
Concluding Remarks
Overall, QNAP's teaser of their two upcoming desktop NAS products has provided us with insights into where the NAS market for SOHOs / SMBs is headed in the near future. QNAP has never shied away from exploring new hardware options, unlike Synology, QSAN, Terramaster, and the like. While we are very bullish on E1.S support and hybrid processors in desktop NAS units, the appeal of the RockChip-based AI NAS may depend heavily on its price to capabilities / performance aspect.
Source: QNAP