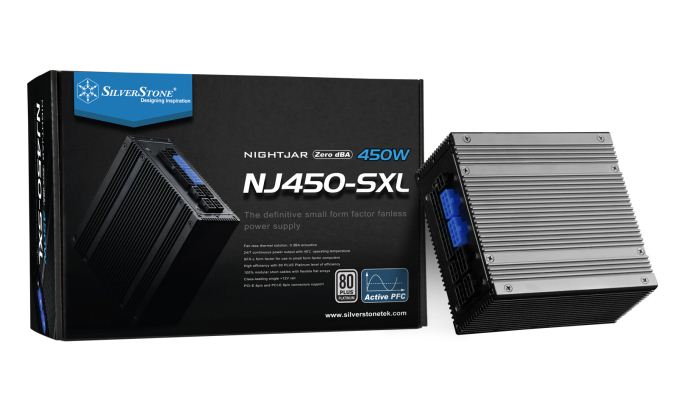 Silverstone has expanded their Nightjar family of power supplies with the addition of a new SFX-L class sized silent PSU, the NJ450-SXL. The new PSU, according to Silverstone, is the first ever fanless SFX-L design. The 450W PSU is said to use premium components, achieves an 80 Plus Platinum level of efficiency, and can output nearly 38A on the +12V rail, all in a fanless 0 dBA aluminum chassis measuring in at 5.12" x 2.5" x 4.92" (WxHxD).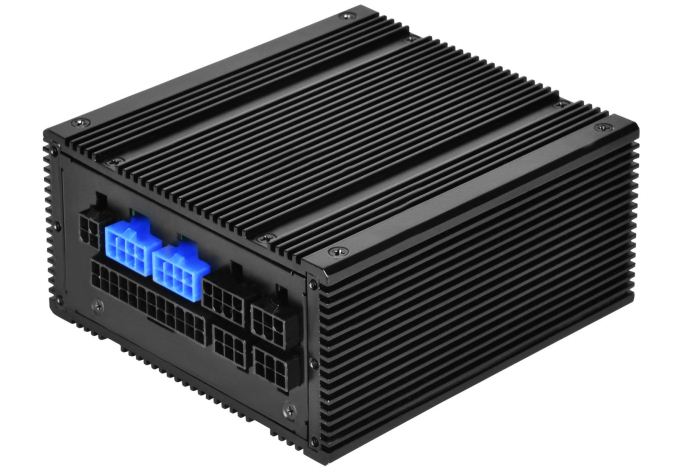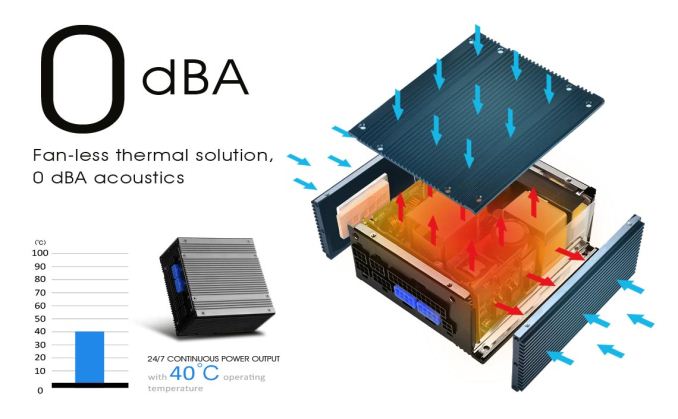 The black chassis is made out of an extruded aluminum shell with fins running front to back on all four panels, serving as a heatsink to remove heat away from the internal components. The other faces of the PSU contain the connectors for outputs and the power plug & on/off switch respectively. The unit does not appear to be vented so the integrated heatsink/chassis will have to do all the work getting the heat out of the device. That said, it is rated to deliver 100% load 24/7 while operating up to 40C.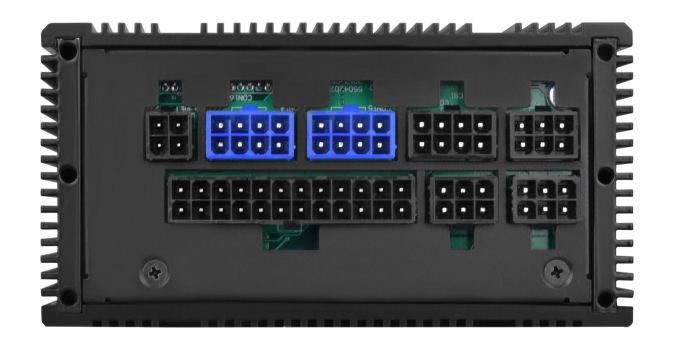 The Nightjar NJ450-SXL is 100% modular using short flat cables which can make for an easier attempt at hiding the wires. Outside of the 4-pin EPS and four 6/8-pin PCIe connectors measuring in at 400mm/~15-inches, the rest of the cables are 300mm/11.8-inches in length so these may not reach in the largest of cases. Additionally, the NJ450-XSL includes eight SATA connectors, three 4-pin Molex connectors, and a 4-pin legacy floppy connector (100mm length). The power supply can support a single high-end video card or multiple mid-range cards with its connections.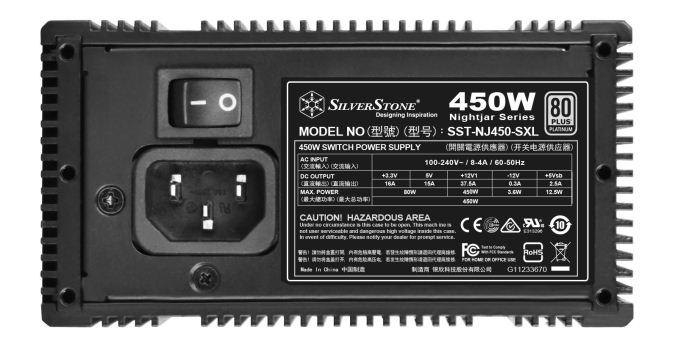 The output on the all-important 12V rail is 37.5A/450W, which is enough to handle many systems, especially HTPC or SFF systems that may not need as much horsepower as other systems. Silverstone has a published GPU support list stating users shouldn't have an issue powering a PC using even top-of-the-line cards like an NVIDIA GeForce GTX 1080 Ti or AMD Vega 64.
A warranty period isn't currently listed for the NJ450-XSL but its older cousin, the NJ520 is warranted for three years. The official product page does not provide pricing or availability information. Due to the nature of the unit itself, an 80 Plus platinum SFX-L form factor power supply, it will likely fetch a premium.
Power Specifications of the Silverstone NJ450-XSL 450W
(Rated @ 450W, 40°C)
AC INPUT
90 - 264 VAC, 47 - 63 Hz
RAIL
+3.3V
+5V
+12V
+5Vsb
-12V
MAX OUTPUT
16A
15A
37.5A
2.5A
0.3A
80W
450W
12.5W
3.6W
TOTAL
450W
Connectors
1 x 24/20-pin motherboard connector (300mm)
1 x 8/4-pin EPS/ATX12V connector (400mm)
4 x 8/6-pin PCIe connector (400/150mm x2)
8 x SATA connector (2 x 300/200/100/100mm)
3 x 4-pin Molex connector (300/200/200mm)
1 x 4-pin Floppy connector (100mm)
Protections
Over Current
Over Power
Over Voltage
Short Circuit
Form Factor
SFX-L 5.12" x 2.5 x 4.92" (WxHxD)
Cooling System
Fanless thermal solution
MTBF
100,000 hours
Related Reading: