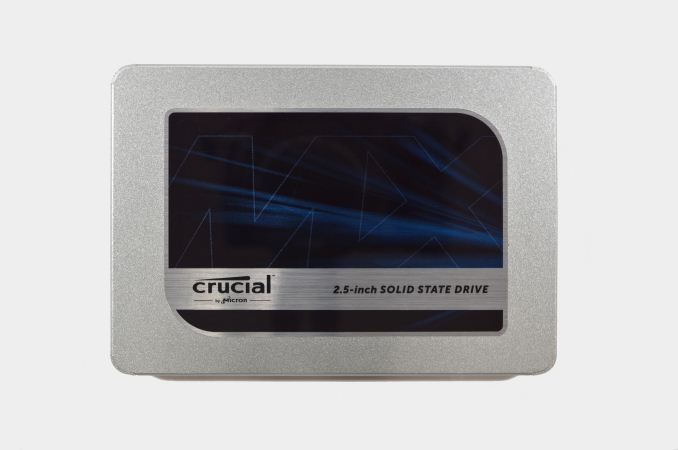 In December, the 1TB Crucial MX500 impressed us with its combination of great performance for a SATA drive and an aggressive introductory price. Since then, Micron has launched the rest of the Crucial MX500 product line, and several other new SSDs have been announced. The most important new competitors aren't any of the many drives shown at CES, but the new Samsung 860 PRO and 860 EVO that launched last week. So far, we have only tested the premium Samsung 860 PRO, but it is clear that the improvements from Samsung's 64-layer 3D NAND process and their updated SATA SSD controller will affect where the 860 EVO stands. The handful of performance records set by the 1TB MX500 didn't last long.
The MX500 is the first Crucial drive based on Micron's 64-layer 3D TLC NAND, and is the second generation of Crucial's mainstream MX series to use TLC NAND instead of MLC NAND. The MX500 breaks from previous MX generations by using Silicon Motion's SM2258 controller instead of a Marvell controller, but all the usual features of the MX series are still present. This includes both TCG Opal encryption support and Crucial's partial power loss protection, features which are uncommon on mainstream or budget consumer SSDs. As usual for Crucial, the SLC write cache is dynamically sized based on how full the drive is.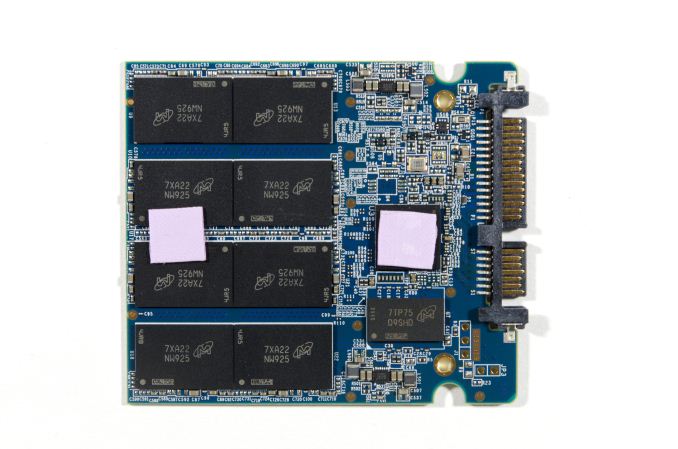 The Crucial MX500 uses Micron's 256Gb 64L 3D TLC part and consequently returns to the standard drive capacities and overprovisioning ratios, instead of the unusual configurations caused by the 384Gb die capacity in the MX300's 32L 3D TLC. The slightly lower usable capacities of the MX500 than the MX300 means the new drives have slightly higher prices on a per-GB basis, but the MSRPs are still very competitive against current street prices for the competition.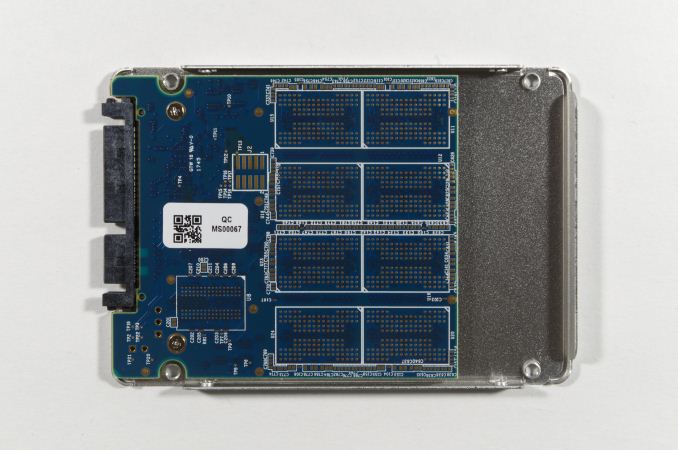 Internally, the 500GB MX500 uses the same PCB as the larger models. The back side is entirely blank, with the 8 NAND package locations and one DRAM spot unpopulated. On the front, we find the eight of the same dual-die NAND packages used on the 1TB model, plus 512MB of DRAM, the SM2258 controller, and all the usual smaller components.
Crucial MX500 Specifications
Capacity
250 GB
500 GB
1 TB
2 TB
Form Factors
2.5", M.2 2280 single-sided
2.5", M.2 2280 single-sided
2.5", M.2 2280 double-sided
2.5"
Controller
Silicon Motion SM2258
NAND
Micron 256Gb 64-layer 3D TLC
Sequential Read
560 MB/s
Sequential Write
510 MB/s
4KB Random Read
95k IOPS
4KB Random Write
90k IOPS
Dynamic Write Acceleration (SLC Caching)
Yes, dynamically sized
DevSleep Power
2 mW
2 mW
4 mW
25 mW
Slumber Power
55 mW
55 mW
65 mW
110 mW
Max Power
3.0 W
4.0 W
5.0 W
6.0 W
Encryption
TCG Opal 2.0 & IEEE-1667 (eDrive)
Endurance
100 TB
180 TB
360 TB
700 TB
Warranty
Five years
MSRP
$79.99
$139.99
$259.99
$499.99
With capacities from 250GB to 2TB now available at MSRPs that are highly competitive, the Crucial MX500 is shaking up the SATA SSD market. Last year's budget SSDs need big price cuts, and even mainstream drives like the SanDisk Ultra 3D are having to drop in price. M.2 versions of the Crucial MX500 up to 1TB are also on the way, so ultrabook users will have most of the same upgrade options.
For this review, we are focusing on the 500GB Crucial MX500. This is a lower capacity than we initially tested, making it more affordable and a bit slower than the 1TB model. With a MSRP of $139.99 and current retail prices slightly lower, the 500GB Crucial MX500 should prove to be a very popular product. Testing at the 500GB capacity point gives us the opportunity to make more direct comparisons against some other drives in our collection, especially the Intel 545s and the Crucial BX300.
AnandTech 2017 SSD Testbed
CPU
Intel Xeon E3 1240 v5
Motherboard
ASRock Fatal1ty E3V5 Performance Gaming/OC
Chipset
Intel C232
Memory
4x 8GB G.SKILL Ripjaws DDR4-2400 CL15
Graphics
AMD Radeon HD 5450, 1920x1200@60Hz
Software
Windows 10 x64, version 1709
Linux kernel version 4.14, fio version 3.1
Our SSD testbed's software has been updated for 2018 with a fresh Windows installation that corrects some problems with The Destroyer that cropped up during testing of the 1TB MX500. The testbed is now running Windows 10 version 1709 for the ATSB tests instead of version 1703. So far, the benchmark results on 1709 appear comparable to those from 1703, so this review uses a mix of old and new results. It is likely that results for NVMe drives will not be as closely comparable between Windows versions due to the ongoing development of Microsoft's NVMe driver, so all NVMe drives will be re-tested before inclusion in new reviews (And all the SATA drives will be retested too over the next two months to take advantage of the higher resolution power measurements from our new Quarch XLC Programmable Power Module.) The Linux-based synthetic benchmarks in this review are all fresh results with an updated 4.14 kernel and fio version 3, which brings much higher resolution timing measurements.
Both operating systems on this testbed have not been patched for the Meltdown or Spectre vulnerabilities, and the motherboard firmware has not been updated to include new CPU microcode. Testing is underway on other machines to determine the performance impact of the mitigation strategies. The primary testbed will remain in its current software and hardware configuration for now as the OS and microcode programmers continue to work toward stable and complete fixes.