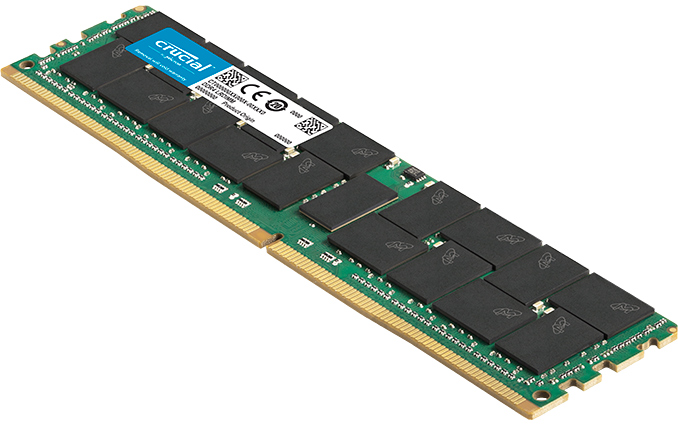 Crucial has started shipments of its fastest and highest density server-class memory modules to date. Crucial's 128 GB DDR4-2666 LRDIMMs are compatible with the latest memory-dense servers. These modules should be usable in both AMD EPYC systems and Intel Xeon systems, however Crucial states that they are optimized for Intel's Xeon Scalable CPUs (Skylake-SP) launched earlier this year, and are aimed at mission-critical RAM-dependent applications. Due to the complexity of such LRDIMMs, and because of their positioning as super dense memory, the price is very high.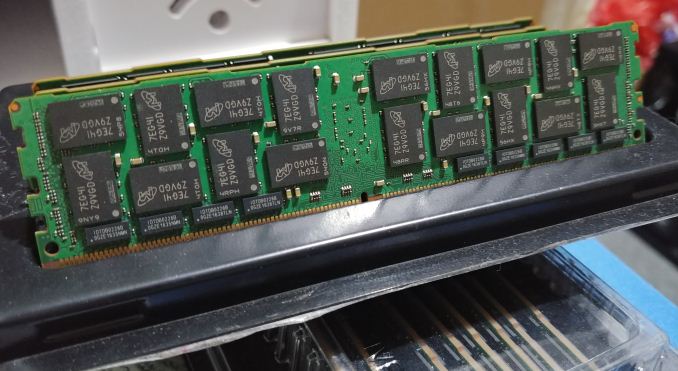 Crucial's 128 GB LRDIMMs are rated to operate at a 2666 MT/s interface speed with CL22 timings at 1.2 V. The module is based on Micron's 8 Gb DRAM ICs, are made using 20 nm process technology, and are assembled into 4Hi stacks using TSVs. The LRDIMM uses 36 of such stacks of ICs. Stacking naturally makes organization of the module very complex: we are dealing with an octal ranked LRDIMM featuring two physical ranks and four logical ranks. Making such a module run at 2666 MT/s is a challenge, so they end up running at relatively high latencies (which are higher than CL17 – CL20 specified by JEDEC for DDR4-2666). This can somewhat diminish the benefits of relatively high clocks, but is not surprising in order to keep them stable.
The key advantage of 128 GB LRDIMMs is their density. For example, a dual-socket Xeon Scalable platform using the -M suffixed processors, featuring 12 memory slots, can expand the maximum memory size by 2X to 1.5 TB from 768 GB by using 128 GB LRDIMMs over 64 GB LRDIMMs. For DRAM-dependent applications, such as large databases, holding everything in memory is the most important thing for performance. Obviously, such performance advantage will come at a price.
Specifications of Crucial's Server 128 GB DDR4-2666 LRDIMM
Module Capacity
Latencies
Voltage
Organization
CT128G4ZFE426S
128 GB
CL22
1.2 V
Octal Ranked
According to Crucial, production of 128 GB LRDIMMs involves 34 discrete stages with over 100 tests and verifications, making them particularly expensive to manufacture. These costs are then passed to customers buying such modules. The company sells a single 128 GB DDR4-2666 module online for $3,999 per unit, but server makers naturally get them at different rates based on quantity and support. At this rate, a full Xeon-SP system would cost $48k per socket, or for an EPYC system at 2 TB for each CPU, it would come to $64k per socket. At these rates, spending $13k or $4k for a CPU suddenly becomes a diminished part of the initial hardware cost (which is some justification for high-priced CPUs). At the Xeon-SP launch, Intel stated that fewer than 5% of its customers would use high memory capacity server configurations, though given how big the server market is, that is still a sizeable portion.

Crucial says that its 128 GB LRDIMMs are compatible with Xeon Scalable-based servers from various OEMs as well as software like Microsoft SQL and SAP HANA. We would expect them to be compatible with AMD EPYC servers too, however Crucial drives home the point about being optimized for Intel. Each module is tested individually to ensure maximum reliability for mission-critical applications. Specific support for these modules will be down to OEMs, as with other memory.
Related Reading
Source: Crucial