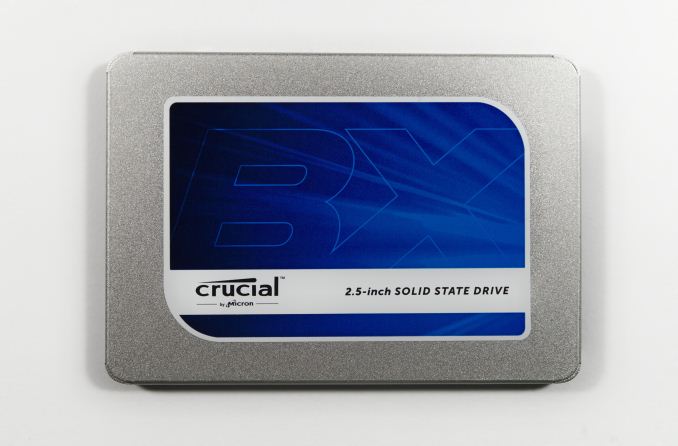 Micron has finally introduced a second consumer SSD with 3D NAND flash. Rather than a high-performance NVMe drive, they've brought back the entry-level BX product line for the Crucial BX300.
At Computex 2014, Micron introduced the Crucial MX100, the first SSD to use their 16nm MLC NAND. The MX100 was a hit with great performance and great pricing. It was followed up in 2015 by the Crucial MX200, which wasn't much of an improvement over the MX100. But at the same time, Crucial introduced a second product line with the BX100. Using the same 16nm MLC but a cheaper Silicon Motion controller, the Crucial BX100 continued to offer good performance for most purposes and was also the most power efficient SSD of its time.
Later in 2015, the consumer SSD market began to rapidly switch over to TLC NAND: consumers wanted cheaper SSDs, but only Samsung had usable 3D NAND, so planar TLC was the way to increase capacity. Micron introduced the Crucial BX200 in November 2015 as their first SSD to use TLC NAND. The BX200 successfully reduced price per GB, but sacrificed a great deal of performance and power efficiency in the process. The BX200's fate was sealed by drives like the ADATA SP550 that used faster and cheaper SK Hynix TLC to undercut the BX200's pricing while offering somewhat better performance.
Finally, in June 2016 Micron's 3D NAND was ready for mass market use, and the consumer SSD market's race to the bottom was put on hold. Micron introduced the Crucial MX300 using a high-performance Marvell controller like previous MX series SSDs, but using the TLC variant of their 3D NAND rather than MLC. The MX300 thus was serving as successor to both the MX200 and BX200, and it has done the job well with good performance and far better power efficiency than any previous TLC SSD (even considering Samsung's 3D TLC-based 850 EVO).
Crucial MX Series Specifications
Model
MX100
MX200
MX300
Controller
Marvell 88SS9189
Marvell 88SS1074
NAND
Micron 16nm
128Gbit MLC
Micron 384Gbit
32-layer 3D TLC
Capacities
128GB-512GB
250GB-1TB
275GB-2TB
SLC Caching
No
Some Models
Yes
Encryption
TCG Opal 2.0 & IEEE-1667 (eDrive)
Warranty
Three years
Write Endurance
72 TB
80-320 TB
80-400 TB
Launch Date
June 2014
January 2015
June 2016
The main limitation of the Crucial MX300 stems from the odd capacity of Micron's 32-layer 3D TLC parts. The 32L TLC die is Micron's 32L 256Gb MLC operated as a TLC chip, yielding a capacity of 384Gb (48GB) per die. It is awkward to build SSDs with standard power of two capacities out of such chips, so Micron initially introduced the MX300 with a 750GB (768GB raw) capacity model. The rest of the MX300 lineup used capacities that were slightly above the standard sizes (eg. 525GB instead of 512GB), which still left the MX300 with more overprovisioning than a typical consumer SSD. The odd capacity effect is most pronounced with the smallest MX300, the 275GB model. Micron didn't go any smaller than that because a drive in the ballpark of 128GB would use only three TLC dies, wasting one of the four channels on most SATA SSD controllers.
Micron's upcoming second generation 3D NAND parts are designed with TLC in mind as the primary use, and Micron will be producing both 256Gb and 512Gb parts. But this new 64-layer 3D NAND is still ramping up in production. Intel has shipped limited quantities in their 545s, but most of the early 64L NAND is going to the enterprise SSD market.
That's where the new Crucial BX300 comes in. The BX300 brings MLC NAND back to the Crucial product line for the sake of making smaller capacity entry-level SSDs. The Crucial BX300 will be produced in capacities from 120GB to 480GB using Micron's 256Gb 32L 3D MLC. Micron is again using a Silicon Motion controller for the BX line, this time the SM2258. Micron has not opted to use the DRAMless SM2258XT variant and instead has equipped the BX200 with 256MB to 512MB of their own DDR3.
Crucial BX Series Specifications
Model
BX100
BX200
BX300
Controller
Silicon Motion SM2246EN
Silicon Motion SM2256
Silicon Motion SM2258
NAND
Micron 16nm
128Gbit MLC
Micron 16nm 128Gbit TLC
Micron 256Gbit
32-layer 3D MLC
Capacities
120GB-1TB
240GB-960GB
120GB-480GB
SLC Caching
No
Yes
Yes
Encryption
None
Warranty
Three years
Write Endurance
72 TB
72 TB
55-160 TB
Launch Date
January 2015
November 2015
August 2017
On paper, the BX300 does not appear to be making any significant compromises to reach low price points. In some respects it is superior to the MX300, and it certainly seems like it will have lower profit margins for Micron. The BX300 may be the kind of product that only a vertically-integrated manufacturer like Micron can successfully bring to market in the midst of an industry-wide NAND shortage. ADATA uses the same controller and NAND in their SU900 and SX950 SSDs, but those are selling for significantly higher prices than the Crucial MX300, not lower. The BX300 may turn out to be a short-lived stopgap product to go after a segment of the market that the MX300 is ill-suited for. A replacement for both the MX300 and BX300 using 64L TLC will probably show up as soon as Micron can spare the NAND. Certainly by Computex in June 2018 we should expect a new product, but I wouldn't be surprised to hear about something at CES in January.
Crucial BX300 Specifications
Capacity
120GB
240GB
480GB
Form Factors
2.5" 7mm
Controller
Silicon Motion SM2258
NAND
Micron 256Gbit 32-layer 3D MLC
DRAM (DDR3)
256MB
256MB
512MB
SLC Write Cache
4GB
8GB
16GB
Sequential Read
555 MB/s
555 MB/s
555 MB/s
Sequential Write
510 MB/s
510 MB/s
510 MB/s
4KB Random Read
45k IOPS
84k IOPS
95k IOPS
4KB Random Write
90k IOPS
90k IOPS
90k IOPS
Encryption
No
Write Endurance
55 TB
80 TB
160 TB
Warranty
Three years
MSRP
$59.99
$89.99
$149.99
The Crucial BX300 is Micron's first MLC-based consumer SSD since the Crucial MX200. With the MX200, Micron experimented with using SLC caching on smaller capacities and had mixed success—peak performance was boosted a bit, but at the cost of creating more background work for the controller that hurt sustained workloads. For the Crucial BX300, Micron is using relatively small fixed-size SLC caches. Sequential performance and random write performance are rated the same across all three capacities, while random read performance is reduced a bit for the 240GB and is cut in half for the 120GB model. The rated write endurance numbers are probably chosen simply to be lower than the ostensibly higher-end MX300 model, rather than being based on actually lower expectations for drive lifetime. The MX300 does have lots of overprovisioning with which to reduce write amplification, but the BX300 has a reasonable amount too and the advantage of inherently higher endurance from using MLC instead of TLC.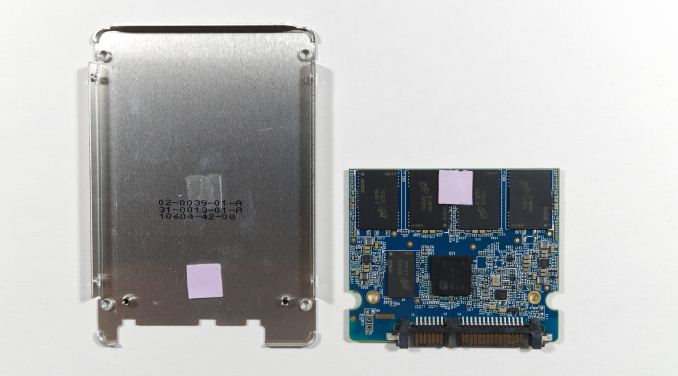 For this review, the our 480GB Crucial BX300 will primarily be compared against:
AnandTech 2017 SSD Testbed
CPU
Intel Xeon E3 1240 v5
Motherboard
ASRock Fatal1ty E3V5 Performance Gaming/OC
Chipset
Intel C232
Memory
4x 8GB G.SKILL Ripjaws DDR4-2400 CL15
Graphics
AMD Radeon HD 5450, 1920x1200@60Hz
Software
Windows 10 x64, version 1703
Linux kernel version 4.12, fio version 2.21