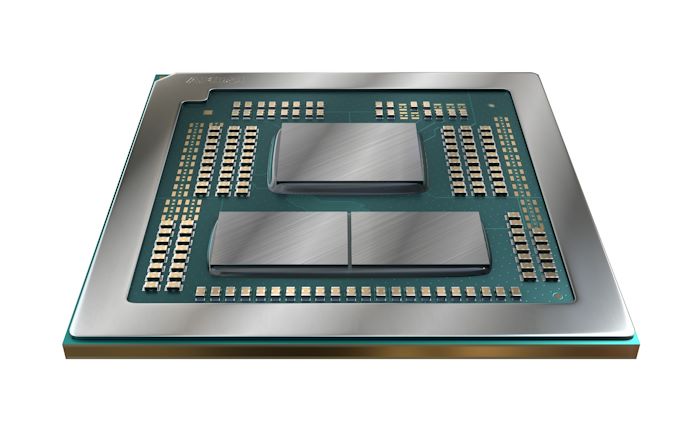 While many companies such as Razer offer 'desktop' replacements in the form of very high-end and powerful gaming laptops, the silicon that goes into them not only needs to deliver similar levels of performance but it's got to be efficient too. With high-end mobile processors coming out at least once a year, during their opening keynote at CES 2023, AMD CEO Dr. Lisa Su unveiled the latest in AMD's Ryzen mobile products for the high-end, desktop-replacement laptop space, the Zen 4-based Ryzen 7045HX-series.
With a loaded four-SKU stack ranging from 16-cores down to 6-cores, AMD has high-performance mobile parts for all manors of gaming notebooks and high-performance laptops. Leading the charge is the AMD Ryzen 9 7945HX with 16-cores and 32-threads and an incredible boost frequency of 5.7 GHz, all under a configurable TDP of 55-75 W+. AMD has three other Ryzen 7045HX-series processors, including the Ryzen 9 7845HX, a 12-core/24-thread part, the 8-core/16-thread Ryzen 7 7745HX, and the hex-core AMD Ryzen 5 7645HX.
AMD Ryzen 7045HX Processors: Zen 4 Goes High-End Mobile (Dragon Range)
With multiple silicon-based announcements from AMD, perhaps the most interesting one is unveiling the AMD Ryzen 7045HX series for high-end laptops and notebooks. AMD has fronted a small arsenal of new Zen 4-based chips capable of offering very high-end performance levels for enthusiasts and gamers on the go.
The AMD Ryzen 7045 series is based on the same TSMC 5 nm node as the Ryzen 7000 desktop line-up, but it is much harder to design a laptop cooler than tower air coolers or AIO systems. With that in mind, AMD's 7045HX series has a 55-75 W+ TDP, a jump from the previous Zen 3 mobile flagship CPU, the Ryzen 9 6980HX. Another improvement is through the larger levels of cache, or L3 cache, to be exact.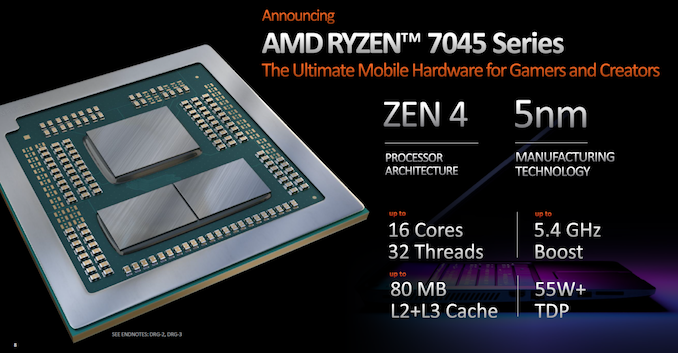 AMD has equipped the Ryzen 9 7045HX range with 64 MB of L3 cache, identical to that found on the desktop CPUs, which should improve overall gaming performance where the situation permits it. The Ryzen 7 and Ryzen 5 7045HX models that have been announced both feature 32 MB of L3 cache, which is still 2.6 X more than the Ryzen 6000 mobile series.
AMD Ryzen 7045 HX Mobile CPUs
on 6nm
AnandTech
Cores/Threads
Base
Freq (MHz)
Boost
Freq (MHz)
L3 Cache
(MB)
TDP
(W)
Ryzen 9 7945HX
16 / 32
2500
5400
64
55-75W+
Ryzen 9 6980HX

8 / 16

3300

5000

16

45W+

Ryzen 9 6900HX
8 / 16
3300
4900
16
45W+
Ryzen 9 7845HX
12 / 24
3600
5100
64
45-75W+
Ryzen 7 6800HS
8 / 16
3200
4700
12
35W
Ryzen 7 7745HX
8 / 16
3300
4500
32
45-75W+
Ryzen 5 7645HX
6 / 12
3300
4500
32
45-75W+
Looking at the specifications of the Ryzen 7045HX series processors, AMD hasn't unveiled all of these details at this time. Still, we have enough to go on, including AMD's in-house performance claims compared to the previous generation, among other things. At the top of the pile is the Ryzen 9 7945HX with 16 cores and 32 threads, with a base frequency of 2.5 GHz and a turbo clock speed of 5.4 GHz. AMD uses its desktop Ryzen chiplet-based design, with the two 8-core CCDs and central IOD. There is a large 64 MB of L3 cache available to the processor, while power limitations from AMD's TDP ratings range from 55 W to 75 W and beyond.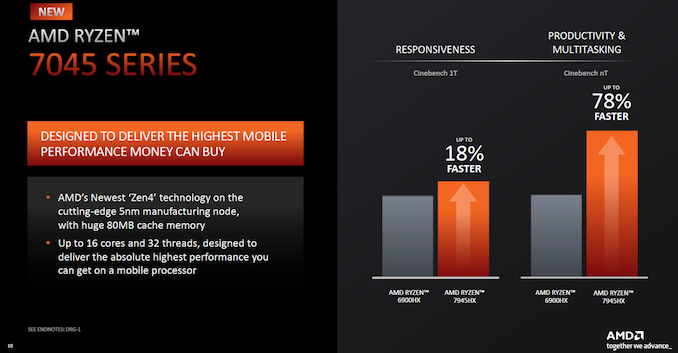 Below the flagship 7945HX is the Ryzen 9 7845HX, which uses 12 Zen cores along with 24 threads, and opting for fewer cores means there's more power available to them. This translates into a faster base frequency of 3.6 GHz and a boost frequency of up to 5.1 GHz. It has a slightly lower TDP of between 45 and 75 W, with the same 64 MB L3 cache. For the 16-core part, AMD claims that Ryzen 7945HX is up to 78% faster in CineBench nT and 18% faster on the single-core test.
The Ryzen 7 7745HX is an 8C/16T part but with lower clock speeds, including a base frequency of 3.3 GHz and a more modest boost frequency of 4.5 GHz. It also features half of the L3 cache as the Ryzen 9 variants, with 32 MB of L3 cache available to the cores. Acting as the entry-level Ryzen 7045HX series SKU is the Ryzen 5 7645HX, which has the exact specifications as the Ryzen 7 7745HX along with the same base and boost frequency and the same 32 MB of L3 cache. The big difference is that the Ryzen 7 7745HX is a 6-core 12-thread part, not an octa-core chip.
As for GPU performance, as all of these are based on AMD's desktop Ryzen 7000 parts, they do contain an integrated, RDNA2-based GPU. However the modest 2 CU configuration AMD uses in there, though sufficient for basic desktop work, can't go much further. So these parts don't hold a candle, performance-wise, to AMD's true mobile-focused Phoenix silicon, which offers up to 12 CUs of RDNA3 graphics. It shouldn't come as any surprise then when we say that the HX-series is meant to be paired with discrete GPUs for any kind of graphics-intensive work. These are desktop replacement laptops, after all, and good desktops have discrete GPUs.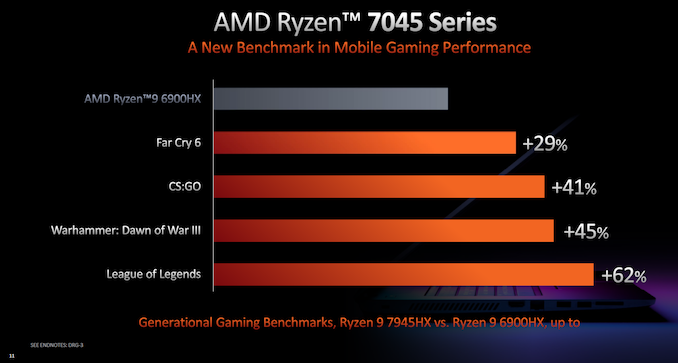 From AMD's in-house testing of the Ryzen 9 7945HX (16C/32T) compared directly against the previous Ryzen 9 6900HX (8C/16T), AMD is claiming 29% better framerates in Far Cry 6, with up to 41% better frames in CS: GO, and up to 62% better performance in League of Legends. Although we typically don't put much weight on these performance claims, it's always a good indication of where performance levels are expected to fall.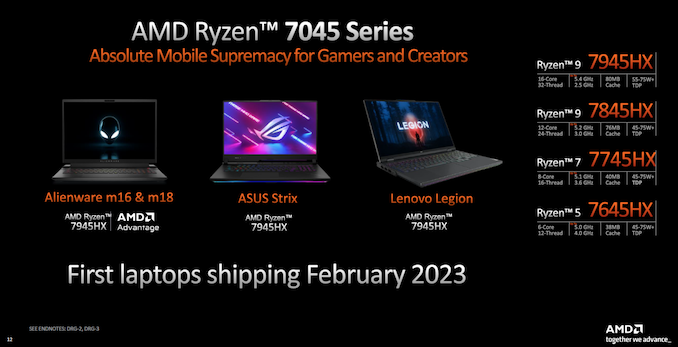 The AMD Ryzen 7045HX series is expected to start shipping in models sometime in February, with three models already being announced via AMD. These include an ASUS Strix, which will feature a Ryzen 9 7945HX model, and the Lenovo Legion. Also upcoming is an AMD Advantage laptop which means it will feature an AMD CPU and discrete graphics combination, which will be available via the Alienware m16 and m18.
We expect to see many new laptops and notebooks announced in the coming days and weeks featuring AMD's Ryzen 7045HX series.