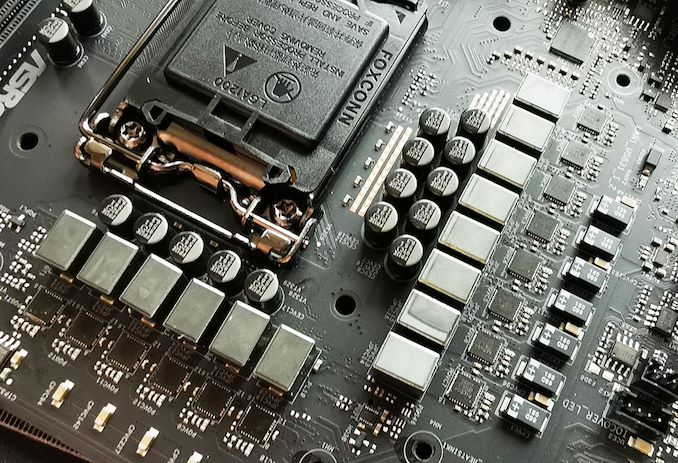 Here is the latest update to our list of recommended Intel motherboards in our series of motherboards buyers guides. All numbers in the text are updated to reflect pricing at the time of writing.
Best Intel Motherboards: Holiday 2022
Since we posted our previous motherboard guides, there has been a couple of notable processor launches. Perhaps one of the most impressive of the aforementioned launches is Intel's 13th Gen Core series, codenamed Raptor Lake. Not only is Intel's 13th Gen Core series powerful as we highlighted in our launch day review, but it offers multiple levels of affordability due to its support for both DDR5 and DDR4 memory. This means users can pair up the flagship Core i9-13900K with a premium Z790/Z690 motherboard and fast DDR5 memory for ultimate performance, or even go for the more affordable Core i5-13600K with DDR4 and a more modest motherboard model.
We're focusing on Intel here and there are many chipsets that feature support for Intel's 13th Gen Core series processors including the latest Z790 motherboards that feature PCIe 5.0, as well as the previous Z690, H670, and B660 chipsets. With Intel's 700 and 600 series chipsets allowing support for both the previous 12th Gen Core series and the latest 13th Gen Core series, there is much to sink your teeth into. Whether your focus is on obtaining ultimate performance, building a system for high-end gaming, as well as one offering good performance at a good cost, it's time to go through our best picks in our Intel motherboard buyers guide for the 2022 holiday period.
Here are our choices in the motherboard market for Intel. For AMD recommendations, head on over to our AMD guide. This is updated monthly just like our Intel motherboard buyers guide.
Intel Motherboards Recommendations
Holiday 2022
Segment
Motherboard
Memory Type
Amazon
Newegg
MSRP
Price vs Features
MSI Pro Z690-A WIFI
DDR5
$229
$229
$250
Value
ASRock B660 Pro RS
DDR4
-
$140
$140
Mini-ITX
GIGABYTE Z690I Aorus Ultra Lite
DDR4
$140
$140
$170
Money No Object
ASUS ROG Maximus Z790 Extreme
DDR5
$1000
$1000
$1000
Our recommendations for motherboards are based entirely on personal and professional opinions. There are notably many different motherboards across the Intel chipset family allowing support for both 13th and 12th Gen Core processors. These include the latest Z790. as well as the previous Z690, B660, H660, and H610 chipsets. We've considered and factored all of these into our decision, and ultimately, some of our choices and options here are also limited by what stock is available.
It is worth highlighting as we did in our review of the Core i9-13900K and Core i5-13600K processors, that the latest Z790 chipset offers no 'performance' related benefits regardless if you opt for a 13th or 12th Gen Core series processor. We asked Intel directly about this and they confirmed that Z790 offers more PCIe 4.0 lanes and I/O options than Z690, but in regards to raw compute and gaming performance, users shouldn't experience any differences. This means that Z690 and other 600-series Intel chipsets offer users various avenues to building a system with either DDR5 or DDR4 memory, as both generations (13th/12th) support this.
Best Intel Motherboard For Gaming/Performance
While performance is subjective to the overall hardware configuration of a system, the motherboard is undoubtedly the gateway to unlocking all of the new features. There are many LGA1700 socketed models to consider, but one board that piques my interest and continues to do so is from MSI, the Pro Z690-A WIFI (DDR5) to be exact. Now while the aesthetic might not be the typical quintessential gaming-themed motherboard, it's got everything needed to get gamers off the ground with a decent feature set, and it has an equally attractive price point. And as we've made clear throughout, the MSI Pro Z690-A WIFI does offer support with Intel 13th Generation Core series processors via a BIOS update.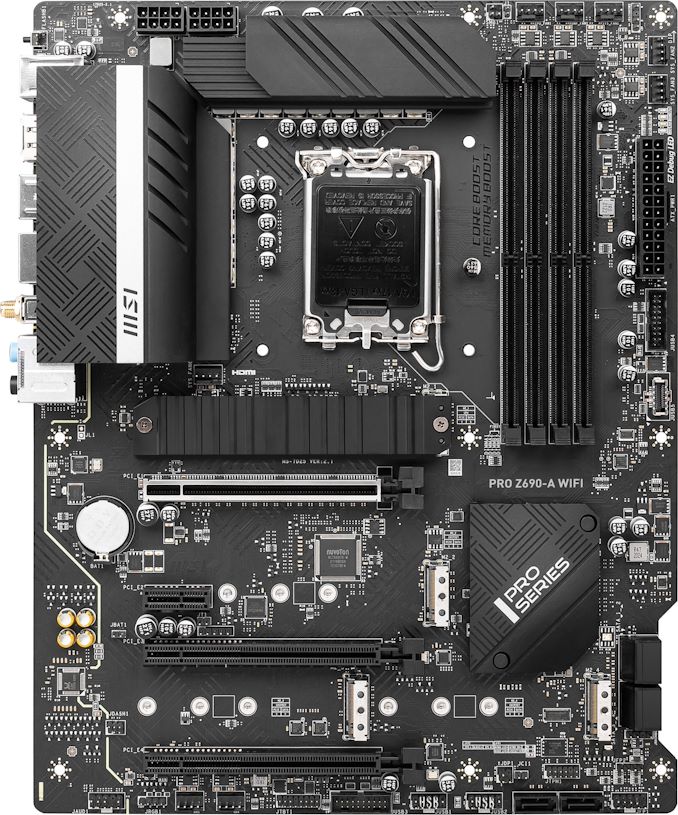 Some of the MSI Pro Z690-A WIFI's most notable features include Intel's latest Wi-Fi 6E CNVi with an Intel I225-V 2.5 GbE controller. Coupled with support for up to three PCIe 4.0 x4 M.2, one PCIe 3.0 x4 M.2, and six SATA ports, it has everything a gamer could need ranging from super-fast NVMe or even conventional hard drives for game storage. One of the biggest advancements of opting for Alder Lake is that it has plenty of varied PCIe support, including one full-length PCIe 5.0 x16 slot, two full-length PCIe 3.0 slots operating at x4/x1, with an additional and smaller PCIe 3.0 x1 slot. Perhaps the most important addition to Z690 is support for the latest DDR5 memory, with the MSI Pro Z690-A WIFI supporting DDR5-6400 out of the box, with a combined capacity of up to 128 GB across four memory slots.
The MSI Pro Z690-A WIFI can currently be purchased for $229 at both Amazon and Newegg. A Z690 model with DDR5 support, PCIe 5.0 support, three M.2 slots, and Wi-Fi 6E/2.5 GbE for $229 is a fantastic price. Most of the Z690 boards are so over-engineered that a model such as this will still give you all the performance benefits of the 13th and 12th generation Intel chips, but with more budget to spend on DDR5 memory, storage, and perhaps if you're lucky, a graphics card; stock permitting of course.
Gamers on a budget will appreciate the feature set, while all the performance benefits of Alder Lake can be unleashed with the MSI Pro Z690-A WIFI, and this makes it our pick for gamers. MSI also has a non-Wi-Fi enabled version of this model that is listed on Newegg and Amazon for $195, if gaming over wireless just isn't suitable for you, but at $229, we would wholly recommend getting the Wi-Fi 6E version.
Users can also opt for the DDR4 version which sells for around the same price, with the same features and layout, albeit, without any of the performance benefits that DDR5 memory offers.
Best Intel Motherboard: The Value Option
When it comes to defining what value is, the term is wholly subjective to what a person can afford. In my view, it comes down to what offers the most in terms of features against the overall cost (features vs cost). With Intel B660 models offering support for both Intel's Core 13th Gen series processors and the previous 12th Gen series, frugal users might not want to manually overclock and utilize Intel's Turbo features designed to squeeze extra performance where they can. Enter one of our previous picks in recent times, the ASRock B660 Pro RS (DDR4) motherboard. With no value chipsets available as of yet from Intel's 700 series chipsets, we've pivoted to one of Intel's more budget-friendly chipsets on the previous generation, B660, and the ASRock B660 Pro RS (DDR4) is our option to get some value out of the current Intel 13th generation and the previous 12th generation processors.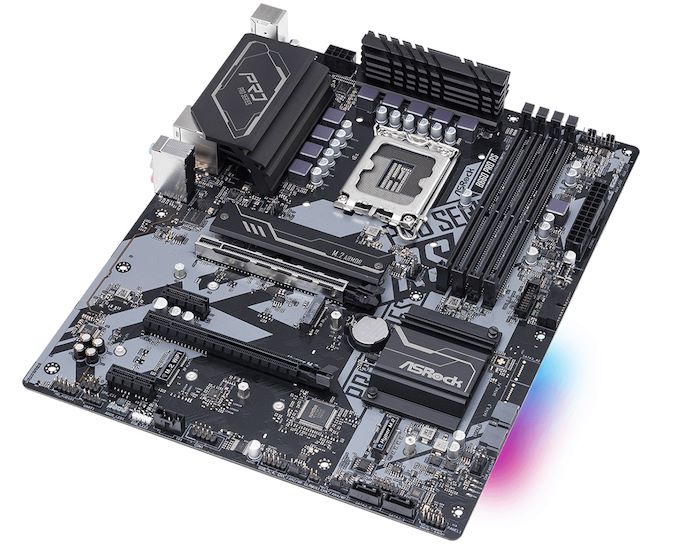 Some of the main features of the ASRock B660 Pro RS include support for the more affordable DDR4 memory, with speeds of up to DDR4-4800, support for the very good Core i5-13600K processor, as well as support for all of Intel's Alder Lake-S desktop processors such as the Core i5-12600K and Core i3-12300. Despite Intel's B660 chipset not coming with support for overclocking, that's not to its detriment as it focuses more on offering value with a budget Intel I219-V Gigabit Ethernet controller, with an equally cost-effective Realtek ALC897 HD audio codec.
Other features include one full-length PCIe 4.0 x16 slot, one full-length PCIe 4.0 x4 slot, and two PCIe 3.0 x1 slots. For storage, ASRock includes two PCIe 4.0 x4 M.2 slots, with one PCIe 3.0 x2/SATA M.2 slot, as well as four SATA ports. For a budget model, there are four USB 3.2 G1 Type-A and two USB 2.0 ports on the rear panel, but ASRock does include one USB 3.2 G1 Type-C front panel header (one port), two USB 3.2 G1 Type-A headers (four ports), and one USB 2.0 header (two ports) for users requiring more connectivity.
The ASRock B660 Pro RS is currently available to buy at Newegg for $140, which is a good price for everything that it offers. Amazon does stock this model, but availability is sporadic and changes on a weekly basis, so we recommend users buy this at Newegg. While some may argue that there are 'better' motherboards available, looking at what's in the budget space currently, DDR5 and PCIe 5.0 aren't typically a concern or viable for users to benefit for those without large wallets, and the ASRock B660 Pro RS is what it is, a good value and sensible option for users on a budget.
Best Intel Motherboard: The Best Mini-ITX Motherboard
At present, small form factor enthusiasts haven't really had an easy time in being able to highlight high-performance components, without the inevitable pitfalls that come with them such as excessive power draw and thermals. The other detrimental issue with small form factor components is price; they can be quite expensive, but not all of them. The GIGABYTE Z690I Aorus Ultra (DDR4) Lite Edition is an interesting mini-ITX motherboard with a relatively decent feature set, but at an astonishingly low price for a small form factor model.
Some of the GIGABYTE Z690I Aorus Ultra (DDR4) Lite's main features include support for both Intel 13th and 12th Gen Core series processors, two memory slots with support for up to DDR4-5333, and one full-length PCIe 3.0 x16 slot. For storage, there's support for up to two M.2 drives, including one PCIe 4.0 x4 (2260/2280) on the back side of the board, and one PCIe 4.0 x4 2242/2260/2280 on the front. In addition to this, there are four SATA ports with support for RAID 0, 1, 5, and 10 arrays.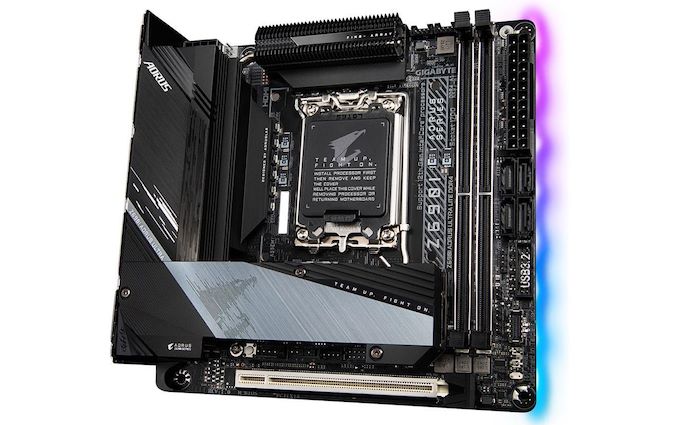 Looking at the finer specifications, the GIGABYTE Z690I Aorus Ultra Lite is using a Realtek ALC4080 HD audio codec that powers just two 3.5 mm audio jacks, while rear panel connectivity for the price and size is excellent. This consists of three USB 3.2 G2 Type-A, one USB 3.2 G2x2 Type-A, and two USB 2.0 ports. On the networking side of things, GIGABYTE includes an Intel I225-V 2.5 GbE controller and an Intel AX201 Wi-Fi 6 CNVi, which also includes support for BT 5.2 devices.
Yes, the kicker with the Ultra Lite is that the main PEG slot is limited to PCIe 3.0. While this may put some users off, the price difference between the 'regular' Z690I Aorus Ultra Plus at $310 and the Lite version ($140) sits at around $170. Even with the additional bandwidth PCIe 4.0 offers versus PCIe 3.0, the differences are that when considering a $140 motherboard, you're unlikely to be pairing it up with an NVIDIA GeForce RTX 4090, or even an i9-13900K, although you could if you wanted to.
Being based around the Z690 chipset, the Ultra Lite does indeed offer support for overclocking, but with the impressive levels of turbo clock speeds at stock on the latest 13th Gen Core series processors, and even the 12th Gen Core series for that matter, it makes manual overclocking less required than ever before. This is especially relevant in small form factor chassis where the extra heat generated from manually overclocking can cause additional problems.
If the PCIe 3.0 x16 PEG slot doesn't concern you, and you're planning on building a small form factor system around Intel's 13th or 12th Gen Core series processors, then the GIGABYTE Z690I Aorus Ultra Lite (DDR4) is a bargain at $140. GIGABYTE has also made a DDR5 variant of this board for a little bit more expensive at $160 at Newegg, while the regular version with a PCIe 4.0 x16 PEG slot costs $310 for the DDR4 variant and $330 for the DDR5 version.
Best Intel Motherboard: Money Is No Object
For those lucky enough to be able to contemplate buying a flagship or halo product, there are plenty of options to consider on socket LGA1700. Although actual compute performance at stock settings may be similar on a $1000 and a $300 Z790/Z690 motherboard, the extra money spent is typically on features, the most premium controller sets, and more I/O. As we're focusing on money no object here, we've opted for a flagship Z790 model currently available at retail, and we've gone for the ASUS ROG Maximus Z790 Extreme.
The ASUS ROG Maximus Z790 Extreme is a typical quintessential flagship with its brutish E-ATX-sized frame and loads of internal and rear I/O capabilities. That isn't the only thing that sets it apart from the typical motherboard though, as the Z790 Extreme is decked out with RGB LED lighting, as well as a large AniME Matrix lighting section built into the rear panel cover. Along the right-hand side of the board, all of the power and internal I/O (apart from one USB header) feature right-angled connectors for a more svelte look and it offers better cable management.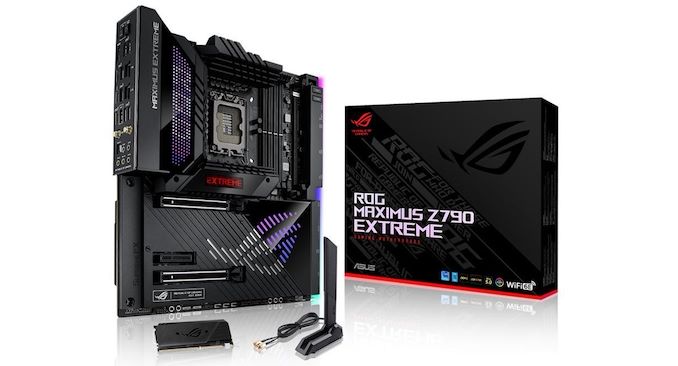 Looking at the main feature set, the ASUS ROG Maximus Z790 Extreme has a very large 24+1-phase power delivery using ASUS's typical teamed array, with dual 8-pin 12 V ATX CPU power inputs located in the top left-hand corner. As is expected with a premium ASUS ROG Maximus motherboard, it has all of the usual overclocking features such as an LN2 mode, Probelt, OC Retry button, slow mode, and a power on button which are all typically associated with extreme overclockers.
Storage options consist of one PCIe 5.0 x4 slot, with two further PCIe 4.0 x4 M.2 slots on the board itself; ASUS does include one of its ROG DIMM.2 slots allowing users to install a further two PCIe 4.0 x4 M.2 drives into the board via an add-in card found in the accessories bundle. For conventional storage drives such as SATA SSDs and HDDs, ASUS includes six SATA ports via the Z790 chipset with support for RAID 0, 1, 5, and 10 arrays.
Other notable controllers include two Thunderbolt 4 controllers, with one powering a Type-C port on the rear panel and one TB4 port via an internal header on the PCB itself, as well as an abundance of USB connectivity; there's a total of 20 ports featured across the Z790 Extreme including 2 x Thunderbolt 4 and varieties of Type-A and Type-C throughout. In fact, the rear panel alone has one Thunderbolt 4 Type-C, one USB 3.2 G2x2 Type-C, and eight USB 3.2 G2 Type-A ports alone to make it a very comprehensive setup for content creators and gamers alike.
When it comes to networking, ASUS has opted for a premium Marvel AQtion 10 GbE controller with a separate Intel I225-V 2.5 GbE controller powering one port each. Wireless capabilities come through an Intel Wi-Fi 6E CNVi add-in card using the Z790's integrated PHY with support for the 6 GHz wireless band as well as BT 5.2 devices. Integrated audio is equally impressive with a ROG SupremeFX ALC4082 HD audio codec doing most of the work, while an ESS Sabre ES9218 Quad DAC allows support for higher impedance headphones than the standard barebone motherboard audio solutions.
The ASUS ROG Maximus Z790 Extreme has an MSRP of $1000, and as such is currently available to buy at both Amazon and Newegg for the same price. While it's not an easy pill to swallow unless money is no object, everything about the ROG Maximus Z790 Extreme screams quality. It has loads of I/O, both internally and on the rear panel and the addition of dual Thunderbolt 4 controllers is likely to please some. With a well-rounded selection of premium controllers, solid networking capabilities, impressive integrated audio, and support for DDR5-7800 out of the box, the ASUS ROG Maximus Z790 ticks all the boxes I could want for a desktop-focused platform.