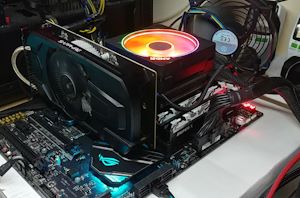 In our series of Best CPU guides, here's the latest update to our recommended Gaming CPUs list. All numbers in the text are updated to reflect pricing at the time of writing. Numbers in graphs reflect MSRP.
Best CPUs for Gaming Holiday 2018
Sometimes choosing a CPU is hard. So we've got you covered. In our CPU Guides, we give you our pick of some of the best processors available, supplying data from our reviews. Our Best CPUs for Gaming guide targets most of the common system-build price points that typically pair a beefy graphics card with a capable processor, with the best models being suitable for streaming and encoding on the fly.
AnandTech Gaming CPU Recommendations: Q4 2018
(Prices correct at time of writing)
Segment
AMD
Intel
Best Overall Choice
Ryzen 3 2200G
$99
Core i3-8100
$130
The $1500 Gaming PC
Ryzen 7 2700X
$305
Core i5-8600K
$260
The $1000 Gaming PC
Ryzen 5 2600X
$209
Core i5-8400
$205
The $700 Gaming PC
Ryzen 5 2400G
$158
Core i5-8400
$179
The $500 Gaming PC
Ryzen 3 2200G
$99
-
-
The $300 Gaming Potato
Athlon 200 GE
$60
-
-
Ones to Watch
AMD Threadripper 2 Part 2 (29-Oct)
Intel Skylake-X Refresh (Q4)
Intel Xeon W-3175X 28-Core (Q4)
To see our Best CPUs for Workstations Guide, follow this link:
https://www.anandtech.com/show/11891/best-cpus-for-workstations
The majority of our recommendations aim to hit the performance/price curve just right, with a side nod to power consumption as well.
Intel Pricing Going Up, and Coffee Lake Refresh Not Available
It is worth noting that since our last Best CPUs for Gaming article, we have had price pressure on Intel's CPUs. Aside from the fact that the latest 9th Generation Core processors are either expensive or impossible to find, even simple processors like the Core i3 8100 have gone up in price by almost 10%. As a result, we've either had to suggest users take the hit of the extra cost, of move down a suggestion (such as from the 8700K to the 8600K) in order to get the best value for a gaming system at current pricing.
There's also the fact that Intel launched its 9th Gen Core Coffee Lake Refresh family of K processors last week. While these might have been the select choice for a few of these segments, unfortunately there's no guarantee of stock almost everywhere. For our Buyer's Guides, we're looking at what you can easily buy today as our recommendations. Maybe they might feature in our Q1 guide in a few months, when demand isn't so high and/or supply isn't so low.
Best Overall Choices
AMD Ryzen 3 2200G ($99)
It may seem odd to pick one of AMD's lowest end processors as a favorite choice in this guide. The reasoning is simple: this is a high-performance quad-core CPU for under $100 that has very respectable integrated graphics. Out of the box the part is real nice for a modern high-performance processor, but with a little nudge of overclocking, both of our in-house CPUs can hit 3.9 GHz on all cores for only a minor increase in power and temperature, something that should be very easy on the stock cooler that comes bundled with the chip.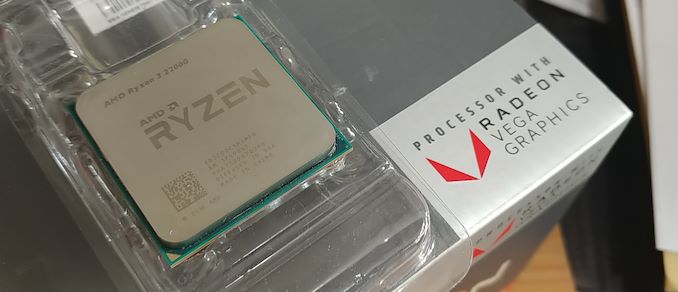 Paired with a discrete GPU at 4K, it hits within a couple of percent of the best CPUs at high resolutions as we end up GPU limited for the most part. Alternatively, run it on the integrated graphics (for those that don't game), and use the extra saved for a high-end compute card, more storage, more memory, or more bling. It's very difficult to go wrong here.
Intel Core i3-8100 ($130, up from $117)
This processor is another quad-core chip, sitting a bit higher than the AMD at $130 (was $117) and slightly worse integrated graphics. So why choose it at all? Part of Intel's latest 8th generation line relies on turbo frequencies: when Intel says a processor has a low base frequency but offers a high single-core turbo at 65W, that means that only the low base frequency is guaranteed at 65W. What makes the Core i3-8100 a good consideration here is that it is rated at a nice and high 3.6 GHz at 65W no matter what – whatever the workload, users are guaranteed both the frequency and the power consumption with no extraneous promises.
For a consistent high performance, the i3-8100 is a tough nut to crack, although a discrete GPU is required for all but the most basic tasks.
The $1500-$2000 Gaming PC
AMD Ryzen 7 2700X at $305 (down from $320) or
Intel Core i5-8600K at $260 (changed from 8700K currently at $380)
When building a gaming PC, the majority of the focus is on the graphics card: when all other components are sufficient, and the resolutions are high, the graphics card is often the limiting factor. Top-end machines will use cards like the GTX 1080, GTX 1080 Ti, Vega64 or Vega56 that cost from $400 to $800, sometimes even multiple, to push enough frames for that high-end 144 Hz display with a variable refresh rate. As long as the rest of the system is not a bottleneck, gaming enthusiasts are happy to sit higher up the price/performance curve with graphics. But with more games taking advantage of DirectX12, more CPU cores, virtual reality (VR), or even old games that rely on a single fast CPU core, having a processor that covers all areas is paramount. This is why we recommend the AMD Ryzen 7 2700X and Intel Core i5-8600K.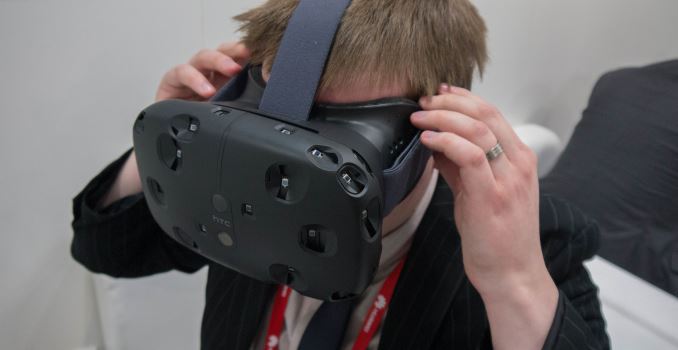 The AMD Ryzen 7 2700X: The Smart Money on Performance
Our final results in our Ryzen 7 2700X review, this CPU put its best foot forward in two key aspects: high performance CPU workloads, and high-resolution gaming. Having 4.2 GHz on all eight cores on the impressive cooler out of the box is currently unrivalled in the desktop processor arena, with AMD taking advantage of GlobalFoundries' latest manufacturing process to push these processors as high as they will go out of the box.
We chose the X version for the extra $30 here, because despite the close frequency between the 2700X and 2700, the 2700X has a higher 105W TDP rather than a 65W TDP allowing it to boost longer, and comes with the Wraith Prism Max cooler as standard whereas the non-X has the next cooler down the list. All of Ryzen 2000-series processors come with a free StoreMI license, so rather than buying a 1TB SSD, users can save money for the GPU by using a 256GB SSD + 2TB HDD and getting the best of both capacity and speed.

For anyone looking to play games at 1440p or 4K in GPU bound scenarios, or process video, or push a multithreaded CPU workload, the AMD Ryzen 7 2700X is tough to ignore.
The Intel Core i5-8600K ($260)
Building a high-end gaming system in 2018 costs a lot of money. Due to high prices, a GTX 1080 and 16 GB of good memory is the best part of $600-700, before we even look at motherboard, storage, power supply, and case. Having a strict budget means sacrificing one part for another, but for any competitive eSports player that wants peak responsiveness, the Core i7-8600K with an overclock is the best place to be. It matches the AMD at 4K gaming within a few percent in GPU limited situtations, but costs a fair bit more and it requires going out and buying a good cooler to keep that turbo high, so why recommend it? The i7-8600K shines best at lower-than-4K gaming, so any user that is tuning a high-end for maximum responsiveness in competitive situations is going to stay at 1080p, where this processor dominates.

Where the i5-8600K wins on gaming over the 2700X, it falls behind on multicore performance, as it only has six threads to AMD's sixteen. This is worth remembering.
Build A Beast: Our $2000 Gaming PC
Obviously these choices are the same as our recommended parts, and all the commentary is still relevant. To this end we put together an example system that one might buy in this segment:
The AnandTech $2000 Gaming PC
Prices from Amazon
Segment
AMD
Intel
Processor
Ryzen 7 2700X
$305
Core i5-8600K
$260
Cooler
Corsair H60
$70
Motherboard
GIGABYTE X470
Aorus Ultra Gaming
$132
MSI
Z370 Tomahawk
$140
Memory
G.Skill RipjawsV DDR4-3200 2x8GB
$149
Storage
ADATA XPG SX6000 512GB NVMe
$170
Graphics
NVIDIA RTX 2080 Ti Founders Edition
$1200
Case
NZXT Phantom 530
$123
Power Supply
EVGA SuperNOVA 750W Gold
$80
Total Cost
$ 2229
$ 2159 using Stock Cooler
$ 2192
So we went a bit beyond budget in order to fit in the RTX 2080 Ti. If there was a strict limit of $2k, then dropping the graphics card to a GTX 1080 Ti would save $500 and enable doubling the memory or the storage very easily. Memory is still expensive, but the cost of our storage was a big surprise from our previous guide, as we were able to drop the cost by nearly half and move to NVMe at the same time. One limiting factor here is the memory, at 16GB, which might be a 'how many tabs do you want open at once' scenario. Users that have other passions besides gaming might have to drop that GPU down in order to make it all fit in cost.
Ultimately our build suggestion here puts the graphics card as 55% of the full system, and the CPU as 14%. The issue here is perhaps that sometimes the rest of the components do not change so much, or that priorities change. Playing GTA 5 on a mid-range graphics card at lower resolutions still requires 50GB+ of storage, or going full out on Final Fantasy XV is beyond 150GB, so users then have to decide if they want an SSD over spinning rust (a mechanical hard drive) or if only 8GB of memory is enough
That being said, as we move down the gaming scale for graphics cards, to something like a GTX 1060 or RX 580, can bring the build down by up to $1000. These CPUs are still relevant, however some users might prefer to alleviate bottlenecks elsewhere, perhaps pushing users to consider our next price point at $1000.
The $1000 Gaming PC
AMD Ryzen 5 2600X at $209 (upgrade from R5 2600 at $199)
Intel Core i5-8400 at $205 (was $179)
Our choices here essentially push the AMD and Intel options further apart due to pricing. AMD's pricing allows us to recommend the more powerful 2600X part, but Intel's recommendation is one notch down the latter due to price increases. Interestingly in our guide before that, we had the i5-8400, which is what our suggestion is today.
AMD Ryzen 5 2600X
For a gamer who might be interested in streaming, or doing multiple tasks at the same time, the six-core Ryzen 5 2600X is eminently suitable. The gaming experience should be pitched for a very good quality 1920x1080 environment or a mid-quality 2560x1440 setup, with future upgrade options either on the CPU or processor.

Users can take advantage of cheap B350 motherboards, or knock-down X370 with a relevant BIOS update, and still get a great experience. This chip comes with its own good stock cooler, negating that extra cost, and for anyone building a workstation at this price, our Ryzen 5 2600X multi-threaded results easily surpassed anything Intel offers at the quad-core level, such as the older i7-7700K or i7-6700K
Intel Core i5-8400
In our last few buyer's guides, we have been deciding between the 8400 and 8500 based on pricing. Both are similar, differing a little in base frequency and turbo frequency, but offer more cores than the 7-series part. We haven't gone for a 9-series part here just because of availability. It does mean that for the 8-series Intel has a six-core processor at the same price that AMD offers six cores (although AMD gives two threads per core, Intel only one), with a higher IPC as well which will benefit in games. With a good cooler the chip will hit the all-core turbo frequency more often, which is higher than the AMD options suggested. The motherboard ecosystem is also robust, offering multiple storage options as well as faster Ethernet options. The Core i5-8400 is also a good choice for any users reliant on single thread performance or 1080p gaming.
The $700-$800 Gaming PC
AMD Ryzen 5 2400G at $158 (from R5 2600 at $199)
Intel Core i3 8100 at $130 (from i5-8400 at $205)
At this price point, I've decided to scale a little bit back on both CPUs to offer more money for a more rounded build. By cutting $40-60, this allows users to get a stage up on a GPU, or double the storage in a system. The AMD APU is particularly good here, as it allows users to have a reasonable gaming experience before shelling out $1200 on the top end RTX 2080 Ti card next time around. At this price point I might have used AMD's Ryzen 5 2500X or Ryzen 3 2300X, but neither CPU is currently at retail right now, and only found in OEM systems.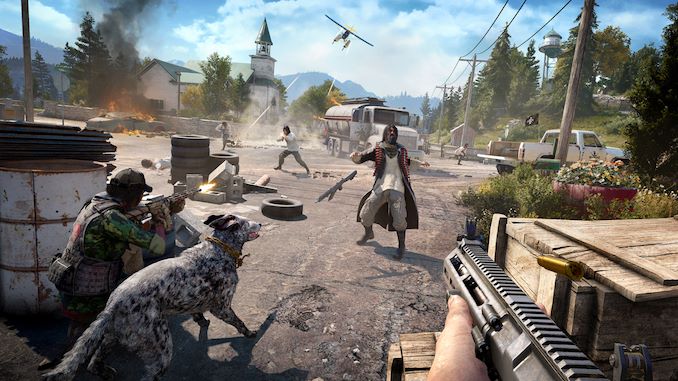 Users could go down another notch on CPU, to either the Ryzen 3 2200G to save another $60 but still have a quad core, although going down on Intel would mean a Pentium Gold which is actually retailing quite high right now. It does make an interesting point that at $700, what matters more? A CPU that can push an OK graphics card, or a weaker CPU with a more powerful graphics card? At this price point 8GB and a small SSD paired with a mechanical might be required, which is where AMD's StoreMI or Intel's Optane caching might come into play.
The $500 Gaming PC
At the $500 price point, the user needs to question if they have the budget for a discrete graphics card. In one swoop over half the budget could go to a GTX 1050, but having 4GB of DRAM and a 1TB mechanical hard-drive with a 300W no-name brand PSU is just calling for a bad experience. AMD's latest integrated graphics offerings are well positioned here, leaving more money for the rest of the system and a slot to upgrade in the future without having to sell an old card. Users looking at a GT 1030 graphics card with a reasonable CPU is really going to eat into the costs without compromising the CPU or the rest of the system.
AMD Ryzen 5 2400G ($169) or Ryzen 3 2200G ($99)
For a $500 system, the top Ryzen 5 2400G APU is going to be a sweet purchase. It has four cores, eight threads, is overclockable to 3.9 GHz, and has integrated graphics that are more than acceptable for 1080p gaming and mid-quality settings. The 11 compute units in the integrated Vega graphics showcases AMD's latest design, and the direct analogue from NVIDIA would be a GT 1030, which would impose an additional $100 cost to any price-equivalent Intel processor.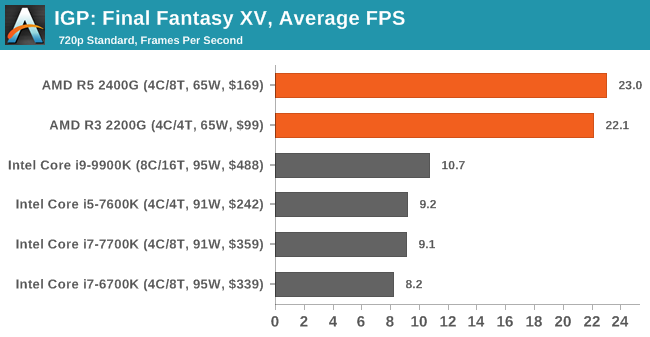 AMD's APU also comes bundled with a very decent stock cooler, which would also be an additional Intel system cost. With the extra money saved, going after some high speed memory to aid the graphics would be a good idea, which would also carry over if/when a big discrete GPU purchase is made in the future. Building this system in mind, we actually came super under budget, with a full cost of $435. That gives some extra to either go after better storage, which is likely a priority here.
The alternative here from AMD is the other Ryzen APU, the Ryzen 3 2200G coming in at $99. This would allow a $500 system user that does not do much gaming to spend more money on the rest of the system, such as SSD storage or larger amounts of memory, giving a system with a really nice setup. This also allows a future update to a large graphics card, again with performance within a couple percent of the big AMD chips.
A note on Intel: At this price point, we don't think there's room for an Intel system to do justice. Given the recent price rises, users would have to step back a generation to a Kaby Lake Pentium paired with something like a GT 1030 to get anywhere near the performance levels of the APUs, and the CPU capabilities would suffer in light of the more cores and more threads of AMD's parts. Given Intel's strategy of focusing more on the high end with its manufacturing, AMD has this market to itself.
The $300 Gaming Potato with Integrated Graphics
AMD Athlon 200GE at $60 (down from Ryzen 3 2200G at $99)
For enthusiasts that have been building PCs for a number of years, it can sometimes be hard to re-image the brain to build for a low budget. At this price point the other options for gaming include consoles or last-gen consoles, so the idea here is to enable a user to do as much as possible for as little as possible. For gaming that is particularly difficult, as reasonably powerful discrete graphics cards start north of $100. Both AMD and Intel have chased after this price bracket with their integrated graphics solutions: pairing a CPU and GPU on the same piece of silicon and enabling both. Aside from a very expensive lunge from Intel a couple of years ago, AMD has been leading this space.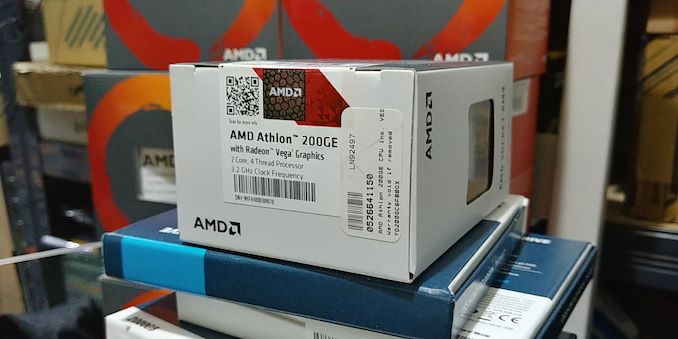 This time around, we're actually downgrading from the Ryzen 3 2200G to the Athlon 200GE. Ultimately the 2200G is the better gaming processor, with Vega 8 over Vega 3, but $40 can go a long way in a system like this. It would mean moving to dual channel memory, which would have a direct impact on integrated gaming performance, or doubling or tripling the storage which would enable being able to game in the first place. Paired with a cheap A320 motherboard ($60), 8GB of DDR4-3000 memory ($72), a 1TB hard drive ($45), and a case/power supply combo ($50), it offers the seemless expansion to a faster storage driver later, or more memory, or a discrete GPU. There's no need for a $30 cooler, as one of AMD's good performing stock coolers comes in the box. The same motherboard and memory will also enable the top Ryzen 7 processor if a processor upgrade is needed further down the line.
The High-End Desktop Conundrum
It is worth noting that in these Gaming CPU Guides we have not recently recommended any high-end desktop processors. The base platform cost means that adding in any top model of graphics card at $600+ breaks our top $2000 budget band with ease, and the rest of the system would be a disappointment by comparison.
Something like an Intel Skylake-X build will start at a $999 processor (10-core) plus a $250 motherboard (X299) and ~$200 for memory (4x4GB) would already be $1400+ before we look at a top end graphics card or storage, going way above the $2000 budget of our top system.
Similarly with AMD, a 12-core Threadripper at $431 with a $299 motherboard (X399) and ~$200 for memory is only really valid with a high-end graphics card if the rest of the system is OK with being mediocre to average.
In both cases, there is little benefit of going beyond the best mainstream processors for single GPU gaming. For compute users, the story is different, but for anyone wanting the best from their money to play the latest titles, then a mainstream processor is needed.
With that all being said, we know that one or two new high-end desktop platforms are waiting in the wings.
The Ones to Watch
In a couple of weeks we expect AMD to launch the second batch of its Threadripper 2 processors, the 2970WX and the 2920X, with 24-cores and 12-cores respectively. With the current 1920X available for $431, this launch might push it into a more favorable position in our gaming options.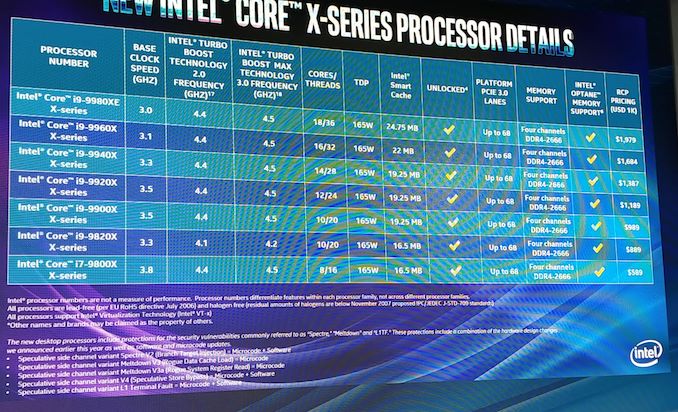 From Intel, the next generation of Skylake-X Refresh chips will be out during Q4. These start at eight cores, and will all feature 44 PCIe lanes as well as a variety of cache levels which should make them an interesting comparison to the current Skylake-X platforms. These chips will build on Intel's current HEDT offerings.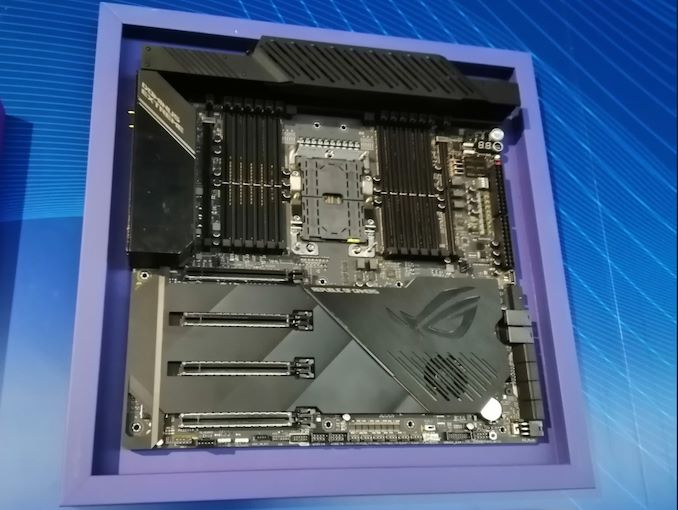 Then there's Intel's upcoming Xeon W-3175X processor, promising 28 cores of Skylake-X as well as overclocking. We don't know much about this part yet, except that we expect it to either draw a lot of power or be low clocked (3.0 GHz?) in order to meet the 205W TDP that was announced a few weeks ago. While we don't expect this to feature much in our Gaming recommendations, but depending on price (and availability) it might make an interesting aside our workstation guide.
The AnandTech 2018 CPU Coverage
Our big CPU reviews for 2018 have covered all the launches so far, and are well worth a read.
*If any Intel or AMD product managers want to get in contact to help sample more, please send an email.
Links to Other Guides
Best CPUs for Gaming: this article
Best CPUs for Workstations: 2017
Best SSDs: Current
Best Laptops: Current
In our series of Best Guides, here's the latest update to our recommended CPUs list. All numbers in the text are updated to reflect pricing at the time of writing. Numbers in graphs reflect MSRP.