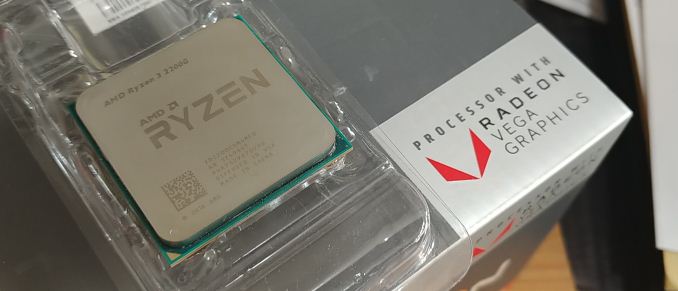 In our series of Best CPU guides, here's the latest update to our recommended Gaming CPUs list. All numbers in the text are updated to reflect pricing at the time of writing (June 19th). Numbers in graphs reflect MSRP.
Best CPUs for Gaming Q3 2018
Sometimes choosing a CPU is hard. So we've got you covered. In our CPU Guides, we give you our pick of some of the best processors available, supplying data from our reviews. Our Best CPUs for Gaming guide targets most of the common system-build price points that typically pair a beefy graphics card with a capable processor, with the best models being suitable for streaming and encoding on the fly.
AnandTech Gaming CPU Recommendations: Q3 2018
(Prices are Jun-19 or MSRP)
Segment
AMD
Intel
Best Overall Choice
Ryzen 3 2200G
$96
Core i3-8100
$119
The $1500 Gaming PC
Ryzen 7 2700X
$320
Core i7-8700K
$350
The $1000 Gaming PC
Ryzen 5 2600
$190
Core i5-8400
$179
The $700 Gaming PC
Ryzen 5 2600
$190
Core i5-8400
$179
The $500 Gaming PC
Ryzen 5 2400G
$162
Intel Core i3-8100
Pentium G5400
$119
$75
The $300 Gaming Potato
Ryzen 3 2200G
$96
-
-
Ones to Watch
AMD Ryzen 2nd Gen Unannounced CPUs
AMD Threadripper 2 (Q3)
Intel 8-Core CPU (Q3/4)
To see our Best CPUs for Workstations Guide, follow this link:
https://www.anandtech.com/show/11891/best-cpus-for-workstations
The majority of our recommendations aim to hit the performance/price curve just right, with a side nod to power consumption as well.
Best Overall Choices
AMD Ryzen 3 2200G ($96)
It may seem odd to pick one of AMD's lowest end processors as a favorite choice in this guide. The reasoning is simple: this is a high-performance quad-core CPU for under $100 that has very respectable integrated graphics. Out of the box the part is real nice for a modern high-performance processor, but with a little nudge of overclocking, both of our in-house CPUs can hit 3.9 GHz on all cores for only a minor increase in power and temperature, something that should be very easy on the stock cooler that comes bundled with the chip.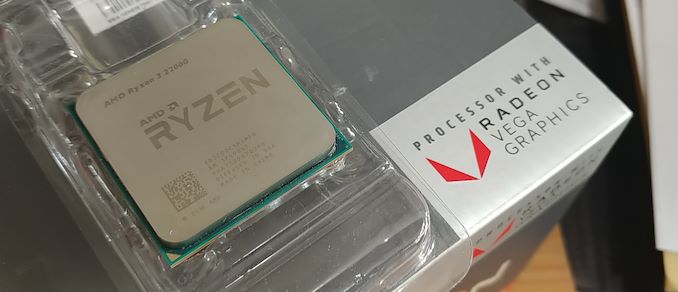 Paired with a discrete GPU at 4K, it hits within a couple of percent of the best CPUs at high resolutions. Alternatively, run it on the integrated graphics (for those that don't game), and use the extra $100-200 saved for a high-end graphics card for more storage, more memory, or more bling. It's very difficult to go wrong here.
Technically we've only chosen this processor for the lowest cost build, however it makes a more-than-appropriate choice for any PC up to $1000 total if the drive to a bigger GPU is warranted.
Intel Core i3-8100 ($119)
This processor is another quad-core chip, sitting a bit higher than the AMD at $117 and slightly worse integrated graphics. So why choose it at all? Part of Intel's latest 8th generation line relies on turbo frequencies: when Intel says a processor has a low base frequency but offers a high single-core turbo at 65W, that means that only the low base frequency is guaranteed at 65W. What makes the Core i3-8100 a good consideration here is that it is rated at a nice and high 3.6 GHz at 65W no matter what – whatever the workload, users are guaranteed both the frequency and the power consumption with no extraneous promises.
For a consistent high performance, the i3-8100 is a tough nut to crack, although a discrete GPU is required for all but the most basic tasks.
The $1500-$2000 Gaming PC
AMD Ryzen 7 2700X ($320) or
Intel Core i7-8700K ($350)
When building a gaming PC, the majority of the focus is on the graphics card: when all other components are sufficient, and the resolutions are high, the graphics card is often the limiting factor. Top-end machines will use cards like the GTX 1080, GTX 1080 Ti, Vega64 or Vega56 that cost from $400 to $800, sometimes even multiple, to push enough frames for that high-end 144 Hz display with a variable refresh rate. As long as the rest of the system is not a bottleneck, gaming enthusiasts are happy to sit higher up the price/performance curve with graphics. But with more games taking advantage of DirectX12, more CPU cores, virtual reality (VR), or even old games that rely on a single fast CPU core, having a processor that covers all areas is paramount. This is why we recommend the AMD Ryzen 7 2700X and Intel Core i7-8700K.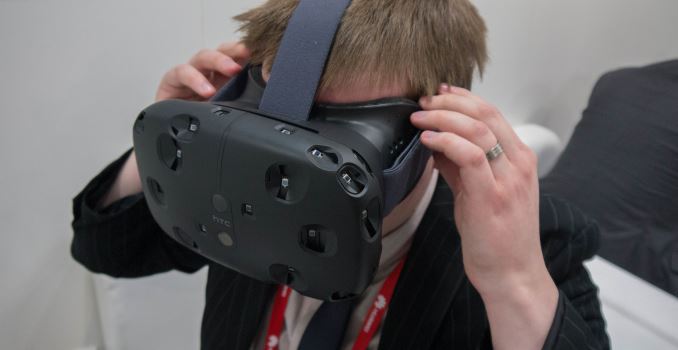 Obviously these choices are the same as our recommended parts, and all the commentary is still relevant. To this end we put together an example system that one might buy in this segment:
The AnandTech $2000 Gaming PC
Prices from Amazon as of June 19th
Segment
AMD
Intel
Processor
Ryzen 7 2700X
$320
Core i7-8700K
$350
Cooler
Corsair H60
$70
Motherboard
GIGABYTE X470
Aorus Ultra Gaming
$140
MSI
Z370 Tomahawk
$130
Memory
G.Skill Trident Z DDR4-3200 2x16GB
$378
Storage
WD Black 500GB NVMe M.2-2280
$170
Graphics
GIGABYTE GTX 1080 Ti Turbo
$720
Case
NZXT Phantom 530
$130
Power Supply
EVGA SuperNOVA 750W Gold
$80
Total Cost
$ 2008
$ 2028
Users going beyond $2000 might decide to double up on memory, storage, or graphics. Alternatively, dropping the GTX 1080 Ti down to a GTX 1080 saves $180, which could go to a mechanical hard drive and better CPU cooling. Memory is expensive, so moving down to 2x8 GB will save $150 or so, although having such a beefy system with *only* 16 GB of memory might be a 'how many tabs you have open' limiting factor for power users. For reference, with my usual workflow, I use about 13-26 GB of memory on average.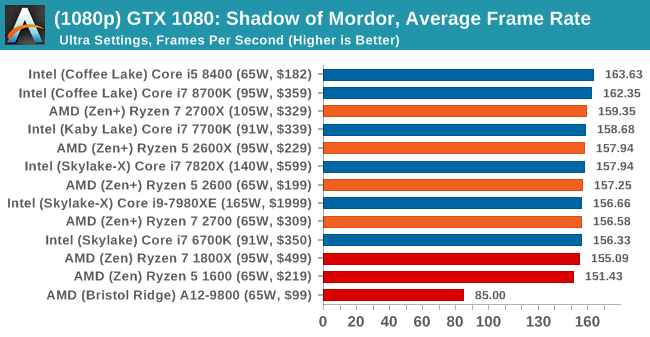 Ultimately our build suggestion here puts the graphics card as 36% of the full system, and the CPU as 16%; or about as half as important. The issue here is perhaps that sometimes the rest of the components do not change so much, or that priorities change. Even playing GTA 5 on a mid-range graphics card at lower resolutions still requires 50GB+ of storage, so users then have to decide if they want an SSD over spinning rust (a mechanical hard drive) or if only 8GB of memory is enough. It will be hard to keep the CPU+GPU as 50% of the full build cost.
That being said, as we move down the gaming scale for graphics cards, to something like a GTX 1060 or RX 580, can bring the build down by up to $500. This CPUs are still relevant, however some users might prefer to alleviate bottlenecks elsewhere, perhaps pushing users to consider our next price point at $1000.
The $1000 Gaming PC
AMD Ryzen 5 2600 ($190)
Intel Core i5-8400 ($179)
At this price users will have to decide if they want to keep that $500 GPU and end up with a limiting $120 processor, or move down to a graphics card around $250 and find the right balance between the graphics card and the processor. For our recommendations at this price point we have the Ryzen 5 2600 and the Intel Core i5-8400.
For a gamer who might be interested in streaming, or doing multiple tasks at the same time, the six-core Ryzen 5 2600 is eminently suitable. The gaming experience should be pitched for a very good quality 1920x1080 environment or a mid-quality 2560x1440 setup, with future upgrade options either on the CPU or processor. Users can take advantage of cheap B350 motherboards, or knock-down X370 with a relevant BIOS update, and still get a great experience. This chip comes with its own good stock cooler, negating that extra cost, and for anyone building a workstation at this price, our Ryzen 5 2600 multi-threaded results easily surpassed anything Intel offers at the quad-core level, such as the older i7-7700K, i7-6700K, or the more modern six-core i5-8400.
In our last buyer's guide, we suggested the Core i5-8400 at this point at a higher price, but it has now reduced by around $10. This six core part is set at almost the same price as the 7th generation counterpart which only had four cores - the generation on generation upgrade in performance per dollar went up like a rocket. Intel now has a six-core processor at the same price that AMD offers six cores (although AMD gives two threads per core, Intel only one), with a higher IPC as well which will benefit in games. Despite the 2.8 GHz base frequency, with a good cooler the chip will hit the all-core turbo frequency at 3.8 GHz more often, which is higher than the AMD options suggested. The motherboard ecosystem is also robust, offering multiple storage options as well as faster Ethernet options. The Core i5-8400 is also a good choice for any users reliant on single thread performance or 1080p gaming.
The $700-$800 Gaming PC
AMD Ryzen 5 2600 ($190)
Intel Core i5-8400 ($192)
At this price point, we considered something like an AMD APU at $169 or $99, however at $700-$800 a user still wants the full force of 1080p gaming, so going discrete is going to be the option here. AMD is yet to replace its lower down Ryzen 5 and Ryzen 3 CPUs, instead keeping the APUs in some of those slots, so the AMD option here is ideally the Ryzen 5 2600. In actual fact, a nice system can be built for around $700, on the GTX 1060 3GB or 6GB:
The AnandTech $700-$800 AMD Gaming PC
Prices from Amazon as of June 18th
Segment
AMD at $700
AMD at $800
Processor
Ryzen 7 2600
$190
Ryzen 3 2200G
$96
Cooler
Use Bundled
Use Bunded
Motherboard
ASRock AB350M (might need BIOS update)
$67
Memory
Patriot Viper 2x4GB DDR4-3000
$90
Storage
Seagate 500GB Hybrid
$50
Graphics
GBT GTX 1060 3GB OC
Zotac GTX 1060 6GB
$230
$270
Zotac GTX 1070
$410
Case
Thermaltake Versa H22
$37
Power Supply
EVGA 600B 600W Bronze
$40
Total Cost
$ 705 with GTX 1060 3GB
$ 745 with GTX 1060 6GB
$ 801 with APU + GTX 1070
The other option would be to take a small hit on the CPU, and go down to the Ryzen 3 2200G, saving around $100. This would get the build another 8 GB of DRAM, or push the GPU nearer to a GTX 1070, although the high MSRPs of the GTX 1070 GPUs mean that it is pushing the limit on the budget here.
The main downside is the storage, relying on a 500GB Hybrid drive for $50. Moving into an SSD is going to cut into the budget, and AMD's StoreMI feature only works with X470 motherboards to date, which are an additional expense. The Intel users can benefit from going down the Intel Optane Memory route as a cache, but the cheapest Optane drive is $34.
The $500 Gaming PC
At the $500 price point, the user needs to question if they have the budget for a discrete graphics card. In one swoop over half the budget could go to a GTX 1050, but having 4GB of DRAM and a 1TB mechanical hard-drive with a 300W no-name brand PSU is just calling for a bad experience. AMD's latest integrated graphics offerings are well positioned here, leaving more money for the rest of the system and a slot to upgrade in the future without having to sell an old card. Users looking at a GT 1030 graphics card with a reasonable CPU is really going to eat into the costs without compromising the CPU or the rest of the system.
AMD Ryzen 5 2400G ($169)
For a $500 system, the top Ryzen 5 2400G APU is going to be a sweet purchase. It has four cores, eight threads, is overclockable to 3.9 GHz, and has integrated graphics that are more than acceptable for 1080p gaming and mid-quality settings. The 11 compute units in the integrated Vega graphics showcases AMD's latest design, and the direct analogue from NVIDIA would be a GT 1030, which would impose an additional $100 cost to any price-equivalent Intel processor. AMD's APU also comes bundled with a very decent stock cooler, which would also be an additional Intel system cost. With the extra money saved, going after some high speed memory to aid the graphics would be a good idea, which would also carry over if/when a big discrete GPU purchase is made in the future. Building this system in mind, we actually came super under budget, with a full cost of $435. That gives some extra to either go after better storage, which is likely a priority here.
The alternative here from AMD is the other Ryzen APU, the Ryzen 3 2200G coming in at $99. This would allow a $500 system user that does not do much gaming to spend more money on the rest of the system, such as SSD storage or larger amounts of memory, giving a system with a really nice setup. This also allows a future update to a large graphics card, again with performance within a couple percent of the big AMD chips.
The AnandTech $500 Gaming PC
Prices from Amazon as of June 18th
Segment
AMD at $435
Intel at $490
Processor
Ryzen 5 2400G
$162
Pentium Gold G5400
$75
Cooler
Use Bundled
Cooler Master Hyper T2
$17
Motherboard
ASRock AB350M
$67
MSI H310M Pro-VD
$60
Memory
Patriot Viper
2x4GB DDR4-3000
$90
Patriot Signature
2x4GB DDR4-2666
$79
Storage
Seagate 500GB Hybrid
$50
Graphics
Use Integrated
GIGABYTE GTX 1050
$140
Case
Thermaltake Versa H22
$37
Power Supply
EVGA BT 450W Bronze
$30
Total Cost
$436
$488
Intel Core i3-8100 ($119) + GT 1030 ($80), or
Intel Pentium Gold G5400 ($75) + GTX 1050 ($140)
When researching for the Intel equivalent of AMD's system, it became clear that to match it we needed a GT 1030, but I also questioned whether we could get a system with the GTX 1050 as well for the same price. The Intel analogue is the Core i3-8100, a quad-core processor with a high single core frequency that has some of the best responsiveness available. Buying this processor for a gaming machine, then investing in a GTX 1050, would give a better experience than the AMD option listed above, however add in a $20 cooler and that represents over half of the budget ($119 CPU + $140 GPU + $20 Cooler = 56%). A dual channel 8GB memory kit at $80, then a 500GB SSHD at $50 leaves $92 for a motherboard, case, and power supply which isn't going to happen. The only way to keep the GTX 1050 would be to look at the dual core Pentium Gold processors, which is our other suggestion in this price bracket.
Looking at the Pentium Gold option, in general it seems to come out quite well, and our budget of $500 is there or thereabouts within $10 or so. The downside here is that the CPU cooler is pretty bottom shelf (though arguably still better than the stock cooler), and the H310 motherboard is limited to PCIe 2.0 from the chipset, making future updates to NVMe drives or such not possible. It will, however, perform the job of driving a GPU and an SSHD pretty well. The CPU is Intel's most reasonable dual core with hyperthreading option, and another $40 might push it up into proper quad-core territory. If the budget was stretched to $550, it would really work wonders.
The $300 Gaming Potato with Integrated Graphics
AMD Ryzen 3 2200G ($96)
For enthusiasts that have been building PCs for a number of years, it can sometimes be hard to re-image the brain to build for a low budget. At this price point the other options for gaming include consoles or last-gen consoles, so the idea here is to enable a user to do as much as possible for as little as possible. For gaming that is particularly difficult, as reasonably powerful discrete graphics cards start north of $100. Both AMD and Intel have chased after this price bracket with their integrated graphics solutions: pairing a CPU and GPU on the same piece of silicon and enabling both. Aside from a very expensive lunge from Intel a couple of years ago, AMD has been leading this space.

The one to suggest here is our processor of choice during Q2/Q3, the Ryzen 3 2200G. It has the perfect match of CPU performance and GPU performance for the budget, Paired with a cheap motherboard ($60), 4GB of DDR4 memory ($45), a 1TB hard drive ($45), and a case/power supply combo ($50), it offers the seemless expansion to a faster storage driver later, or more memory, or a discrete GPU. There's no need for a $30 cooler, as one of AMD's good performing stock coolers comes in the box. The same motherboard and memory will also enable the top Ryzen 7 processor if a processor upgrade is needed further down the line. The system won't be breaking any records, but at $99 the system is a fully fledged quad-core with Vega graphics.
The Ones To Watch
High-End Desktop (Q3/Q4)
It is worth noting that in these Gaming CPU Guides we have not recently recommended any high-end desktop processors. The base platform cost means that adding in any top model of graphics card at $600+ breaks our top $2000 budget band with ease, and the rest of the system would be a disappointment by comparison.
Something like an Intel Skylake-X build will start at a $999 processor (10-core) plus a $250 motherboard (X299) and ~$200 for memory (4x4GB) would already be $1400+ before we look at a top end graphics card or storage, going way above the $2000 budget of our top system. Similarly with AMD, a 12-core Threadripper at $659 with a $299 motherboard (X399) and ~$200 for memory is only really valid with a high-end graphics card if the rest of the system is OK with being mediocre to average.
In both cases, there is little benefit of going beyond the best mainstream processors for single GPU gaming. For compute users, the story is different, but for anyone wanting the best from their money to play the latest titles, then a mainstream processor is needed.
With that all being said, we know that one or two new high-end desktop platforms are waiting in the wings.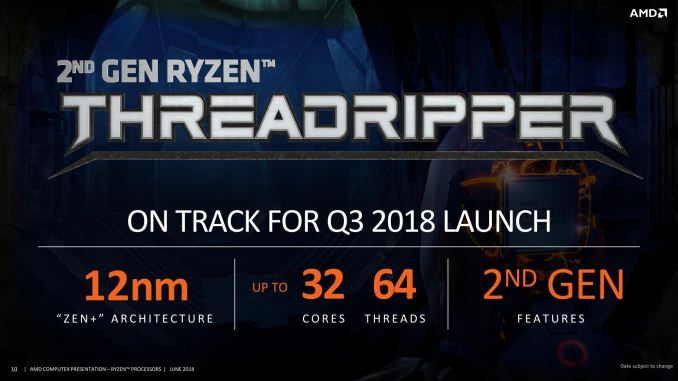 In Q3 we expect AMD to launch the second generation of its Threadripper processors, called Threadripper 2. These processors will be built on the newer 12nm manufacturing process from Global Foundries, with an expected 3-10% increase in performance over the current generation Threadripper. AMD announced 32 cores at Computex, with frequencies expected to be slightly lower than current Threadripper CPUs due to the increased TDP to 250W (demos were run at 3.0 GHz base, 3.4 GHz turbo). AMD has confirmed these processors will use the same X399 socket motherboards already on the market with a BIOS update.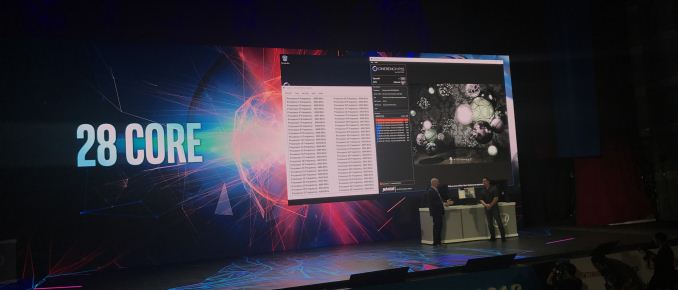 From Intel it has recently been announced that they will discuss the next generation Cascade Lake processor designs at the super-technical Hot Chips conference in August, and Intel is expecting to push new processors likely by the end of the year. Most of the discussions have been on server designs, however the same silicon is expected to power the consumer platform using X299 motherboards. Speaking with OEMs, they are still heavily focusing on the Skylake systems for the rest of 2018, so this one is still a bit hard to pin down. At Computex, Intel promised that it would also be launching a 28-core processor into the market in Q4.
The Ones To Watch
Unconfirmed Mainstream and Low Power Processors
AMD has been suffering some processor leaks, with new processors such as the Athlon 200GE, Ryzen 5 2600E, Ryzen 5 2400X and Ryzen 3 2300X being seen on official motherboard support lists in recent days. Some reports have stated that these processors will be announced this summer, and would fill up AMD's sub-$200 price points for entry level Ryzen processors without integrated graphics.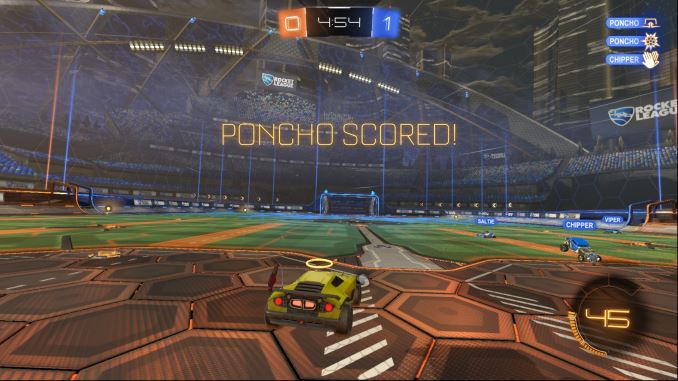 If everything gets launched as expected, summer is going to get very busy. As always, we will keep you up to date with how these parts perform with our real world benchmark suite, our reviews, and our Buyers Guides.
The AnandTech 2018 CPU Coverage
Our big CPU reviews for 2018 have covered all the launches so far, and are well worth a read.
*If any Intel or AMD product managers want to get in contact to help sample more, please send an email.
Links to Other Guides
In our series of Best Guides, here's the latest update to our recommended CPUs list. All numbers in the text are updated to reflect pricing at the time of writing. Numbers in graphs reflect MSRP.