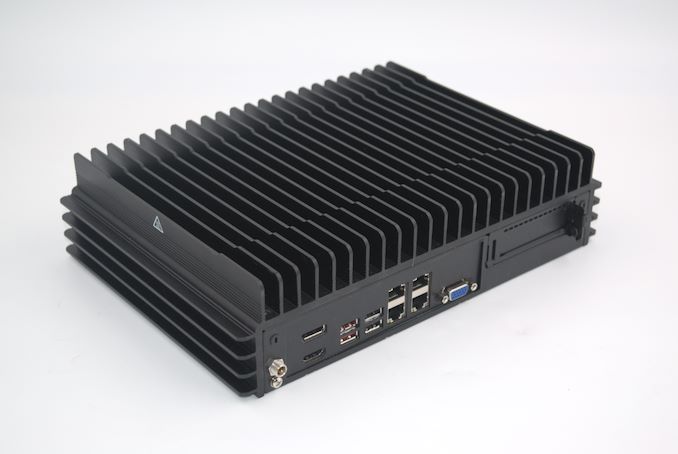 Passively-cooled systems find application in a wide variety of industrial use-cases including automation, IoT gateways, medical systems, surveillance, and digital signage. In addition to avoiding moving parts, systems meant for industrial use need to be built to operate 24x7 in challenging environmental conditions.
Supermicro has systems targeting this market under the Embedded / IoT category in a variety of form-factors. Scenarios with minimal I/O requirements can use the compact chassis with support for 3.5" SBCs. The company also provides passively-cooled chassis configurations for industrial mini-ITX boards.
The Supermicro SYS-E302-12E based on the Intel Atom x6425E embedded SoC is the company's highest performing system in the Elkhart Lake lineup. It is optimized for industrial automation, digital signage / data visualization, and IoT applications. The review below takes a detailed look at the features and performance profile of the system, along with an evaluation of the thermal solution.
Introduction and Product Impressions
Supermicro's SYS-E302-12E is based on the Super A3SEV-4C-LN4 mini-ITX board. The board is available for purchase with an integrated heatsink. Supermicro also offers the SYS-E302-12E barebones system based on this board by removing the heatsink and mounting the board inside the CSE-E302iL2 passively-cooled chassis.
Intel's Tremont microarchitecture for low-cost processors has been available in the market for a few years now in Jasper Lake-based systems meant for use as entry-level PCs. Processors meant for the embedded market (such as the Elkhart Lake SoCs) make it to end customers much later than their consumer counterparts - they have a long life-cycle, and lengthy qualification cycles too. Even though Elkhart Lake-based consumer systems are already trickling into the market, the ones based on embedded SKUs such as the Atom x6425E are becoming widely available only now.
The SYS-E302-12E is marketed as an IoT SuperServer, but it doesn't have a separate BMC and also does not support ECC memory. However, the embedded SKU officially supports in-band ECC. We have already evaluated the impacts of in-band ECC on performance in our Raptor Lake-P review. Unfortunately, the BIOS version currently available for the SYS-E302-12E doesn't have the option to toggle in-band ECC, but Supermicro confirmed that an upcoming release would enable that option.
Supermicro has equipped the SYS-E302-12E with a wide range of I/O interfaces - four RS232 COM ports, four gigabit LAN ports, six USB 2.0 ports, and two USB 3.2 Gen 2 ports. There are three display outputs, and there is space available inside the chassis to install a 2.5" SATA drive also.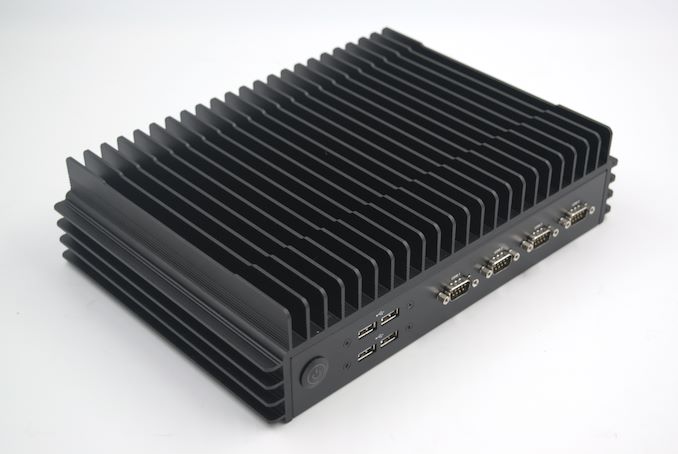 In addition to the main unit, Supermicro supplies a lockable 150W (12V @ 12.5A) adapter, AC power cord, 2.5" drive caddy, appropriate screws, and cable ties in the package.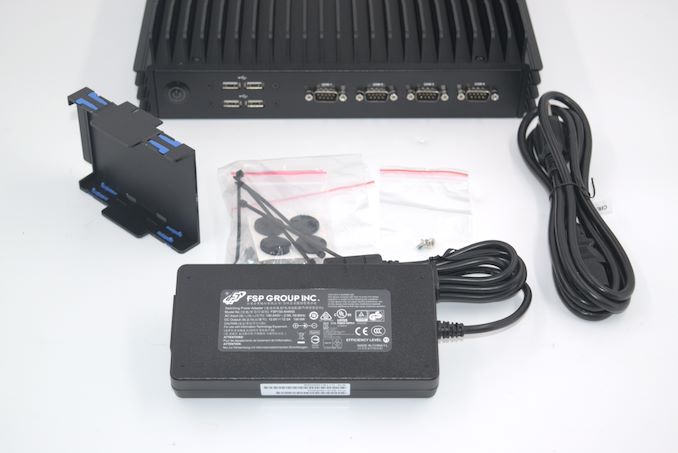 Our review sample included 2x 16 GB DDR4-2666 SODIMMs as well as a 256 GB InnoDisk M.2 SATA drive. The full specifications of the review sample are provided in the table below.
Supermicro SYS-E302-12E Specifications
(as tested)
Processor
Intel Atom x6425E
Elkhart Lake 4C/4T, 2.0 - 3.0 GHz
Intel 10, 1.5 MB L2, 12 W
Memory
Innodisk M4SI-AGS1O50K-C DDR4-2666 SODIMM
19-19-19-43 @ 2666 MHz
2x16 GB
Graphics
Intel UHD Graphics for 10th Gen Intel Processors
(32EU @ 500 MHz)
Disk Drive(s)
Innodisk M.2 (S80) 3TE7 DEM28-B56DK1EW1QF
(256 GB; M.2 2280 SATA III;)
(64L 3D TLC; InnoDisk ID301 Controller)
Networking
1x GbE RJ-45 (Intel I210-IT)
3x GbE RJ-45 (Intel EC1000S MAC + Marvell Alaska 88E1512 PHY)
Audio
Realtek ALC888S Audio Codec On-board (Optional Audio Jack, N/A in Review System)
Audio Bitstreaming Support over HDMI Ports
Video
1x HDMI 2.0b
1x DisplayPort 1.4
1x VGA (via eDP from SoC)
Miscellaneous I/O Ports
2x USB 3.2 Gen 2 Type-A (Rear)
2x USB 2.0 Type-A (Rear)
4x USB 2.0 (Front)
4x RS-232 COM (Front)
Operating System
Windows 11 Enterprise (22000.1335)
Pricing
(Street Pricing on March 9th, 2022)
US $894 (Barebones)
US $1315 (as configured, no OS)
Full Specifications
Supermicro SuperServer SYS-E302-12E Specifications
The system is available for purchase from WiredZone for $894 by manufacturer drop-ship. Supermicro is still in the process of expanding retail availability.
The SYS-E302-12E is a bit of a unique system compared to the embedded / industrial PCs we have reviewed earlier. For starters, it is one of the first systems to officially support in-band ECC. The wealth of network ports and other communication options is not matched by any other low-power fanless system we have covered earlier. The chassis also appears to be a massive overdesign for a 12W TDP SoC - keen observers might have noticed that it is the same one that successfully handled a 60W TDP Xeon-D in the SuperServer E302-9D. We can expect the thermal performance to be top-notch and allow the system to operate in a wide temperature range.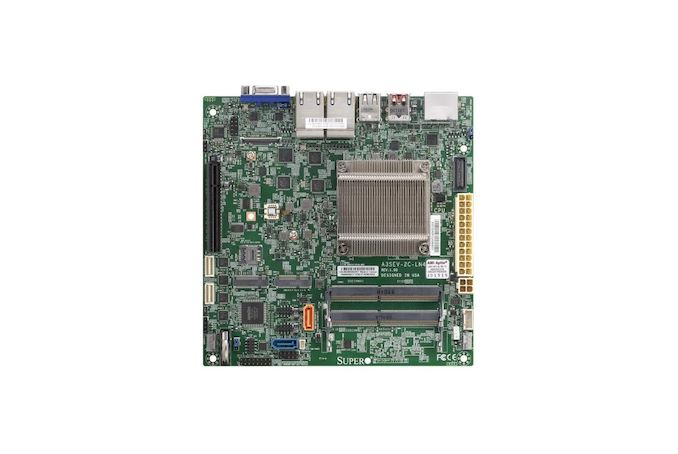 The top view of the motherboard integrated in the system is show above. The heatsink shown is replaced by a solid metal block that tightly interfaces with the chassis top using a thermal pad. The M.2 SATA port and SODIMMs are easily accessible, but the x8 PCIe slot is not usable in the system (the space meant for the PCIe add-in card is instead allocated to the 2.5" drive tray).
In the next section, we take a look at the system setup and provide some analysis of the platform.